In a world where technology is constantly evolving and impacting the way we live, study and work, it is important to keep pace with digital changes. To understand the impact of Industrial Revolution 4.0 (IR 4.0) on students, graduates and parents, INTI International University & Colleges (INTI) commissioned a landmark survey with International Data Corporation (IDC), a global provider of market intelligence and advisory services on technological advancements and the Future of Work. Amongst the findings, it was revealed that almost 62% of parents felt that current academic courses did not prepare students for IR 4.0, as academics were unable to keep up with changes in the industry1.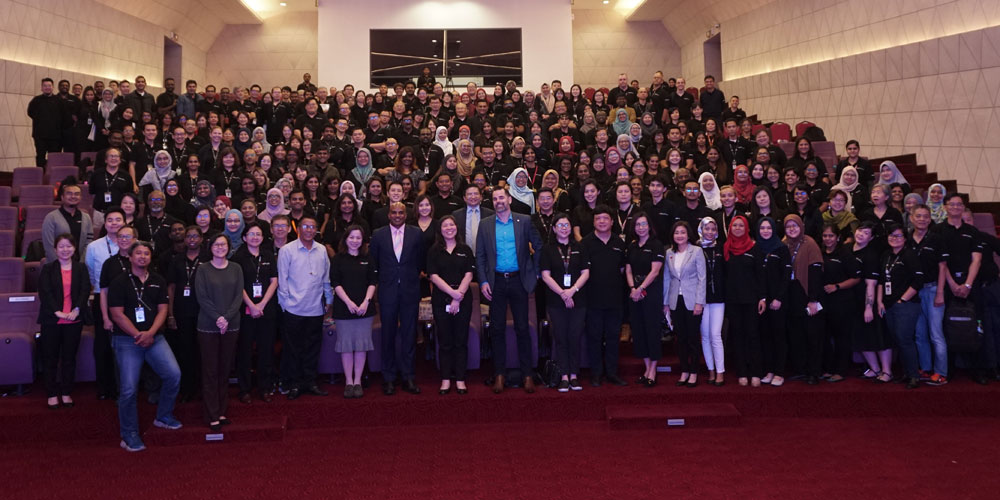 While it will require time for education to adapt to technological trends, it is important for academicians to already begin equipping themselves with new technological tools and platforms in order to capture the attention of students who are digital natives, and leverage such tools in innovating conventional teaching and learning methods2.
To explore how IR 4.0 will further impact teaching and learning, INTI held its second Digital Academic Conference earlier in November. Themed "Advancing Towards IR 4.0", faculty from INTI's six campuses in Nilai, Subang Jaya, Kuala Lumpur, Penang and Sabah spent a day participating in speeches and sharing sessions online. A live streaming was aired at all campuses while conference speakers shared their insights and took questions from the audience.
The main conference was aired from INTI International College Subang and included topics such as:
1. "Shaping the Future of Higher Education with Flexible Learning" by Associate Professor Dr Wan Zuhainis Saad, Director of the Academic Development Management Division, Department of Higher Education, Ministry of Education Malaysia;
2. "Power Up and Reinvent Teaching and Learning with AR/VR and Mixed Reality" by Mr David Hollands, Education Strategy Manager for Asia Pacific and Japan, Hewlett-Packard; and
3. "Fit For Future: Preparing for Tomorrow's Workforce Today" by Mr Ling Hsern Wei, Head of Learning and Development, PwC Malaysia.
The speakers shared their experiences and expectations in the Digital Age, and highlighted the role that education would play in IR 4.0. INTI's Acting Chief Executive Officer, Ms Tan Lin Nah, also presented the findings of the INTI and IDC Whitepaper to the audience in attendance.
Mr Hollands shared, "Everyone (students, teachers, parents, industry and the government) needs to work closely together to collaborate and reshape how we teach and what we teach to improve learning outcomes. At the same time, education must also adapt to technological changes so that we can utilise that same technology to emphasise on intrinsic values such as kindness, as morality should not be lost at the cost of technology."
The conference also included a panel discussion between an INTI alumna, Nur Azre binti Abdul Aziz, a parent, Mr Richard Naden, and Mr Ling on how students, parents, and industry players can work together to prepare students for the future workforce. A sentiment that prevailed during the discussion was that while human skills that are important in IR 4.0 such as agility, critical thinking, and working collaboratively are now the skills of the future, those same skills take time to acquire.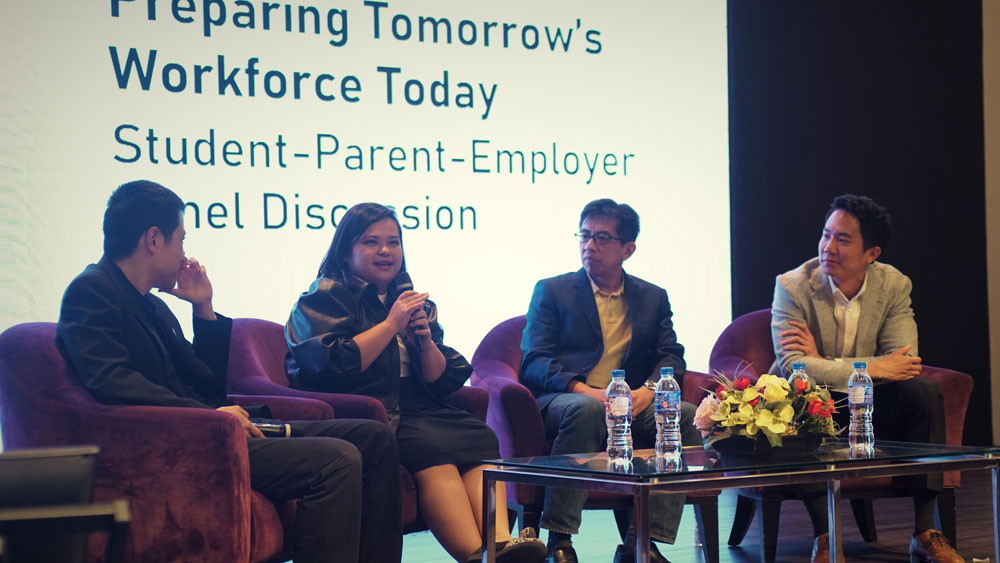 INTI's faculty also had the opportunity to attend several sharing sessions to learn from their fellow colleagues who shared their own unique digital teaching experiences throughout the year.
"INTI has always pushed the boundaries for learning, and one way of demonstrating this is to embrace digital pedagogy," shared Dr Daniel Tan, INTI's Chief Academic Officer.
"Our academicians utilise various digital teaching and learning tools, such as Blackboard, Kaltura and Raptivity to keep our students engaged. This conference not only provides our academicians the platform to learn best practices in digital learning from one another, it is also a clarion call to change and adapt, as the conventional methods of teaching and learning may not be as effective to current students who grew up as digital natives. We must always ask ourselves the question: 'we have taught them – have they learned?' This question will keep us on our toes as we prepare our students to be part of the IR 4.0 workforce."
INTI's 2nd Digital Academic Conference took place shortly after INTI received two Blackboard Catalyst Awards in the 'Student Success' and 'Professional Development' categories during the 2019 Blackboard Catalyst Awards ceremony. INTI was chosen from among organisations from around the world to be recognised as a significant and exemplary contributor to the Blackboard Community3.

1 INTI International University & Colleges INTI & IDC Whitepaper Reveals that Malaysia's Future Workforce is Not IR 4.0 Ready
2 The Star ICT tool for educators to embrace change
3 Blackboard Community