Integrated Circuit Design (ICD) is a specialisation found within the growing field of Electrical and Electronic Engineering and plays a significant part in industry's transformation towards Industrial Revolution 4.0 (IR 4.0). As ICD is at the heart of developments in mobile telecommunications, multimedia, the Internet of Things and numerous other applications, it forms one of the most fundamental building blocks for developing advanced technologies. According to Reuters, the total revenue globally for the integrated circuit industry in 2018 was valued at about US$ 480 billion. In China alone, it made up about US$ 98.7 billion, representing a compound annual growth rate of about 25% between 2014 to 2018.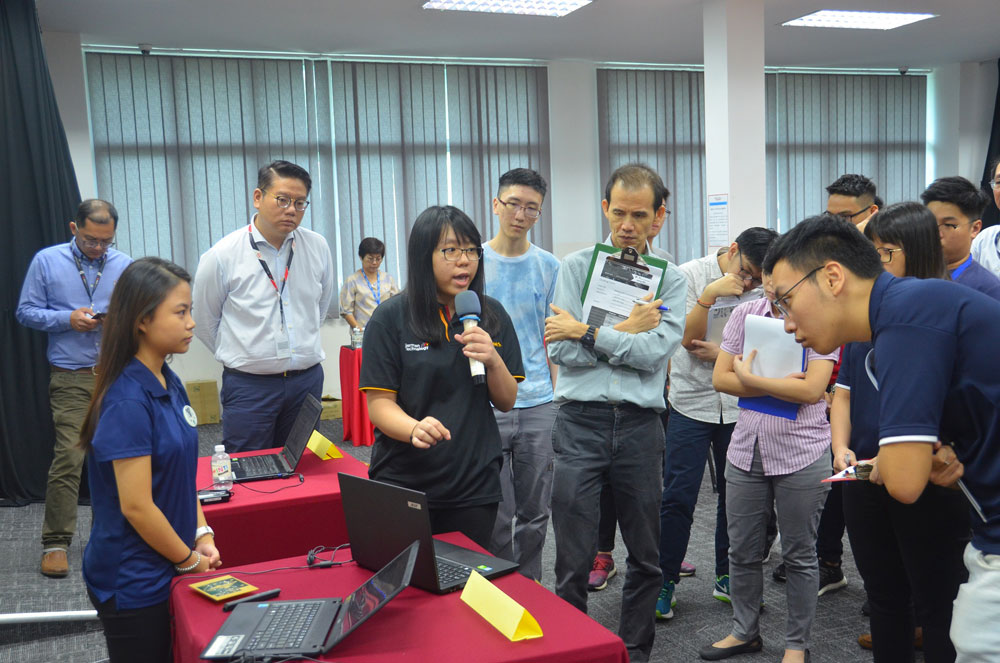 Sylvia Chieng Yi Ning (from left) and Clarel Lye Suet Rou, students from INTI's Bachelor of Engineering (Hons) in Electrical & Electronic Engineering programme, present their project titled Bare-board Learning before the panel of judges.
Recognising the growing impact of ICD, INTI International College Penang (INTI) collaborated with Oppstar Technology, a unique home grown provider for ICD development and services to businesses globally, to organise an ICD boot camp. Leveraging Oppstar Technology's global expertise, the boot camp aimed to improve students' competencies within this specialisation, and included industry sharing sessions, mentorship, and an extensive innovation challenge that provided students with hands on exposure to solving actual business challenges linked to ICD.
"This programme aimed to cultivate students' interest and understanding in microelectronics, and to promote practical learning in Artificial Intelligence (AI) and ICD," explained Johnny Wong, Dean of the School of Engineering and Technology (SOEAT) at INTI.
"Each competing group was given RM300 funding for its hardware prototype and students were encouraged to embark on projects based on IR 4.0 enablers such as
the Internet of Thing (IoT) and AI. In addition to gaining practical experiences in ICD and the opportunity to showcase their work to Oppstar Technology's leaders – with a long term aim of future career opportunities, the competition also included cash prizes for the top three winners," Wong continued.
The competition saw a total of eight electronics, circuit and software projects making their way into the final round that concluded recently. The projects featured workable prototypes built over the course of three months by each competing team that comprised of two engineering undergraduates respectively. While the criterion for winning comprised of the originality of their idea, solution effectiveness, technical feasibility, commercial value and presentation skills, participants further demonstrated their skills by incorporating troubleshooting and debugging elements as part of their projects.
Members of the panel of judges comprised of Lee Chun Keat, Engineering Director; Ng Kia Kheng and Loh Wan Ying, Design Engineers of Oppstar Technology; Shalyn Lim, Head of Programme for INTI's Diploma of Electrical and Electronic Engineering course and Chai Yoon Yik, a Senior Lecturer at SOEAT.
It was a thrilling and empowering moment when two female students, Clarel Lye Suet Rou and Sylvia Chieng Yi Ning, who are currently studying INTI's 3+0 Bachelor of Engineering (Hons) in Electrical & Electronic Engineering programme offered in collaboration with Coventry University, United Kingdom, emerged as the Champions for their project titled Bare-board Learning.
The first runner up were Tan Xue Jun and Kor Ding Hann for their project titled Alternative Method of Interfacing with VR; while Lim Chun Yan and Tan Mei Kee were named the second runner up with project titled Fingerprint Based Attendance System. Both groups were also from INTI's Bachelor of Engineering programme.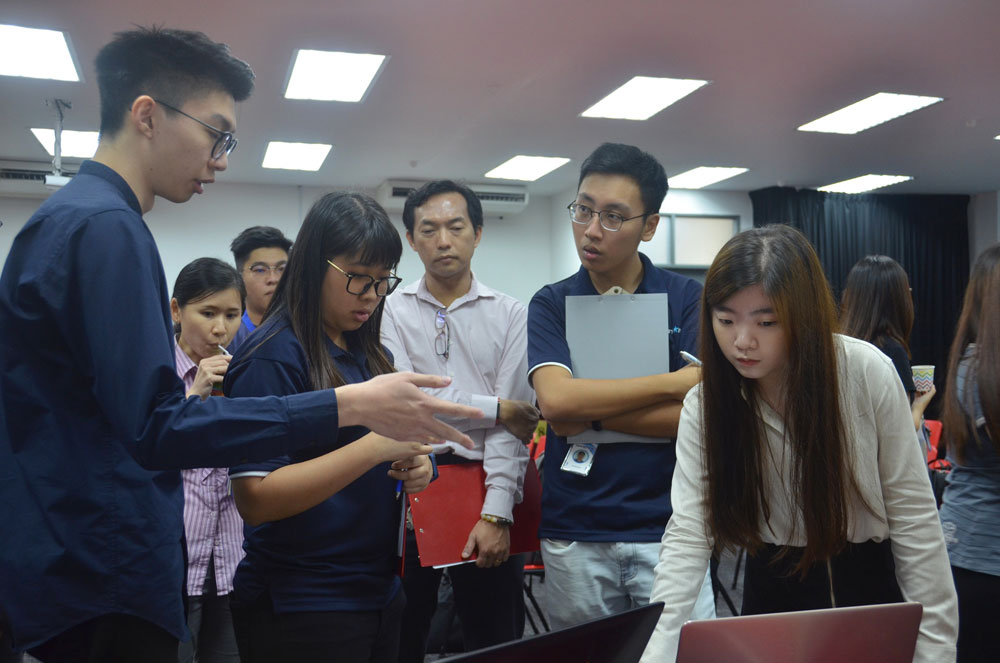 Lim Chun Yan and Tan Mei Kee were named the second runner up for their project titled Fingerprint Based Attendance System.
"Being able to articulate our project effectively as well as the methodology we used to develop and demonstrate the unique features of our project were the main reasons behind our win. When we embarked on this project, we were clear that we needed to leverage this opportunity to improve personally and professionally so that we could develop as capable engineers in the future," elaborated Sylvia.
Clarel adds, "The feedback from the judges that meant the most to us was that our project was practical and met industry needs. This is what we hoped to accomplish as we realised from the start that we needed to treat this almost like an interview where we needed to show our capabilities to this potential employer and push ourselves to do the best we could."
Acknowledging the practical experiences they gained from the competition, both students expressed their appreciation to their lecturers and college for the opportunity and for guiding them in developing their ideas.
"Beyond technical skills, INTI played a crucial role in helping us develop our personal skills such as critical thinking, problem-solving and effective presenting, that played a part in our three-month experience and in securing this win," shared Clarel.
"This competition and other opportunities that incorporate industry have been a tremendous help in putting our learning to practice, and most importantly hearing from senior leaders. This has made a difference in how we approach our studies and how we are preparing for our careers," confirmed Sylvia.
Expressing her pride on the quality of work produced during the competition, Hemalatha Murugiah, INTI's Chief Executive said, "Graduate employability is at the core of everything we do at INTI, and this collaboration with Oppstar Technology has provided an opportunity for students to experience first-hand the technologies that are shaping their future careers."
"As one of the leading private education providers in this Silicon Valley of Malaysia, exposing students to the digital transformation that is already impacting the workplace is a crucial part in how we prepare students for IR 4.0. We are grateful to Oppstar Technology for taking the time to be a part of this learning journey and we look forward to future collaborations where we can develop both our faculty and students in this critical area," concludes Hemalatha.