QL Resources Berhad's Executive Chairman, Dr Chia Song Kun, was conferred an Honorary Doctorate of Management by INTI International University (INTI) in recognition of his contribution to the country. He was awarded the doctorate by YBhg Tan Sri Dato' Seri Utama Arshad Ayub, Chancellor of INTI International University during the university's November 2019 Convocation Ceremony, which also witnessed the graduation of more than 700 students across INTI's PhD, Master's, Bachelor's, and Diploma programmes over the course of two days.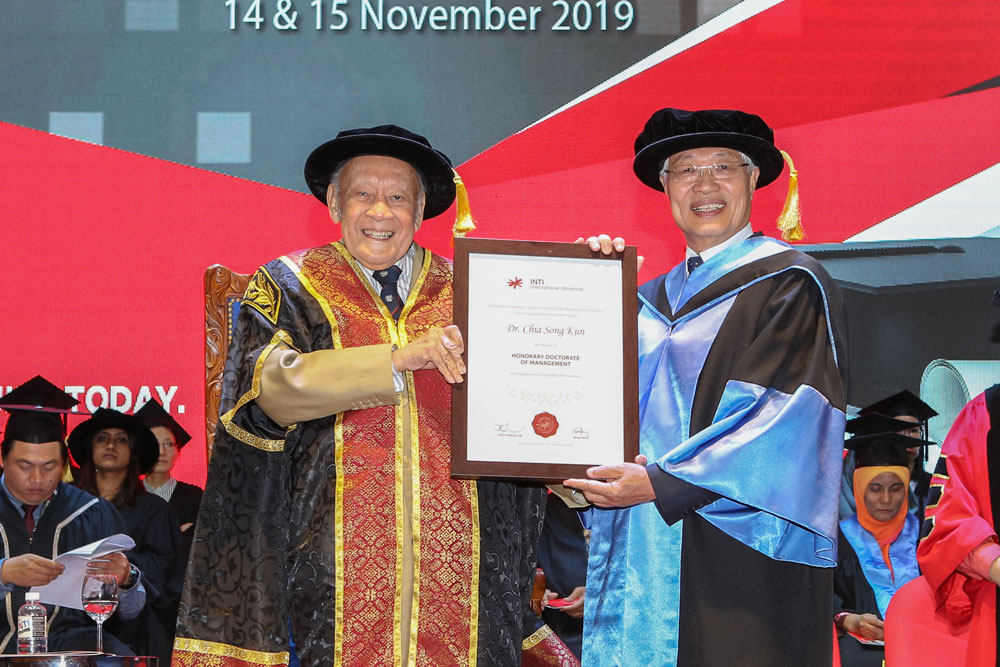 Dr Chia is one of Malaysia's leading entrepreneurs, whose unshakable belief in creating and sharing value has enabled the business he started with his brothers and brothers in law about 40 years ago to transform from a local feedstuff trader into a multinational agro-food corporation. Today, QL Resources is a sustainable and scalable multinational agro-food corporation with a market capitalisation of over RM10 billion, and is one of Asia's largest egg producers and surimi manufacturers. The company has also established a strong presence in the sustainable palm oil sector with activities including milling, plantations and biomass clean energy.
In November 2016, QL opened its first FamilyMart Convenience Store in Malaysia, which took the market by storm with its ready-to-eat food for modern convenience. To-date, FamilyMart has about 150 stores in Malaysia, with plans to expand to 300 stores by March 2022.
Dr Chia, who was a Mathematics lecturer for over a decade, ventured into the private higher education sector and was one of the founding fathers of INTI. He served as a Non-Independent Non-Executive Director of INTI Universal Holdings Berhad from 1996 to 2008, making the conferment this year an even more meaningful one.
Dr Chia has been recognised for his unprecedented leadership, entrepreneurial spirit and professionalism. In 2008, he was conferred the honorary degree of Doctor of Laws (Hon LLD) by the Honorary Awards Board of the University of Hertfordshire in recognition of his outstanding contributions to the development of business and education in Malaysia. In December 2012, Dr Chia was awarded the prestigious Ernst & Young Entrepreneur of the Year Award 2012 for Malaysia. In 2018, Dr Chia was honoured with the Sin Chew Business Lifetime Excellence Achievement Award 2018. And just last month, Dr Chia was named The Edge Billion Ringgit Club Value Creator: Outstanding CEO of Malaysia.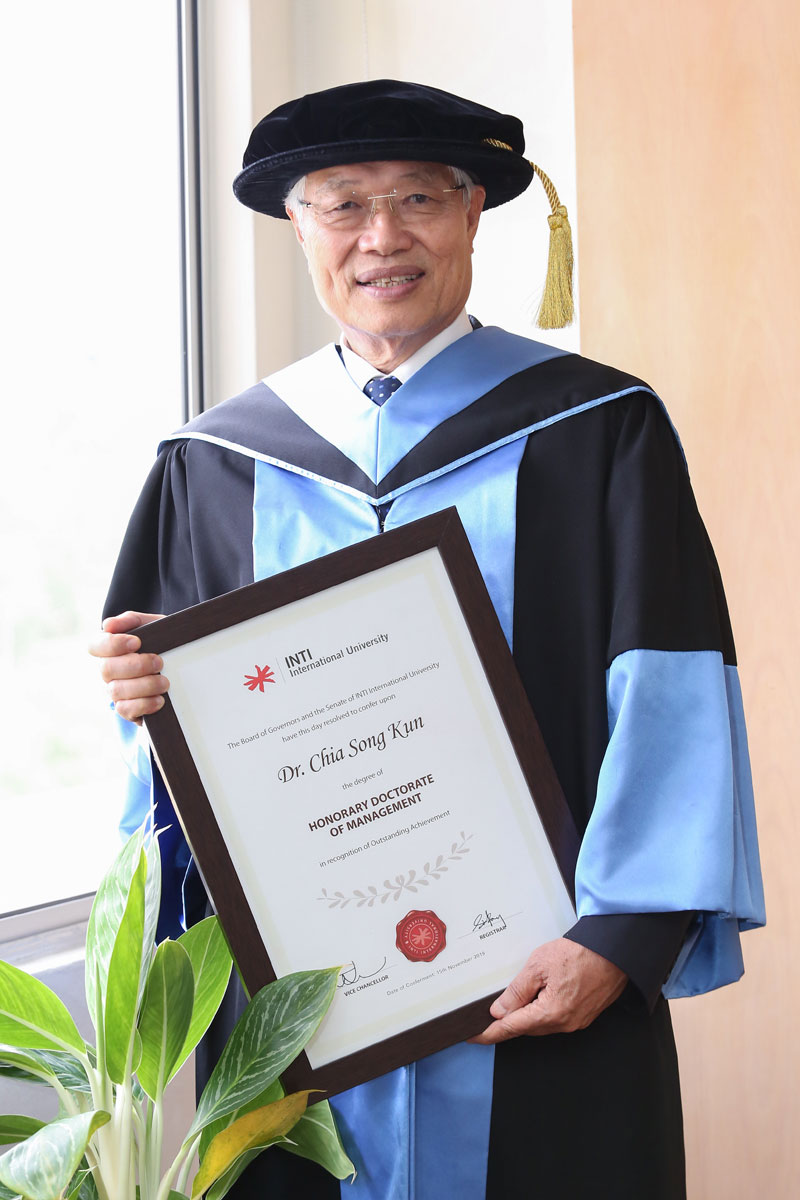 Dr Joseph Lee, Vice Chancellor of INTI shared, "In this age of digital disruption, it is important to be agile and adapt to changes in order to stay ahead of the competition. Dr Chia has demonstrated this ability to embrace changes by thinking creatively and expanding into new ventures that meet the community's needs. These are the same admirable qualities which we hope our INTI graduates will possess in their careers and in life."
"INTI also wants to acknowledge Dr Chia's extensive contribution to the institution and to the country, as he represents the indomitable entrepreneurial spirit of never giving up and taking calculated risks. We are indeed very proud to welcome him back to INTI as our Honorary Doctorate recipient today," added Dr Joseph.
The second day of the convocation ceremony also coincided with the 91st birthday of Tan Sri Arshad, a respected educator who was instrumental in the development of Universiti Teknologi MARA, and who also served as Deputy Governor of Bank Negara from 1975 to 1977. He was feted with a surprise birthday celebration at the campus, and also received warm wishes from both current and graduating students, along with the faculty and management team of INTI.