The Soh Expensive Team from INTI International University emerged as champions at the Structural Earthquake Stability Competition 2023 (SES2023) held on July 8th, 2023. The team's outstanding performance has brought glory to the university, demonstrating their unwavering dedication and skills.
The team, led by Associate Professor Ts. Dr Lee Hoong Pin from the Faculty of Engineering and Quantity Surveying (FEQS) included Tan Xin Kai, Cheyenne Loh, Hew He Jing, Soh Ang Xuan, Chong Chun Han, Lim Siew Hong, Lee Ming Hwa, and Khoo Kian Sim.
Dr Lee expressed heartfelt appreciation to the faculty, management, and university for their support on behalf of the student teams. The constant encouragement, financial assistance, and state-of-the-art facilities have enabled students to excel in competitions.
In recognition of their remarkable achievement, the team was rewarded with a cash prize of RM1800 and certificates, proof of their hard work and commitment to excellence. "Our teams showcased unparalleled skills and determination," said Dr Lee.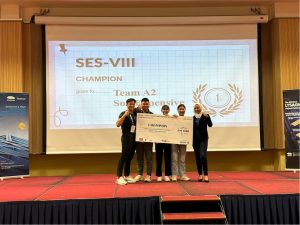 The Soh Expensive Team from INTI International University was awarded RM1,800 cash prize and certificates for their hard work.
During the competition, Tan Xin Kai and his team were tasked with constructing a six-floor seismic model within a 20cm x 20cm area using balsa wood and other provided materials. They had three and a half hours to complete the project while adhering to the theme and feature. The model was inspected for rule violations and then tested on an earthquake simulation shake table, with judges evaluating its earthquake sustainability. The testing consisted of seven levels, each assessed for 45 seconds. The team utilised bracings to achieve the desired seismic effect in their model.
One of the challenges they faced was learning a whole new application. They needed the SAP2000 software (Structural Analysis Program) to analyse better the seismic model designed.
"It's quite challenging for us as first-year students with no prior knowledge on earthquakes – how they are formed and how and what we as engineers need to prevent our buildings from being damaged and risking people's lives," said Cheyenne Loh. They researched online and explored techniques to build the structure and improve its seismic resistance. Fortunately, they found the best solution to stabilise their structure during earthquake testing.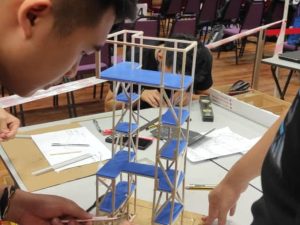 Using engineering skills to create a precise and creative seismic model.
The team's next plan is to participate in the earthquake resistance competition, IDEERS 2023 (Introducing and Demonstrating Earthquake Engineering Research Tools in Schools), in Taiwan. From SES2023, they have gained valuable experience in anti-seismic competitions, which will better prepare them for the IDEERS 2023 competition.
According to Cheyenne Loh, in her future career as a Civil Engineering professional, she envisions contributing to the field, particularly in structural engineering, by prioritising safety and innovation. She will strive to design and implement sustainable, resilient infrastructure that withstands natural disasters and environmental challenges.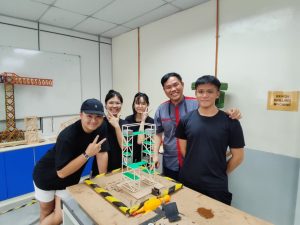 The team proudly poses with Associate Professor Ts. Dr Lee Hoong Pin, whose guidance helped them construct a six-floor seismic model.
The Institution of Engineers Malaysia (IEM) Student Section, Institution of Civil Engineers (ICE) Student Chapter, and UTAR Lee Kong Chian Faculty of Engineering and Science (LKC FES) Department of Civil Engineering organised the SES2023 competition to enhance knowledge of earthquake engineering, promote innovative learning and development, communication, and presentation skills, and improve the student experience at the university level. The competition aimed to promote awareness of seismic design practical solutions and encourage innovation in earthquake stability research while encouraging knowledge exchange among students and professionals from the civil engineering industry and academia. The event was held at the Sungai Long Campus, with 19 teams representing various public and private universities in Malaysia.