Alumni sharing sessions are a great platform for students to gather knowledge from the experiences of their seniors. In a session organized by Mohd Khairul Irwan Mansor, Head of Programme at the School of Business and Communications, an alumna of the Bachelor of Mass Communications in collaboration with University of Hertfordshire shared her experience working in Arcis Communications, an established public relations agency.
Alyssa Francine Sta Maria, who started out with an internship at Arcis Communications, spoke about her time with the organization and provided insights into the world of public relations (PR), emphasizing the importance of media relations and event management.
"Public relations (PR) is a strategic communications process that helps build and maintain mutually beneficial relationships between organizations and its publics. Event management, which requires detailed logistics and appealing aesthetics, is a component that enhances the public relations efforts of an organization. An event in itself is a project which requires project management skills. It ranges from a virtual webinar, conference, seminar, workshop and physical events. But having both skillsets and a creative 'think-out-of-the-box' mindset can help execute great events that people will want to attend," said the Account Executive.
She further added, "For every event, it's important to consider PR during the early stages of planning. Before you launch a PR campaign, think about the goals and objectives for the event, the tactics and strategies you want to use to achieve them, and the target audiences you want to reach."
According to Alyssa, PR plays a critical role in the success of any event and there are a variety of channels available to promote an event. Agencies like Arcis Communications has helped turn good events into great events by maximising the value of the event through strategic PR campaigns.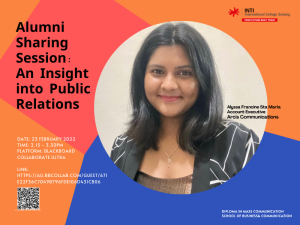 The School of Business and Communications organized an alumni sharing session which featured Alyssa Francine Sta Maria, an Account Executive at Arcis Communications.
Alyssa elaborated, "With the rise of social media and monitoring of posts and comments, PR is an integral part to how well an event is marketed and received by the public. In this new age, the saying 'all press is good press' doesn't quite work anymore. Anything on the internet is fair game for positive and negative backlash that may impact your event and company reputation. It's now more important for professionals in both fields to be able to engage prospective and former stakeholders through various marketing channels to better clarify misperceptions, rectify the spread of misinformation, and address any event issues (pre, during and post) at the drop of a dime."
On the other hand, Alyssa also discussed the good media relations can bring to a brand.
"The need for a good reputation should never be underestimated. Even booming industries feel the financial sting when falling out of favour with the public. Companies like Tesla and Victoria's Secret are an epitome of media mismanagement causing stocks to plummet overnight. This distrust is increasing with each generation, whose bright minds choose to no longer to pursue careers at companies with a bad reputation. Strong media relations are vital to keep your organization afloat," Alyssa explained to her audience.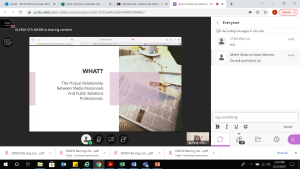 Alyssa Francine Sta Maria sharing her thoughts on media relations during the event.
As Warren Buffet famously contended, "it takes 20 years to build a reputation and five minutes to ruin it." In the internet age there are new challenges such as fake news, a struggling publishing industry, and constantly changing mediums of communication. Reputation is your one constant and the thing you can rely on to meet these challenges.
"Your savvy audience can be both your best advocates and biggest detractors, depending on how you communicate with them. With the media on your side, you can tend to your reputation like a garden. After all, everything is strengthened with an extra pair of hands. Like gardening, media relations is a long game. But if you begin planting seeds, you will reap the benefits for years to come. As an added bonus, media relations is a very cost-effective type of marketing. This attractive cost-to-reach ratio translates into a happy bottom line," she said, concluding the session.