At a time when many companies worked remotely, operated at limited capacity or even had to shut down completely, it seemed like there were few, if any, opportunities to achieve business growth. Despite these setbacks, organizations strategized ways to make the most of the circumstances then and continued growing their businesses during the COVID-19 pandemic.
In a recent INTI Leadership Series (ILS) with Kristian Lee, Chief Executive Officer of Naga DDB Tribal talked about his leadership experience during the health crisis that hit globally two years ago. The session started off with him sharing about the multiple accolades and awards the company received in 2019.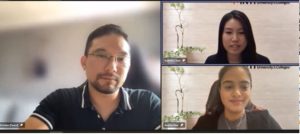 Kristian Lee, Chief Executive Officer of Naga DDB Tribal (left), advises participants at the INTI Leadership Series on the importance of having a vision, investing time to build relationships, and to not give up when progressing through their career.
"Naga DDB Tribal has had the highest performing teams delivering exceptional client service which has enabled us to receive numerous awards and climb the success ladder. We work hard towards building a better working world for our people, clients and communities, and are proud when respected organizations recognize our efforts," said Kristian at the ILS session.
Consistently ranked amongst the top three advertising agencies in Malaysia over the last 10 years in terms of staff size, creative reputation and billings, Naga DDB has created some of the most iconic campaigns in Malaysia including the Digi Yellow Man and Nippon Blobbies. Naga DDB is Malaysia's largest independent network of communication partners.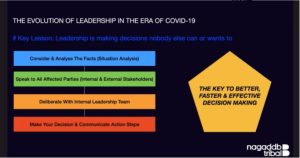 Kristian Lee, Chief Executive Officer of Naga DDB Tribal, shares his take on how to be a successful leader, especially through challenging times.
DDB Group Asia Pacific is a cohesive collaboration of top worldwide communication brands delivering best-in-class business results for its clients, including DDB (advertising), Tribal Worldwide (digital), Rapp (data-driven marketing and analytics), Interbrand (brand consultancy), DDB Remedy (healthcare and medical), Mango PR (PR and experiential) and Tracey Locke (shopper marketing)[1].
However, when the pandemic struck, Kristian revisited the situation and started an initiative where he gathered employees to contribute solutions to financial issues faced by his employees while updating analytics services requested by existing customers.
He further elaborated, "The pandemic was a time to remind employees about things that were already available to them to support their wellbeing. At a time when most were looking for relief, finding creative ways to provide employees financial support through COVID-19 was the perfect boost. Not only did it lessen their stress and anxiety, it also helps build trust in employees; an investment that strengthened our company then, today and long into the future."
Kristian continued on sharing that in order to be a successful leader especially in the marketing industry, one should "listen, learn and understand numbers".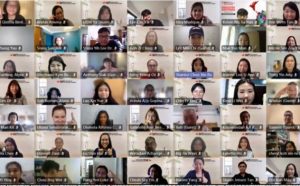 Participants of the INTI Leadership Series pose for a group photograph at the end of the session.
"Effective leaders have the ability to communicate well, motivate their team, handle and delegate responsibilities, listen to feedback, and have the flexibility to solve problems in an ever-changing workplace. Whether you're starting out in an entry-level position and looking to move up the career ladder or you're seeking a promotion, your leadership skills will be among your most valuable assets," Kristian advised participants present at the session.
ILS is a monthly leadership session featuring successful business leaders, entrepreneurs and INTI alumni who have created a positive impact in their respective fields and made a difference in society. Their success stories and experiences are shared with INTI students who aspire to succeed in their chosen career paths. This particular session saw over 390 participants that included students, alumni, and INTI staff.
[1] https://aaaa.org.my/members/naga-ddb-sdn-bhd/