With the ongoing trade war between the United States and China on technological advancements in the era of 5G, AI and IR4.0, experts and players from the information and communications technology industry foresee that the ultimate game changer would be the one who masters the integrated circuit (IC) design and manufacturing technology, given that IC is the most fundamental building block for building advanced technologies.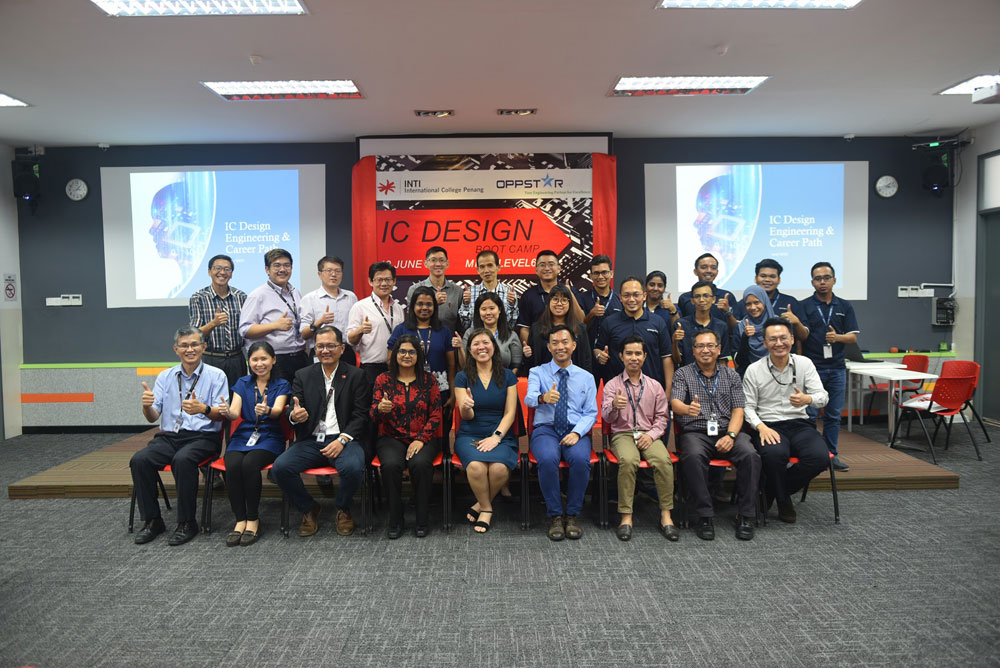 Tan Lin Nah (centre), acting CEO of INTI, guests from Oppstar Technology and INTI Penang's academic team pose for a photo at the opening ceremony of the IC Boot Camp.
Engaging with one of the leading Malaysian companies who specialise in state-of-the-art IC design, INTI International College Penang (INTI) organised an IC design boot camp and hackathon coaching session to provide academicians and students from Science, Technology, Engineering, Mathematics (STEM) programmes with deeper insights into this invaluable industry.
One of INTI's 450 industry partners in optimising employability outcomes among the graduates, Oppstar Technology is a well-known local company that develops the 7 nanometre IC design, an advanced piece of technology that is used by the world's largest telecommunications equipment makers, such as Huawei and Intel.
The full-day IC design boot camp saw nearly 120 students and lecturers actively participating in talks given by Oppstar's senior management team. Students who are currently studying INTI's Diploma in Electrical & Electronic Engineering; and INTI's three degree programmes offered in collaboration with Coventry University – Bachelor of Engineering in Electrical & Electronic Engineering, Bachelor of Science in Computer Science, and Bachelor of Science in Computing, were also coached to formulate projects in order to take part in a hackathon extending over the next three months.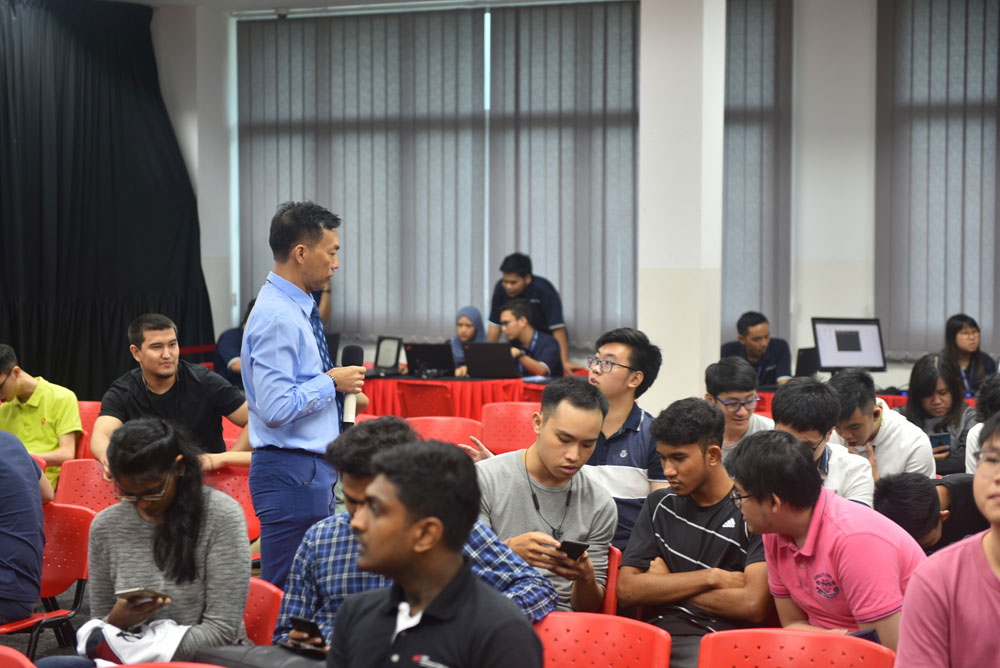 Lee Chun Keat, Senior Vice President of Oppstar Technology answers questions on the development of Artificial Intelligence raised by students participating in the IC Boot camp.
In delivering the keynote address Tan Chun Chiat, Senior Director of Oppstar Technology shared that Information and Communication Technology students should acquire knowledge and skills in integrated circuit design in order to thrive in their future workplace. Lee Chun Keat, Senior Vice President of Oppstar Technology also gave students an overview of the development of Artificial Intelligence (AI), conducted in software to hardware and system transformation.
"AI is a fast developing technology which will impact many fields and applications, including medical, aviation and military technologies and even the daily lives of individuals. We have to master the knowledge and skills in AI, like machine and deep learning, to catch up with the development of technology," said Lee.
Addressing concerns about the career path in IC design engineering, Lee assured the students, "To develop your career in the IC design industry is an exciting career path as you are working with state of the art technology and creating new things for the future."
Fully inspired by the talks, students then split up into different project groups in the afternoon to participate in the hackathon coaching session. Simultaneously, lecturers and the industry players gathered to discuss how they could incorporate fundamental IC design into INTI's teaching curriculum.
"The purpose of the hackathon is to encourage innovation. Students are coached to form teams and formulate projects to take part in the hackathon. They will need to submit their project proposal to the organiser in a week's time, and are given RM300 per team to execute their projects respectively," introduced Mr Johnny Wong Kee Hui, the Dean of the School of Engineering and Technology (SOEAT) at INTI Penang.
According to him, different teams shall present their final project or product in three months in order to qualify for the hackathon competitions. In encouraging students to unleash their potential in ICT innovation, the School with the sponsorship of Oppstar had prepared cash awards of RM1000, RM500 and RM300 for the top 3 winners.
Aiming to empower students to learn about technologies, the boot camp is one of numerous efforts to help students develop the competencies needed in the future, and supplements academic learning with practical experiences supported by industry. By inspiring students to develop the right skills set, INTI continues to build on positive graduate outcomes that will help students stand out in the new era of the Fourth Industrial Revolution.