"While the natural response of every leader is to take rapid action that's crucial for survival as well as defend the financial position of the business, each crisis is also an opportunity to occupy new positions and build new advantages," shared Datuk Nora Manaf, Maybank's Group Chief Human Capital Officer at the recently held INTI Leadership Series.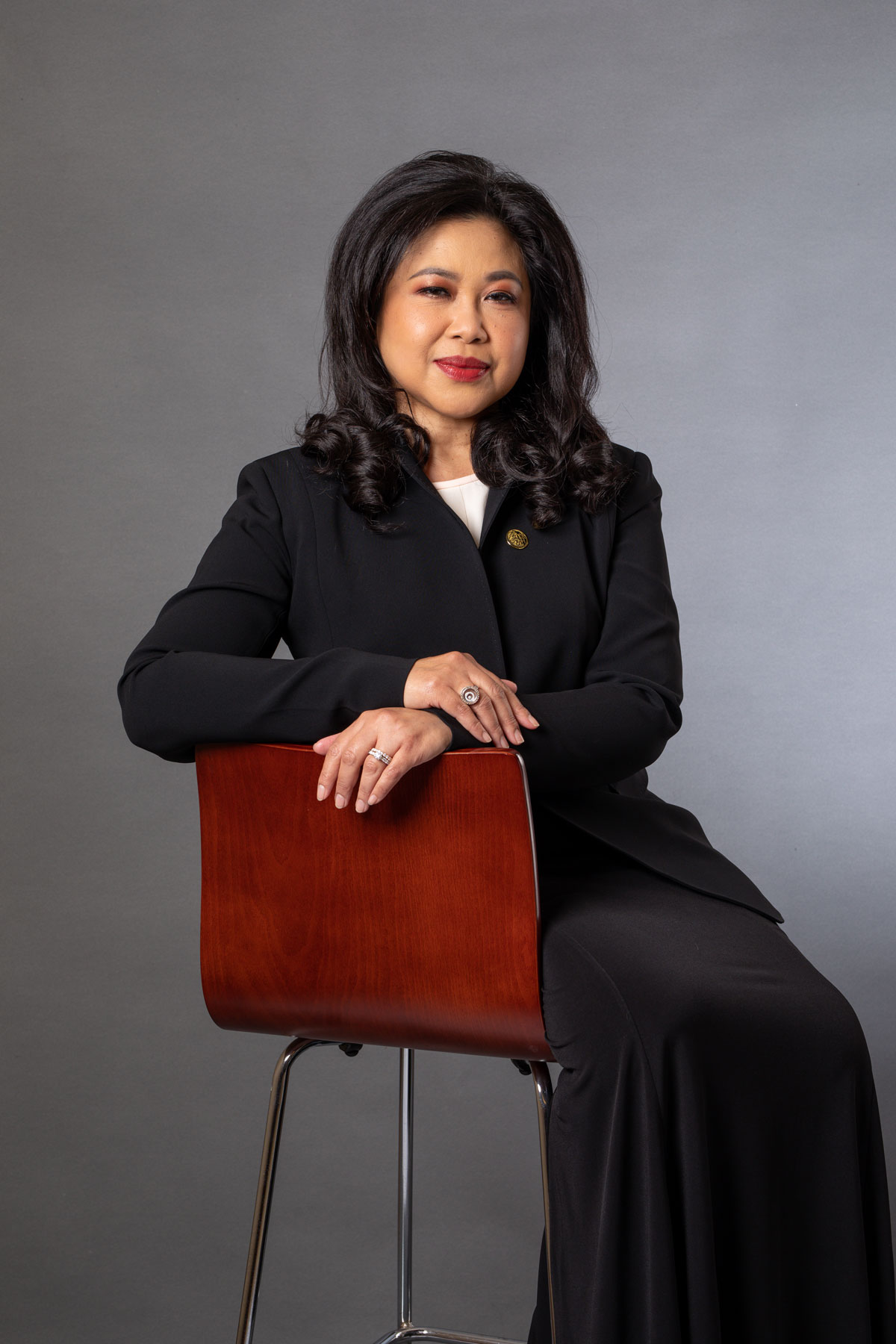 Datuk Nora Manaf has 20 years of experience in functional and leadership roles in large organizations across several sectors including academia, telecommunications, technology and financial services.
The INTI Leadership Series is a monthly leadership session featuring successful business leaders, entrepreneurs or INTI alumni who have created positive impact in their respective fields and made a difference in society where these outstanding individuals will share their success stories and experiences to fellow INTI students who aspire to become successful in their respective fields. The webinar saw over 430 participants with a total of over 1200 live views from Facebook and YouTube.
During the webinar, Datuk Nora imparted her diverse experience of over 20 years in functional and leadership roles in large organisations across several sectors including academia, telecommunications, technology and financial services. She said, "This transformative approach requires leaders to conduct a strategic review of competitors, customers and regulatory issues, reorient investments towards newly identified opportunities and build resilience through the reinvention of the operating model."
Datuk Nora, who is also a recognised Global Top 50 Human Resource Professional, acknowledges the fact that ensuring access to reskilling and upskilling opportunities will enable more people to participate in the economy and re-ignite innovation that will bring higher productivity and greater economic output.
"We recognise that jobs within the banking industry are changing rapidly in the current environment and we need to prepare our employees to be agile and adaptable to new tasks that require different skill-sets," said Datuk Nora Manaf.
Maybank has embarked on a nationwide programme costing about RM500,000 to upskill its non-clerical employees in the country to become "workplace enablers" which would provide them with career progression and enable them to take on greater responsibilities.
Datuk Nora said that this is part of the company's continuous efforts to upscale its employees and equip them with necessary skills to thrive in the Industrial Revolution 4.0 (IR4.0) and COVID-19 work environment.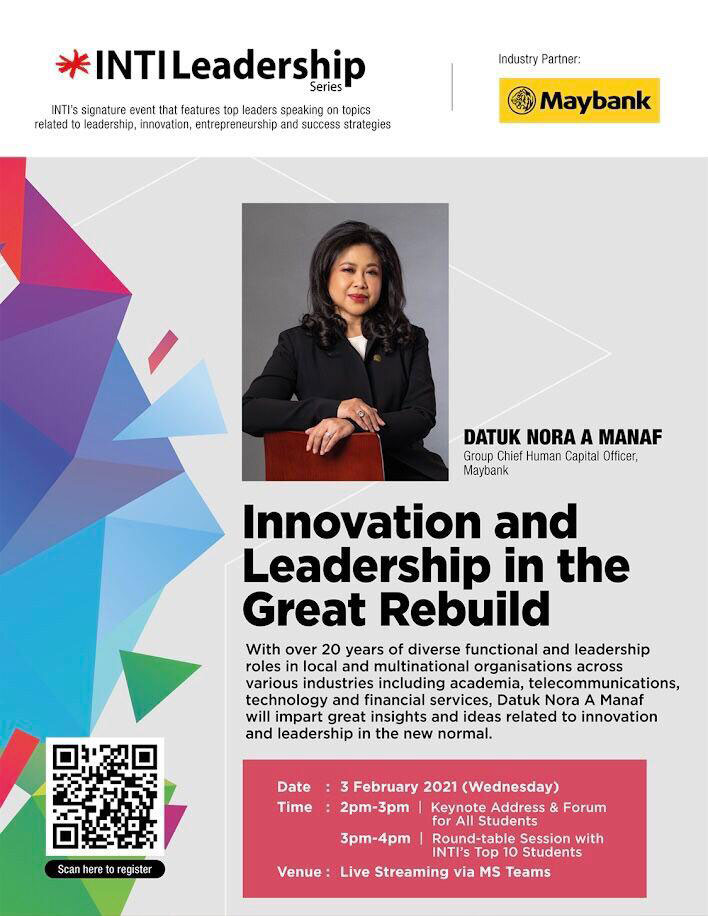 The INTI Leadership Series titled "Innovation and Leadership In The Great Rebuild' was organised by INTI's Career Services Department.
Digital technology is no longer a competitive advantage for those who do it well, but also an operational necessity for every organisation.
"COVID-19 has enabled us to witness two years' worth of digital transformation taking place in two months, driven by an increase in remote working and learning along with the rising demand for critical cloud-computing infrastructure," Datuk Nora further explained to the participants of the INTI Leadership Series.
She is also pleased that INTI International University & Colleges (INTI) provides opportunities to students to help them shape their learning strategies in a more self-determined way before the start of their careers.
"One always need to exist within context," emphasised Datuk Nora. She further added, "I know that INTI has always focused on producing career ready graduates through various initiatives. Employability has been one of INTI's main pillars to focus on and it is proven through its employability outcomes validated by BDO. Hence, I am confident, the future graduates of INTI will strive to exist within context with the knowledge and experience they gain while at INTI."
Datuk Nora concluded her session with three key takeaways for the participants to ponder upon; be aware and mindful of the happenings around you, build resilience to face a world that may continuously reject you and grab every opportunity that comes your way.
Dr. Jane Lim, Chief Executive, INTI International College Subang shared, "In these challenging times, with artificial intelligence (AI) and automation disrupting even basic functions, education must become a continuous, experiential, and regularized process. We provide our students early training and pathways for certifications in specialized fields. This is how education can be looked at differently so that it remains constantly relevant with industry trends. We prepare our graduates for the jobs of the future and to sustain them during challenging times by equipping them with transferrable skill sets needed to excel and adapt in the ever-changing job landscape."