As some Malaysians continue to work from home following the Prime Minister's announcement on the Conditional Movement Control Order (CMCO) extension, Mohd Sufi bin Ismail, Head of Programme for Interior Design from INTI's Center of Art and Design, shares a few cost-effective ways individuals can design their home workstations to help boost productivity.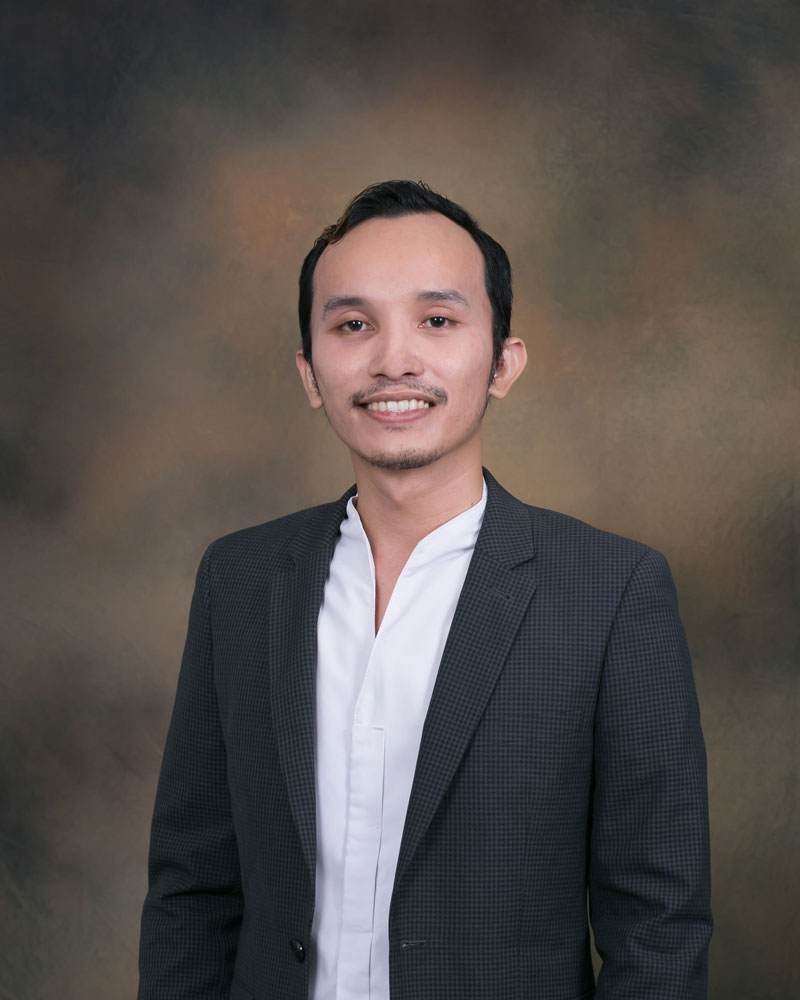 Mohd Sufi bin Ismail, Head of Programme for Interior Design at INTI's Center of Art and Design holds a degree in Interior Architecture and Masters in Urban Development and Management.
Sufi, a degree holder in Interior Architecture who also has a master's degree in Urban Development and Management, shares that apart from cost-effective measures, he also aims to share ideas that utilise existing furniture and furnishings within an individual's home to help minimise financial worries during these trying times.
Furniture and layout selection and design
Sufi shares that while designing the layout, it is important to establish a layout that meets the individual's needs. He explained that more often than not, furniture found at home is unsuited for workstations due to the depth an ideal workstation requires.
"An ideal workstation for executive levels requires space that allows one to perform an additional task, apart from writing and doing work on a laptop. This would require an ideal measurement between 1200mm (length) x 750mm (depth) and 750mm (height) to 1500mm (length) x 750mm (depth) x 750mm (height)," shared the Sepang-raised individual.
He continued, "On the other hand, managers, C-suite level executives, and other types of senior leadership, require a bigger space to allow the same number of activities, along with additional space for paperwork. Their ideal workstations should measure at 1800mm (length) x 900mm (depth) and 750mm (height)."
To achieve the desired length for workstations, Sufi shared that individuals could combine two tables, so even if the depth is limited, one can move across the space horizontally. He adds that adding two tables could help with focus and avoid clutter, and will also be helpful for individuals who are sharing a workstation.
Sufi continued by adding that if the workstation was in a bedroom, the table(s) could be pushed against the wall to minimise space constraints. Alternatively, it could also be placed next to a window to allow for natural lighting and help boost productivity.
He added, "Individuals may also want to consider designated spaces or separate areas for productivity to host different tasks such as thinking, meeting, working and packing, and have a creative area for brainstorming, writing, or sketching."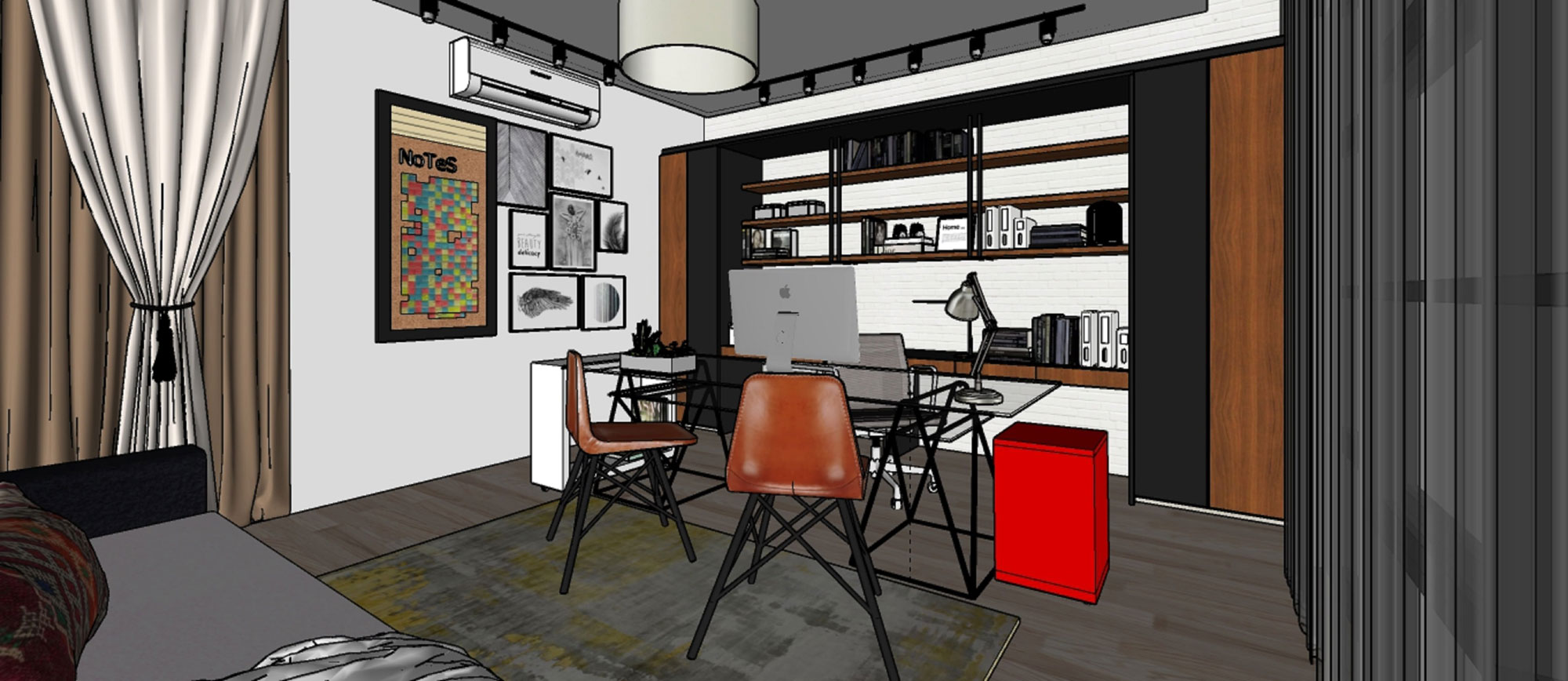 Ideal workstation measurements for managers, C-suite level executives and other senior leadership members require a length of 1800mm, 900mm in depth and 750mm in length. This allows space for writing, working on a laptop, paperwork and an additional task.
The karaoke lover also shared that when it comes to chairs, dining chairs are the most appropriate chairs for work, given that most dining chairs have a proper backrest. For increased comfort, he adds that one can add cushions on the chair to lean against and sit on while working.
Colour and textural psychology
The 34-year old who created a custom design for IKEA Damansara's showroom shared three principles individuals can follow when it comes to composition and colour psychology for workstation designs.
"First, you should ask yourself how you want to feel in the room and then, proceed with choosing colours that impact productivity and energy levels. Lastly, when picking the right colours, one needs to be mindful about the selected colours extending beyond their personal preference," said Sufi.
"Subtle colours such as sky blue, baby pink, cream, or pastel would help with increased focus and productivity while adding energising colours such as blue, pine green or basil green creates a calming and soothing environment that reduces stress and increased harmony," chimed Sufi.
"It is ideal to have these colours incorporated into a workstation and this can be done through paint on the walls, stationery, furnishings, motivational imagery, or even through sheets, covers, and curtains," added Sufi.
Sufi explains that combining different textures and patterns could also assist with having a non-monotonous workspace, so incorporating different materials such as fabrics, carpets, rugs, pictures, or notice boards could also help improve efficiency.
Technology and smart storage and organisation
While designing a workstation, Sufi explains that it is also important to consider minimising noise disruptions, ensuring a sufficient number of power outlets and having organised storage, to aid with productivity.
"Storage is an important consideration, especially in small, shared or production-heavy spaces, so we can organise our spaces with additional accents and furnishings that can double as storage compartments, or have shelving units for filing units, printers and phones. An organised workspace that has designated and creative spaces for tools and materials will be more pleasing to the eye and could help with a cluttered mind," explained Sufi.
He adds that when considering the workstation design, the layout should hold enough power outlets for the individual's work needs and that the placement of the furniture should allow for easy access to the power outlets.
"Power bars or cord management solutions could help with this. If possible, one could also have an automated home with smart lightbulbs, noise-cancelling headphones and printers to minimise distractions within the surroundings" expounded Sufi.
When asked how he anticipates the future workforce to look like, Sufi shares that with the influence of COVID-19, he anticipates working patterns to shift and foresees more people having the option to work remotely.
"Work patterns and schedules are becoming more fluid due to the current pandemic and with the help of evolving technologies, I anticipate the new workforce to be remote and mobile, yet hyper connected at the same time," shared Sufi.
"This is why designing our ideal workstations at home could greatly benefit us in the 'new normal'," he concluded.