Two months into lockdown, educators nationwide are heaving a sigh of relief as they become more adept in using technology to deliver education online that is of a similar quality as that in classrooms.
Truth be told, although online teaching has settled into somewhat of a routine, it is not without a lot of self-motivation, creativity, teamwork, and humorous moments along the way.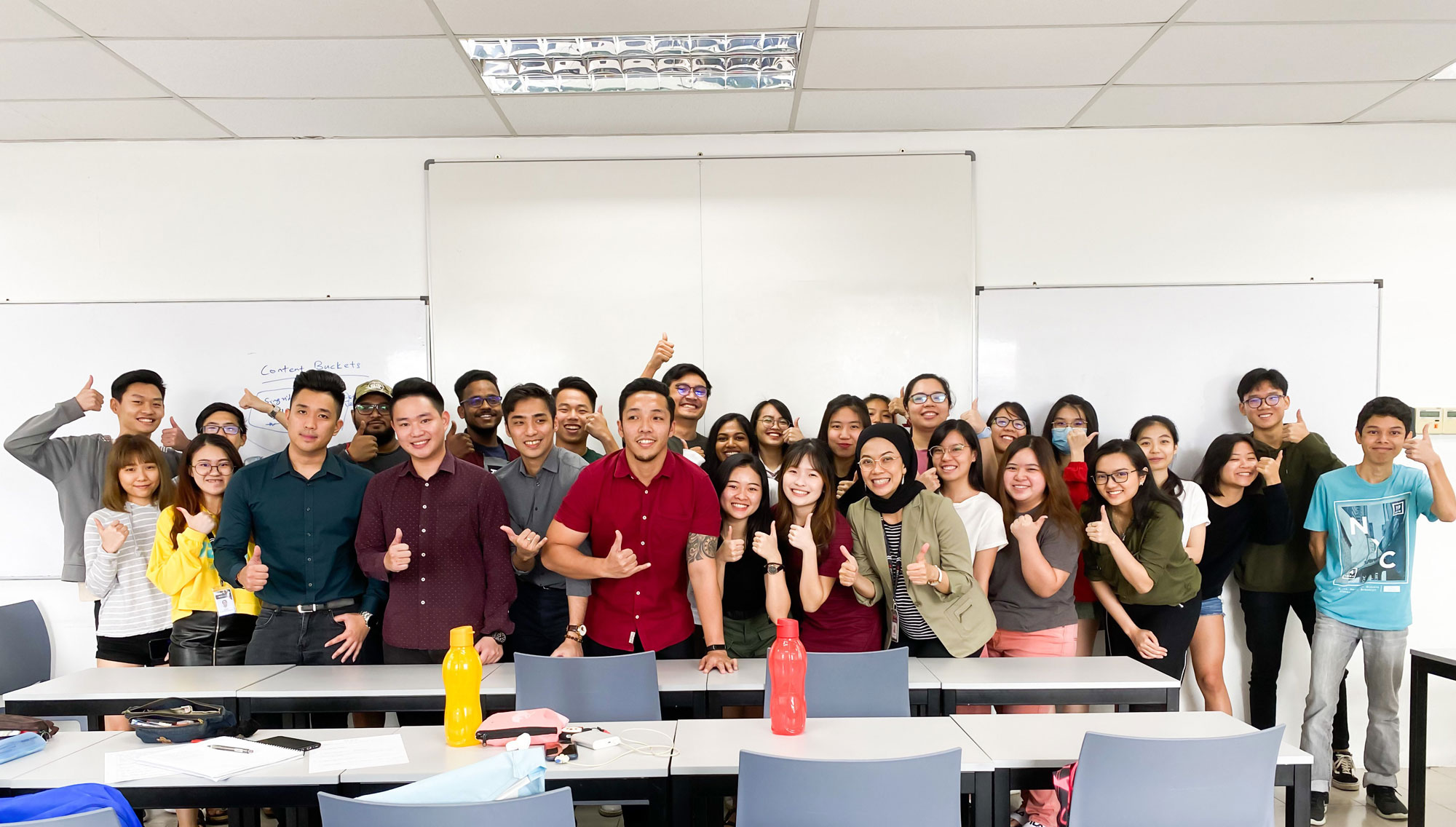 INTI International College Subang Centre for American Education senior lecturer Maztini and her students pose after a class presentation.
For Maztini Ahmad Mahir, who is a senior lecturer for the American Degree Program and Southern New Hampshire Program at INTI International College Subang's Centre for American Education, she was very fortunate that blended learning and the Blackboard Learning Management System was already established over the past eight years, and is a day to day tool for both lecturers and students.
"Before the MCO, we have been conducting two hours of face-to-face lectures, followed by an hour for online learning activities. This helped us prepare a little better for the immediate shift online when the MCO was announced. That being said the difference now is that everything is online so there is still a learning curve for lecturers in how we engage and teach students in a completely virtual environment.
"I remember when the coronavirus started, the Teaching and Learning team amped up their trainings to make sure we were fully prepared to teach all our lessons virtually. There are many tools and applications that were made available to support us, so these refresher courses were definitely good!" she said.
Because lecturers are now teaching remotely, Maztini advised that setting the mood at home is very important. Although she will not be meeting her students in person anytime soon, she has a designated workstation at home and gets ready for work like she normally would.
"As usual I wake up and get ready as if I'm going to class. I'll put on some light makeup and dress up just to create this mood and tempo of still working at the office. Your mindset is important and setting the right tone will lift your spirits when conducting online classes," she said.
She added that because lecturers are now talking over their laptops, it was necessary for them to make lessons more interactive and interesting to keep students listening.
"You now have to think of extra things to add spice to your class session. Apart from sharing videos, I weave in activities like video case studies, Kahoot!, Socrative, as well as fun quizzes and games that can be added on to Blackboard. They provide a nice change of visuals and even incorporate cultures and music that students enjoy," she explained.
Besides attending training conducted by the institution, Maztini said lecturers must also have a curiosity for how they can improve online delivery.
"Explore what's available online and read articles on how to conduct online classes. This helps to further equip you for the new normal. A little bit more effort is required to keep students from falling asleep, especially for those dry topics!" she laughed.
Citing her online teaching experience as being enjoyable so far, Maztini recounted a class where she had additional 'students' participating in the session.
"I've had some 8.00a.m. classes where parents would join in. My students would tell me 'Ms Maz, my parents are listening to your lecture as well' as they have breakfast while listening to my lecture. Their parents too would greet me and interact with the class from time to time.
"Although they do not say it directly, their interaction shows the positive impression they have of the way the online class was conducted," she added.
Dr Zuraidah Harith, a senior lecturer for the Mechanical Engineering programme at INTI International University in Nilai, also shared her own experience with online teaching which left her students chuckling during class.
"I was conducting my morning class this one day when a rooster decided to debut itself, and I don't even have a rooster!" she said with a smile, adding that she has never encountered the rooster before and it could have come from a neighbour's house.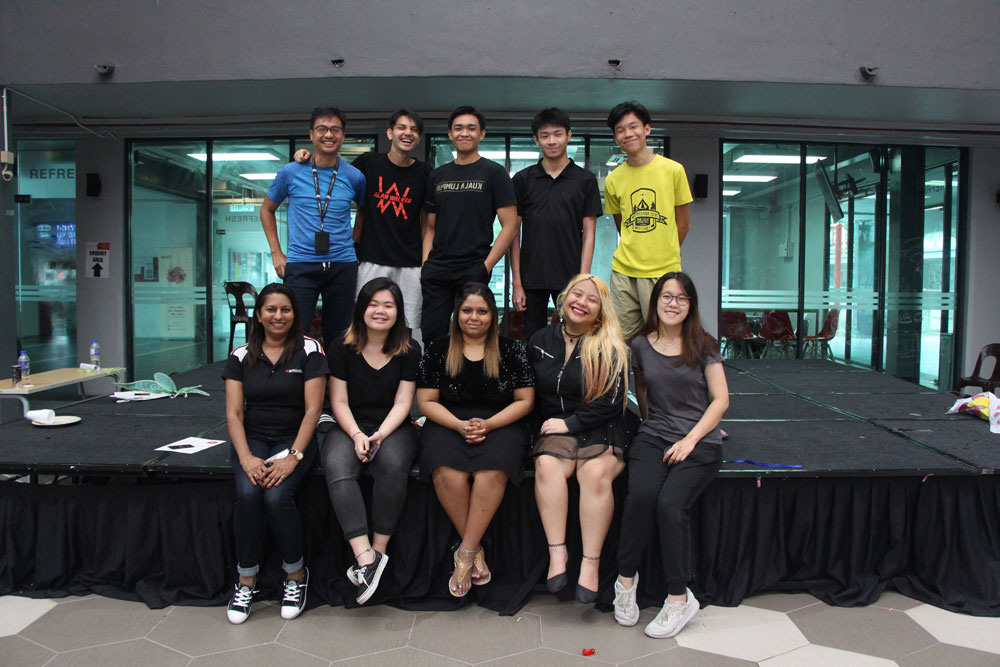 INTI International College Subang Diploma in Business senior lecturer Claudine poses with a group of student ambassadors.
Dr Zuraidah, who teaches Electrical Circuits among other subjects, said the mood of the class instantly lightened as students joked about the crowing rooster and some even told her to catch the chicken and cook it into a delicious dish.
Jokes aside, she added that for subjects that require the use of formulas, a writing tablet which she connects to her laptop has been especially useful when teaching online.
"Having the tablet has been a lifesaver! When you teach subjects such as circuits this is a great supplementary tool to have, especially now that we are teaching students virtually," she added.
Meanwhile, Claudine Shalani Kenel, who is a senior lecturer for the Diploma in Business program as well as an e-champion at INTI International College Subang's School of Business and Communication, believes that supporting colleagues who are relatively new to online teaching platforms is key.
Besides the compulsory trainings, webinars, videos and other materials on online teaching provided by her institution, faculty members also have access to INTI's online learning forums and peer support WhatsApp groups.
"As someone who has always explored technology and tools for online learning, I share what I know with lecturers who have less experience using the Blackboard Collaborate Ultra platform. This is the time when I can support my fellow teachers and guide them so that we can ensure students' learning will not be affected by the pandemic," she said.
According to Claudine, support amongst lecturers is not the only positive thing she has seen during this new global situation, rather, she said the same is being demonstrated by students as well.
"I have noticed that students are very much supportive of their classmates. Support is very important as some are not able to catch up online while some are faster at grasping the lesson, so the ones who understand are doing their part to help their friends," she said.
As online learning continues to play a vital part in sustaining global education systems, INTI lecturers are well equipped to offer quality online classes resulting from intensive training, support, and facilities provided by the university. Meanwhile, effort and creativity from its lecturers have allowed students to enjoy fun and engaging lessons from the comfort of their homes during the global pandemic.