COVID-19 has been a catalyst for digital transformation. Within two months of restricted movement orders globally, Microsoft witnessed the equivalent of two years' worth of digital transformation.1 Just a year ago, digital adoption among Malaysian SMEs was barely touching 20 per cent, and most manufacturing companies had integrated less than 50 per cent of automation in their processes2. Yet within the first two months of the MCO, reports of SMEs now focusing on online systems and virtual risk mitigation had increased.3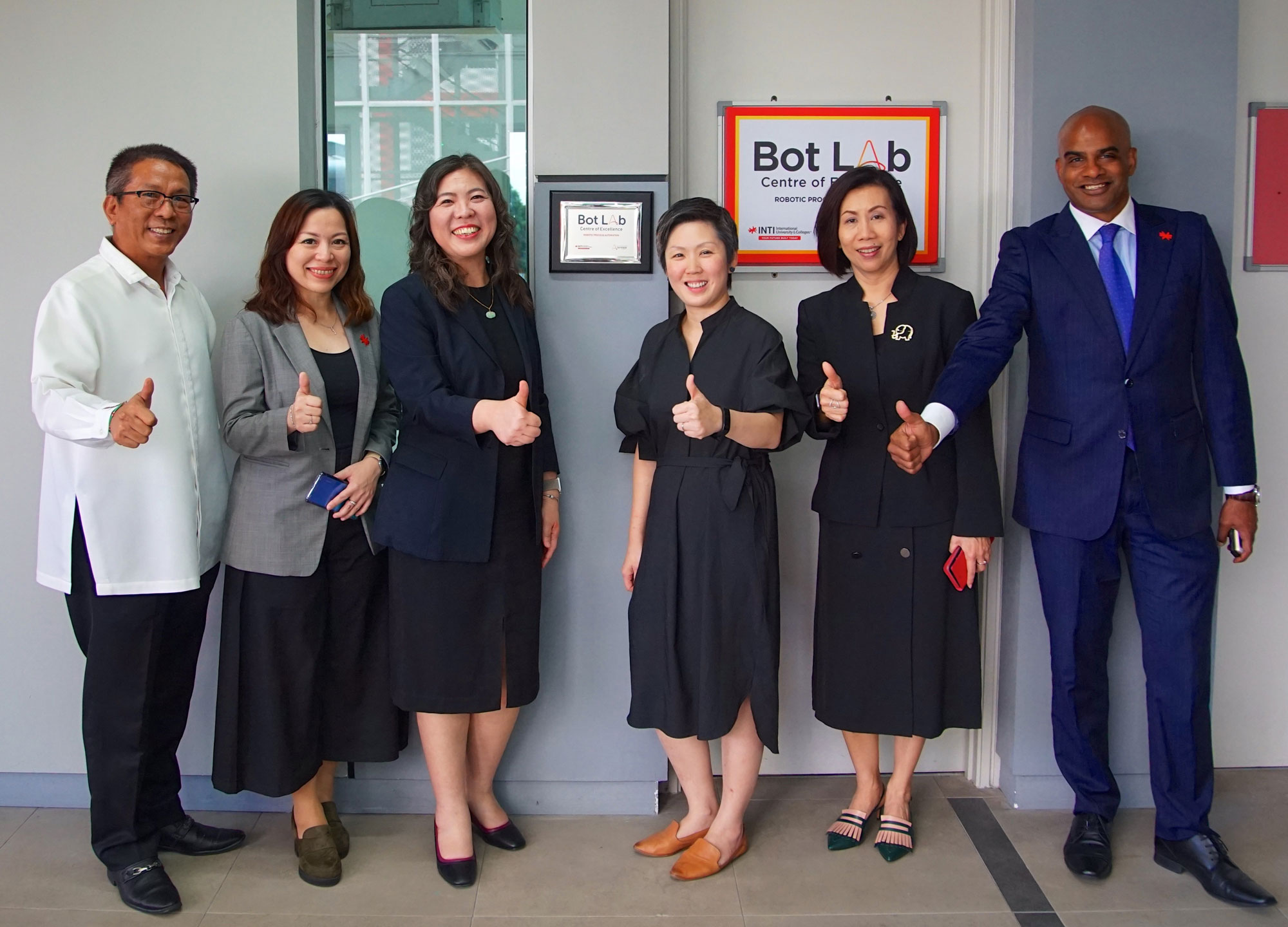 Serene Keng, Senior Director, Partner Sales, ASEAN for Automation Anywhere (3rd from right) and Tan Lin Nah, INTI's CEO (4th from right) with INTI's senior leadership team at Automation Anywhere's Bot Lab in INTI Subang.
"This crisis has accelerated the need for digital transformation among all sectors. While businesses may still be adopting a wait-and-see approach in light of global economic concerns, it is necessary that these transformative processes begin during this recovery period. The world as we know has changed and with contactless, virtual services becoming the new norm, digital adoption will be the differentiator in how well we adapt to these changes," explained Tan Lin Nah, INTI International University & Colleges' CEO.
Collaborating with SHARE/GUIDE, the IT Users Association from Malaysia, Lin Nah along with Stella Chua, INTI's VP for IT Services; Dr Jane Lim, Chief Executive of INTI International College Subang, and Ian Toh, a General Ledger Accountant from INTI's Corporate Finance Office were invited to share their digital transformation journey, focusing on robotic process automation (RPA). Moderated by SHARE/GUIDE's CEO Woo Yuen Seng, the hour long webinar delved into INTI's adoption of RPA in accelerating its business processes and was attended by 35 CIOs and senior IT leaders from various industries.
An established Malaysian institution with more than 30 years of expertise in private higher education, INTI now serves 17,000 students across six campuses nationwide. Given the scale of the business which has gradually expanded over the years, INTI's finance processes six years ago were highly manual and unintegrated, leading to low service levels in spite the long hours that staff were keeping.
"To build our bridge towards digitalization and RPA adoption we began with an ERP (enterprise resource planning) implementation, and as part of that, conducted process discovery workshops. Post ERP, we did time & motion studies, and the creation of highly detailed work instructions. With the exception of ERP, the rest were fully done in-house, which meant our cost commitments were really the time our people invested into documenting their current work process and challenges. These were the foundations that allowed us to move towards RPA," said Lin Nah, who at the time served as INTI's CFO.
Following a successful proof of concept, INTI selected a partner from Gartner's Top 3 list of RPA providers, namely Automation Anywhere Inc.
The first training session for students from INTI's Computer Science and IT programmes saw 10 students becoming Automation Anywhere University's Certified Essentials RPA Professionals.
Lin Nah commented, "We learnt that implementing an RPA did not have to cost a lot of money. There are customizable solutions and companies can start small before opting to scale. Our requirements were the speed of implementation, flexibility of working across multiple platforms without needing integration, and affordability. Automation Anywhere were exceptional partners who ensured we had the best experience in building our first bot."
Another key learning was the need to ensure the discipline for testing and sign offs, and the need for the bot to be flawless prior to deploying it. As most bots are developed for repetitive tasks, they must be trained to produce exactly what is needed without any mistakes – otherwise the mistake itself could be repeated multiple times. Likewise, ensuring that the bot had its own unique system login was important for security and allowed for a clear audit trail.
Seeing the success of the bot, the finance and IT teams shared their best practices about the entire transformation process with fellow colleagues from other departments. This sharing created an opportunity for other departments to ascertain how RPA could also reinvent their team's functions.
"We did not want this to be a one off project. RPA should speak to a company's overall strategies and become a part of each department's transformation roadmap. INTI developed our own Centre of Excellence by having our IT Services team learn how to train bots. This was an opportunity for us to develop our people and provide them with a new set of skills that they could use in their careers," Stella Chua highlighted.
Speaking on what a bot should be programmed to do, Ian Toh provided details into how the first bot was used within INTI's bank reconciliation process. He said, "Bots work well for structured processes such as filtering, pivoting, copying and pasting, and 'massaging' the data that is needed for the reconciliation process. Bots should be used for close-ended decisions. In instances where there are open ended or judgement based decisions such as resolving the unmatched transactions portion of bank reconciliations, the accountants would take over to make those decisions."
Lin Nah affirmed, "Bots work well for work that is tedious or repetitive, but decision making should be left in the hands of human talents who can identify differences and approach changes flexibly.
This addresses the concern that with automation, jobs may be lost. In our view, RPA does not wipe out jobs but changes them. With RPA supporting monotonous tasks, our people started doing more meaningful work and were clocking out at more reasonable hours. Essentially it enabled our people to engage in more creative tasks."
As education leaders, INTI also saw an opportunity that would serve its students directly.
"We realised the vast need for professionals in this up and coming field. Our first software coder was in Argentina and with Asia poised to be the global hub for IR4.0, there was a huge need for RPA talents in the region. As we see ourselves as the inception of talent pipelines, we set about to explore how we could create new opportunities for our students. Our commitment to employability and automation being poised to reach $7.2 billion by 20254 with numerous new job opportunities fuelled our decision to collaborate with Automation Anywhere University.
"This collaboration will serve as a platform which offers e-learning, webinars, trainings and even a resource library for the development of RPA specialists. Leveraging this expertise, we put in place training and certification opportunities for both students and staff in this field." shared Dr Jane Lim.
Following a memorandum of understanding that was signed in December 2019, Automation Anywhere launched its first Bot Lab in Malaysia at INTI International College Subang. A few weeks later, INTI organised its pilot boot camp for final year Computer Science and IT students which gave them a new set of skills for their final year projects and eventually for their careers. A train the trainer boot camp for faculty and staff was also organised so that these individuals could continue to train future learners and fellow colleagues.
"The training included pre-requisite e-learning, real life case studies, 40 hours of simulation to practice building bots, and a proctored examination. Within three months of the collaboration, 20 students and staff became Automation Anywhere University's Certified Essentials RPA Professionals – the first locally trained professionals who were ready to go to market, and were registered with Automation Anywhere's database of certified professionals," explained Dr Jane.
Summarising the overall experience, Lin Nah said, "INTI's RPA experience has been a truly immersive one. Starting from teams coming together to address what needed to change, to crafting a foundation for bots to be deployed effectively, and finally creating opportunities for our students and staff to gain future-proof skillsets. As we rebuild our organisations post MCO, adopting new technologies should be integrated in all aspects of business strategy. Transformation takes time, but with clarity of thought, collaborative planning, and a firm eye on the company's end goals, it will be a worthwhile effort."
Woo concluded, "This sharing session is in line with SHARE/GUIDE's objective, namely to create opportunities for the sharing of best practices among our members. With Malaysia now in its recovery period, coming together collectively means opportunities for new partnerships and learning how technology can help us move forward. For many organisations, digital transformation will be a differentiator for future success, but can never take the place of the human spirit. Collaborating and supporting one another while growing alongside technological advancement will be the real game changer in this digital era."
1 Microsoft 2020
2 New Straits Times 2019
3 The Star 2020
4 Global Newswire 2020