The January semester for students of the School of Hospitality and Culinary Arts (SOHOS) at INTI International College Subang was nothing short of exciting and knowledge filled. Various activities were organised including a one of a kind Coffee Cupping Workshop with Barista Experience Academic, which benefitted both lecturers and students.
Formerly known as RGB Latte Art, Barista Experience Academic located in Kuala Lumpur, is a school that provides barista training to those who are interested in learning the basics of coffee making and also tricks of the trade.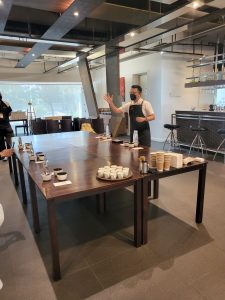 Michael Tan, a cupping trainer from Barista Experience Academic, inspiring the audience with an engaging hands-on training and sharing of techniques used in the trade.
Present at the workshop was Dr. Jane Lim, Chief Executive of INTI International College Subang. She shared how SOHOS continues to foster close partnerships with the industry, including businesses and non-governmental organizations, to prepare budding professionals for constantly changing trends. Workshops such as these are held to broaden the horizon of our students from industry perspectives, besides allowing them to gain insights from professionals.
"INTI students gain in-depth industry experiences and insights through immersive trainings like these to help them discover their passion and true potential. Guided by the tagline 'Your Future Built Today', INTI is bridging the needs of tomorrow via industry exposure to ensure students gain the competencies needed for the workplace of the future," she said.
The academy's cupping trainer, Michael Tan, inspired the audience with an engaging hands-on training while also teaching techniques of the industry.
"Cupping is the industry standard for coffee quality evaluations, and a great way to learn more about coffee whether you're a consumer, roaster, trader, or even a coffee farmer. Yet, attending a cupping session can be intimidating, especially if you're new to it," Michael said.
Cupping is a quantifiable and widely used method of analysis for a coffee sample, from its overall quality to individual characteristics such as acidity and specific flavour notes. According to Michael, cupping is just one of the many ways to taste coffee, but it's a very efficient way to taste many different coffees side-by-side.
At a cupping session, there will typically be a variety of samples. There might be coffee from the same origin but different farms, it could represent different varieties and processing methods, and perhaps it will even be from different countries. This diversity is useful when one is looking to buy or sell coffee, or is simply keen to expand their knowledge and experience .
Cupping is believed to have originated in the late 1800s, when merchants would taste a variety of coffees to decide which ones they wanted to buy and also check for consistency. In 1999, cuppings were used at Cup of Excellence competitions, which lead to the Specialty Coffee Association of America (now the Specialty Coffee Association) creating guidelines that have since been widely accepted by the international specialty community .
Michael added, "Today, the industry uses cuppings in the same way as 19th century merchants did to assess a coffee's characteristics, make purchasing decisions, and confirm consistency. Cupping allows for a standardized methodology and language that can be used and understood anywhere."
He said the methodology also provides invaluable opportunities to communicate with supply chain partners, such as farmers and exporters, that will enable them to cup the same way as roasters and baristas, and this can complete a feedback loop that leads to better quality and value.
Following the coffee cupping session, question and answer session was carried out which allowed to have a better understanding of coffee and its infinite methods of brewing besides networking and enjoying brewed cuppas.