Memories are a part of everyone's life, and one of the best memories is from school, which many consider the best phase of their lives.
School is the best place to learn new things and make unforgettable memories. Those were the days when there was no work pressure and no tension to earn money. Every student should make the most of their school experience because it will never be repeated.
In this piece, INTI International College Penang lecturers take a trip down memory lane and share about their days in school.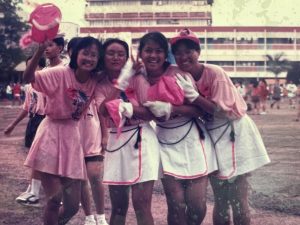 Chloe Wong Wan Ching recalled leading her juniors in the Annual Sports Day during her senior year. It was a fantastic experience for her in which she learned about leadership and teamwork while also making new friends.
Days when life seemed easier
Chloe Wong Wan Ching from INTI International College Penang's Student Affairs Office first moved to Penang in 2004, but she has always been proud to be a Sabahan. She is the only daughter of three siblings and her parents have been running a small grocery store in Kota Kinabalu for over two decades.
She attended Sabah Tshung Tsin Secondary School in Kota Kinabalu before pursuing her A-Levels at Tshung Tsin Pre-U Centre. "Classmates and teachers would describe me as a student role model because I did relatively well in my academics. Apart from that, I was involved in many extracurricular activities," said Chloe who was then awarded a full scholarship from the Swinburne University of Technology, during which she spent three years in Melbourne, Australia, earning a Bachelor of Business degree.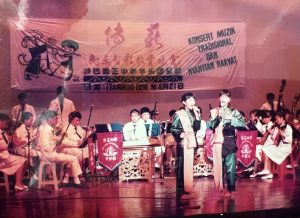 If Chloe could go back in time, she would join other musical clubs at her secondary school and learn to play some musical instruments.
Chloe said another vivid memory is one of her favourite teach, who she fondly refers to as Teacher Sim. She said this particular teacher always had a warm smile and always encouraged her to improve her Bahasa Malaysia and share insightful ideas.
"She inspired me to become a teacher," said Chloe, who taught Economics for Cambridge A-Levels in her hometown of Sabah for four years after graduation.
She admitted that childhood memories were the most colourful in her life, saying that working life was more complicated than she anticipated. She said a lot has changed since then and technology has undoubtedly played an important role in transforming the educational system.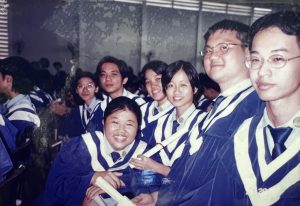 Chloe with her friends during graduation.
"We used to rely heavily on reference books to complete our assignments. Now, technology has advanced to the point where we can get whatever we want with the click of a button on our electronic devices," she added.
Cherishing time spent outdoors
Meanwhile, Dr Calvin Cheah Wei Chieh, from the Centre for American Education (CAE), received his secondary education from St. Xavier Institution, an all-boys school.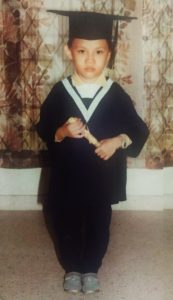 Dr Calvin Cheah Wei Chieh's childhood dream was to be a naval aviator which was influenced by his all-time favourite movie, Top Gun.
Describing himself as a cheeky student who enjoyed teasing and making jokes with his classmates, Dr Calvin said his priority then was having fun and academics came second. Despite dreadful memories of gruelling Monday morning assemblies and fierce teachers, he does reminisce the good times.
He remembered eagerly sprinting to the canteen with his friends when the recess bell rang. "My mother used to give me RM2 as pocket money. A plate of char koay teow only cost 70 cents back then, and everything was cheaper than a ringgit. No matter how processed the food at the canteen was, you miss it sometimes, especially the 50 cent nuggets," he said.
He continued, "School is not what it used to be when I was a kid. My friends and I spent most of our time outside running and chasing each other, playing with pebbles and board games. The Internet was not introduced until we were in Form 2 in 1993," he said, adding that competitive "sports" during his time were eraser battles, which is how students learned about flags.
Dr Calvin, who had always been inspired by music and the arts, said another fond memory as an adolescent was joining the school band and marching in the Merdeka Parade.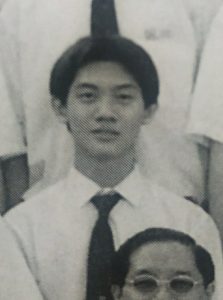 Dr Calvin feels that the best years in life were the ones in school and the friendships made then often last a lifetime.
"I was in charge of the bagpipe section. After school, we used to march and play instruments in the hot sun," he said, adding that any inter-school competitions were not a matter of winning or losing but of life or death for an all-boys school.
When asked what he learned that he would like to pass on to the next generation, he said, "I wish for the next generation to have fun, be happy and contented while also constantly improving themselves. Time waits for no one, and once it's gone, we'll have to wait for the next ride, which may or may not arrive anytime soon or at all."
Making friends for life
Christine Gan, a senior lecturer from the School of Business (SOBIZ), had always considered Penang to be her hometown, despite moving to Kuantan when she was in high school.
She received her primary education at SRK Convent Butterworth before transferring to Sultan Abu Bakar School (SABS) in Kuantan for her secondary education. As someone who very much enjoyed the outdoors, Christine was constantly involved in extracurricular activities and loved making new friends. "School days were the days when we spent a lot of time playing in the school field and getting tanned from running in the sun. Also, the best part of riding the school bus, is I got to meet new friends from other schools."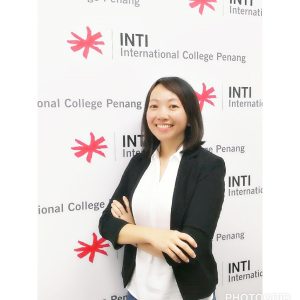 Christine Gan was glad that she made the decision to be an educator.
Christine also stated that during her school days, it was common for them to have best friends of different races. "Regardless of our different religions, races, or ethnicities, my friends and I will always visit each other's homes during the festive season. Going to open houses was always a lot of fun, and it's definitely one of my nostalgic school memories of what makes Malaysians unique," she said, adding that her best friends in high school consisted of Indians, Portuguese, Malays, and Chinese, all of whom she is still in contact with.
When asked what she missed the most from the good old days, she said, "I miss how secure the society used to be. Most of us can cycle to and from school without fear. I remember taking a 20-minute walk to school at night to study the stars, which was organised by the astronomy club, and then walked back home."
Christine recalled having received only 40 cents for pocket money in primary school. "My mother usually prepared my lunchbox so that I can save and spend my pocket money at the school's cooperative shop to buy cute stationery, especially for rulers and erasers which never seem to stay in your pencil box," she laughed.
As a volunteer with St John Ambulance as a first aider at Kuantan General Hospital every year during the school holidays, Christine met a lot of friendly doctors.
"They always encouraged me to pursue a career in medicine, but fate had other plans for me. So, after graduating, I worked for five years as an accountant before realising that teaching was my true calling! I'm glad I made that decision," Christine concluded.