Being caught in a global pandemic which is compounded by racial tensions in the United States of America has been the cause of anxiety, uncertainty, fear and stress among international students. Being a Malaysian and a fresh graduate in the States, Jowei Yek, 21, whose passion is advocating diversity, inclusion and equity has persevered through recent challenges by reminding himself to always look on the bright side of life and acknowledge different perspectives.

Before the lockdown, the team of Grand Valley State University (GVSU)'s 2020 National Student Advertising Competition (NSAC), where Jowei Yek (3rd from left) played a significant role, organised a conference to prepare for the competition.
Jowei majored in Advertising and Public Relations and minored in Psychology at Grand Valley State University (GVSU), Michigan, completing his studies in April 2020. Starting his tertiary learning journey in Malaysia, Jowei studied the American Degree Transfer Program at INTI International College Subang, moving to the States in August 2017.
Being Asian in a predominantly Caucasian institution, his nationality and ethnicity did not hinder him from playing an active part and even becoming a student leader on campus. Participating in a recent competition by the American Advertising Federation (AAF) Jowei led a five-person Strategy Team as the appointed Strategy Director and emerged as champions thanks to their eye-catching, cohesive and research-driven advertising campaign.
"As an international student, my experiences from home helped me bring a more unique perspective to my class and helped me become a more empathetic leader," said the KL-born graduate who hopes his future profession will provide a means for him to advocate social justice for marginalised communities.
A young man with a sunny disposition, Jowei does not think that his background has influenced his opportunities in life. "I was chosen by my professor to lead my team in the competition based on my work experience and merits," he stated.
As the Strategy Director, he demonstrated his ability in leading the team to organise the research for the competition, as well as in delegating tasks so that everyone could put in their best efforts. Jowei also led his team to identify issues that impacted human life as a driving force of the advertising campaign. "Throughout the competition, the judges complimented us on our core pillars which were deeply rooted in research and reflected current issues very well," he said proudly.
Despite being a non-native English speaker, Jowei was chosen to be one of four presenters at the competition. Working with the presentation team, he had to write and memorize a 20-minute long speech, and he added, "My professor and my team did not take my language skills at face-value but gave me the chance to audition for the presentation team and, ultimately, chose me to present the campaign to the judges."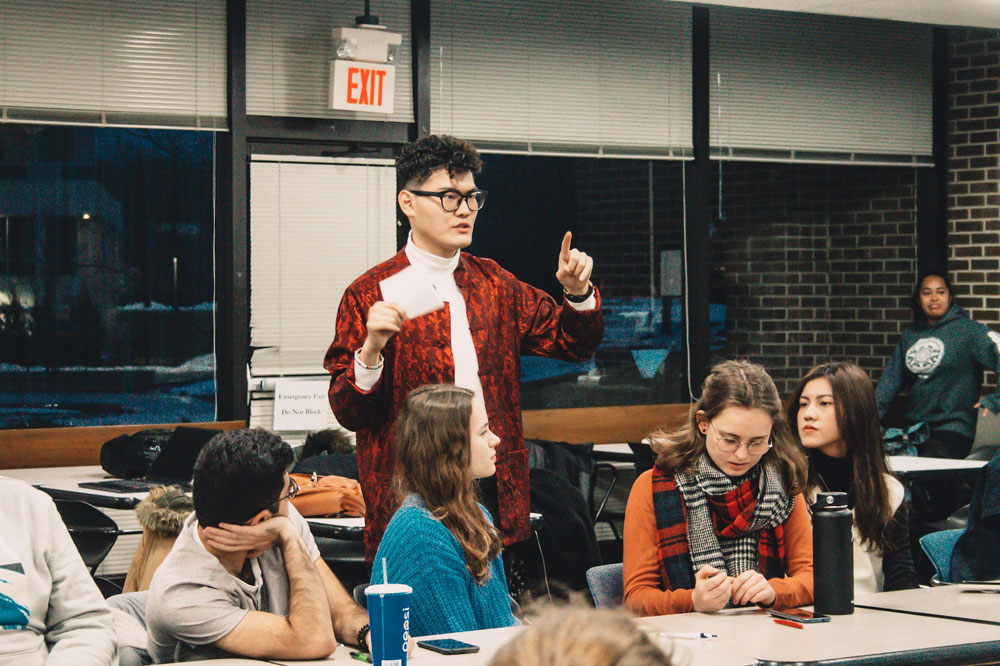 Jowei Yek led international students at Grand Valley State University (GVSU) in a student organisation named "Bringing Together the World (BTW)", where he served as president from 2019-2020.
The entire team of GVSU's 2020 National Student Advertising Competition (NSAC), where Jowei played a significant role, consisted of 24 students and a faculty member. It had a great mix of talents in the team with videographers, photographers, graphic designers, writers, and media planners. During the district competition which was converted into an online event in early April 2020 due to the pandemic, the team mirrored the work of an advertising agency and had Adobe, an American multinational computer software company, as their client.
The competition not only gave Jowei a great opportunity to replace his university-required capstone project with this campaign, but he also experienced a real working environment. "We had to meet all of the campaign objectives that were outlined by the client, then we had to make sure that we came up with innovative ideas that would outshine other teams while staying within the campaign budget."
Competing against 18 universities from Michigan, Illinois and Indiana, most of the competition took place via video conference calls. This included all the planning for the competition, as well as their presentation and responses to the judges.
"Winning at the district level was a recognizably tough challenge in itself!" enthused Jowei. His team went on to the semi-finals followed by the national level competition in early May 2020 and placed 4th among universities from across the US. As an international student, this experience, along with participating in other projects and activities has broadened his horizon as a well-rounded graduate and soon-to-be professional.
"Starting from my first day at GVSU, I approached every day like it is my last. I knew I had three years before I graduated and I wanted to make full use of every moment. So I was never shy when they asked for volunteers during orientation, I went to every single event planned for international students, and I wore my culture with pride," expressed Jowei.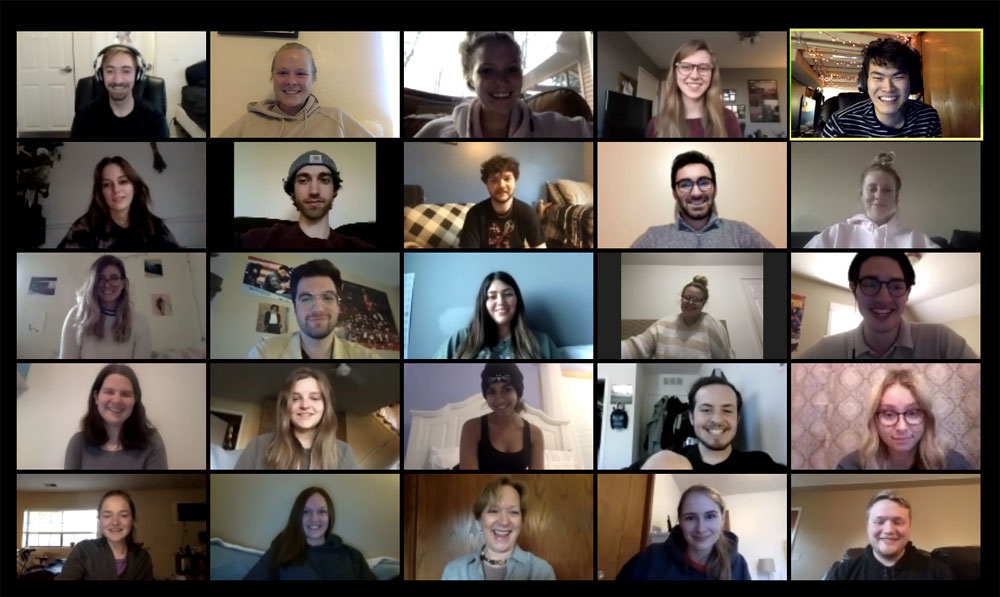 Jowei Yek (top right) and team members met virtually via video conference calls during the last few weeks of the competition to perfect their advertising campaign.
He continued, "I would take every single opportunity to tell people about the country I am from, to help them fall in love with my home – Malaysia. Within a few months of being there, I began to assume leadership roles in student organizations and that allowed many other international students to see me as a resource and friend. Many of them began to reach out to me for advice on adjusting to life as an international student, to better cope with homesickness, and to make the most of their campus life. I am glad that I was able to touch the lives of my fellow students and make an impact during my time at GVSU."
When asked about his dreams for the future, he stated, "I hope that humanity will arise from this pandemic and become stronger. That we will rethink conventions and implement positive changes to our society."
Having secured a position as a Digital Content Specialist at Amway, Jowei is looking forward to starting his professional experiences in mid-June.
"I am extremely grateful to have been able to find a job one month after graduation, moreover, finding one amidst the pandemic and economic downturn. I believe this job will be a test of my abilities and I am sure that the work experience will help shape my professional pathway," he concluded.