Starting December 2021, students and staff returning to the INTI International University campus in Nilai will be welcomed by a "new" lobby, which has taken on some bold new elements following renovation work which started in September 2021.
The lobby, which used to sport a classic look, now takes on a more contemporary look and feel with an overall neutral colour scheme accented by pops of colour, including an arch in INTI's corporate colour framing a centre island. Neon LED signage further adds personality to the clean and open space concept.
"We opted for neutral colours throughout to create an envelope that symbolizes unity and establishment of the INTI brand, while the neon lighting represents innovation and creativity, which are key for the 21st century," shared Dr Joseph Lee, Vice-Chancellor of INTI International University.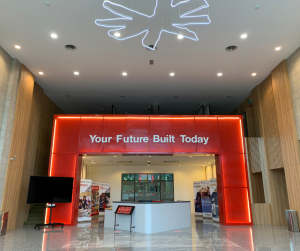 The new lobby at INTI International University.
Though COVID-19 disrupted education worldwide, it provided the University the opportunity to carry out renovation works to improve the overall campus experience for students and faculty who are slowly returning to campus on a need-to and rotation basis.
The spacious lobby offers a side corner with amphitheatre style seating and bench seats for a quick catch-up or place to wait. Just off to the left side of the lobby is the multi-functional Meet & Greet area where students can lepak, study, or have a discussion. Plenty of seating arrangements and power outlets offer the space to facilitate activities according to individual or group needs, featuring trendy and colourful décor that is pleasing to the eyes. Modern lighting fixtures and neon signage also give the new space a vibrant personality.
The Meet & Greet area is also a conducive space for education counsellors to sit down with prospective students and their parents. A long shared table there has adjustable panel inserts to act as a separator and encourages social distancing during a time when the risk of COVID-19 is still present. Existing study booths were also fashioned into phone booths to enable voice or video call sessions.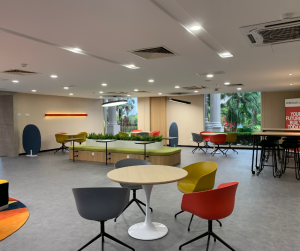 INTI's new Meet & Greet zone is an investment for INTI students and their on-campus experience.
"This makeover aims to create a unique lobby with a vibrant and welcoming area where students can meet, study, and socialise in between sessions, offering a dynamic and collaborative campus environment," Dr Joseph shared.
He added that the University would continue to devote its efforts to upgrade and improve campus amenities to meet the learning demands of the student community and create a positive environment during this new normal and even beyond.
Meanwhile, Chong Kok Wai, Chief Executive Officer of INTI International University & Colleges, said the renovations bring an element of fun to the lobby and common area.
"The bold additions and new marble flooring give the lobby a fresh new look compared to what it was when INTI International University was first built in 1998. The makeover serves to showcase what is already amazing about INTI. It is an entirely different experience when you walk in with the colours, lights, materials, and fabrics used, as well as technology incorporated," Kok Wai explained.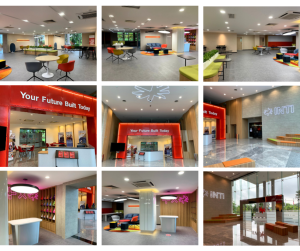 INTI International University gets a modern makeover.
He said a lot of thought and effort went into the planning and execution, demonstrating the importance INTI places on making sure that students have a conducive place to learn and grow as individuals.
"Adjusting to the pressures of academics and personal growth can be challenging. We want to provide you with quality education and the best environment and facilities. We hope students and staff will come and experience the new lobby, which factors in both academic and social components," said Kok Wai.
INTI International University carried out several campus refresh projects at the end of 2020, including classroom refurbishments to make way for flipped classrooms and showcase classrooms and fresh coats of paint to the external campus building. The renovation involving the lobby is just a part of the ongoing upgrades happening on campus, which are a testament to the University's commitment to providing a place where students can enjoy their learning and social journey at INTI.