Fresh from launching its 30th Anniversary early this year, INTI International University and Colleges continued its nationwide tour of the #TEDxINTI series, an independently organized event, licensed by TED, and featuring well known speakers, performance artists and writers on the theme of "Why Not Now?".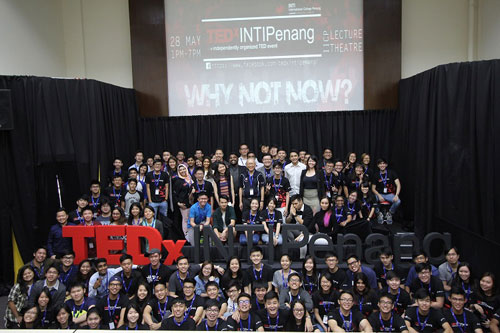 The #TEDxINTIIPenang organizing committee with some of the participants. This marked the first ever TEDx event in INTI International College Penang.
Known for its ability to bring inspiring leaders together, TEDx is a programme of local, self-organized events that engages their communities to come together and share ideas that could potential make a difference. Since 2009, there have been more than 3,200 TEDx events globally.
Having organized the first series of #TEDxINTI in INTI International University Nilai campus, #TEDxINTIPenang, the second installment saw participation of over 200 students and 10 speakers, each an expert in their own fields. The speakers include model cum entrepreneur, Vick Foo; animal rights activist, Barbara Jannsen; writer Deborah Koay, debater Mohammed Mifzal, and youth empowerment advocates Andre Ong and Aundrey Ansel. The day also saw performances by violinist Verena Koay, Beatboxer Cody 'Coex' Foo and singer-songwriter Talitha Tan.
One of the key highlight of the event was Swarna Naidu, an alumnus from INTI International College Penang returning to her alma mater to present her talk. Swarna, who recently won second runner-up in the Miss Universe Malaysia 2016, spoke about the challenges of a beauty queen and the need to 'break the stereotypes' that comes together with it.
"We need to change the mentality of the society who demands a girl to be consistently flawless. It is a girl's right to look however she feels comfortable," she remarked, which was followed by a standing ovation at the end of her talk.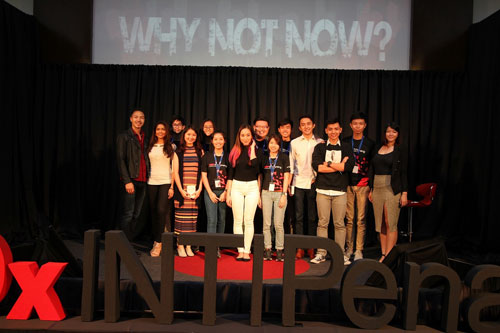 The speakers, comprising of young innovative leaders from all walks of life posing for a group photo.
The half day event also saw many current topics being discussed, including entrepreneurship, music, and the need to challenge current notions on what is defined as 'success'. The inspiring talks certainly left the crowd in awe, especially with the opportunity to listen to speakers who are well on their way to become key influential figures in the society.
"I hope this is a start of many more successful TEDx events in Penang," said Leow Wuei Loong, the curator of TEDxINTIPenang and a final year Business Administration student at INTI International College Penang.
"There's a lot of youth out there who is looking for an avenue like TEDx to come together and meet like-minded individuals, and we hope we have provided that opportunity," Leow added.
The next TEDxINTI event is set to take place at INTI International College Kuala Lumpur campus on August 6, 2016 and will feature another exciting line up of prominent presenters and INTI alumni. For more information on TEDxINTI, kindly contact Joshua Kandasamy at joshua.kandasamy@newinti.edu.my