An estimated 2,000 people, ranging from students to the general public came together to celebrate the Festival of Colours, Holi at INTI International College Subang recently.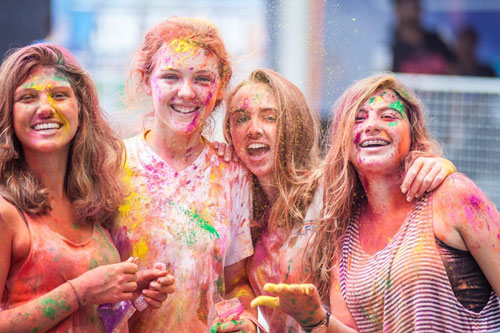 Holifest 2.0 saw participation of over 2,000 people, making it the biggest student-run event ever at INTI International College Subang
The festival, organized by The Indian Cultural Society from INTI, drew in youths, and the Subang Jaya community as they threw colourful powders on one another to the thumbing beats from the DJ.
"This is the second year that we are organizing this festival at our campus. Last year we hosted over 1,000 people, and this year has seen the numbers doubling up!" said Giri Rao Krishna, head of the organizing committee and a second year Information Technology student at INTI International College Subang.
"Usually Holi Festival is celebrated at a temple. But the challenge is that it is usually held in a small space and it gets overcrowded. We wanted to give the opportunity to celebrate the 'Holi Festival' to a bigger crowd – hence the idea of having it in our own campus was proposed," he added.
From what started off as a traditional Hindu Festival, Holi Festival of Colours has seen a rapid growth in popularity over the years due to its colourful powder and 'celebrative atmosphere' that it brings together.
"It was unbelievable! I've heard a lot about the festival before coming to Malaysia, as we used to celebrate it in the States. But the way it is celebrated here brings it to a whole new level – especially with the traditional 'dhol' music that accompanied the celebration," said Christina Wellion from Utah, United States of America who was one of the participants at the festival. ?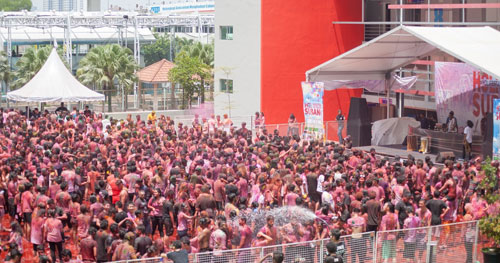 Holifest 2.0 saw participation of over 2,000 people, making it the biggest student-run event ever at INTI International College Subang
Speaking after the event, Giri Rao Krishna added, "Next year we are planning to have it in a much bigger scale. We used over 1,000 kilograms of coloured powder this year and brought some of the most happening DJ's to add to the atmosphere. It could only get better and bigger from now on.
On top of that, we are also aiming to encourage people from all the ethnic communities to come join the celebration next year. Essentially, Holi Festival is a time of celebration and bringing people together and should not be seen as an 'ethnic-centric' festival."
Rohit Sharma, CEO of INTI International University and Colleges said, "The Holi Festival celebration in our campus is a great example of how today's young generation, especially INTI students are coming together to promote unity and togetherness among different ethnicities. This will certainly help the students to understand the importance of celebrating the similarities and diversity between our cultures."
Through the event management, students also learned to develop critical skills like communication and collaboration. It was also a means of increasing self-confidence and expression by engaging with a huge crowd and managing its success.