The practical or "learning by doing" approach has proven to be a highly effective teaching method. Rather than being taught a subject in the classroom, students learn through hands-on experience and guidance from industry experts. This approach allows students to polish their soft and hard skills, as well as apply their knowledge in a professional setting.
Recently, INTI International College Penang's School of Hospitality (SOHOS) collaborated with a multinational company and PG Food & Beverage Malaysia (PG F&B) in an industry project which provided a valuable opportunity for SOHOS students to gain first-hand experience in the catering industry.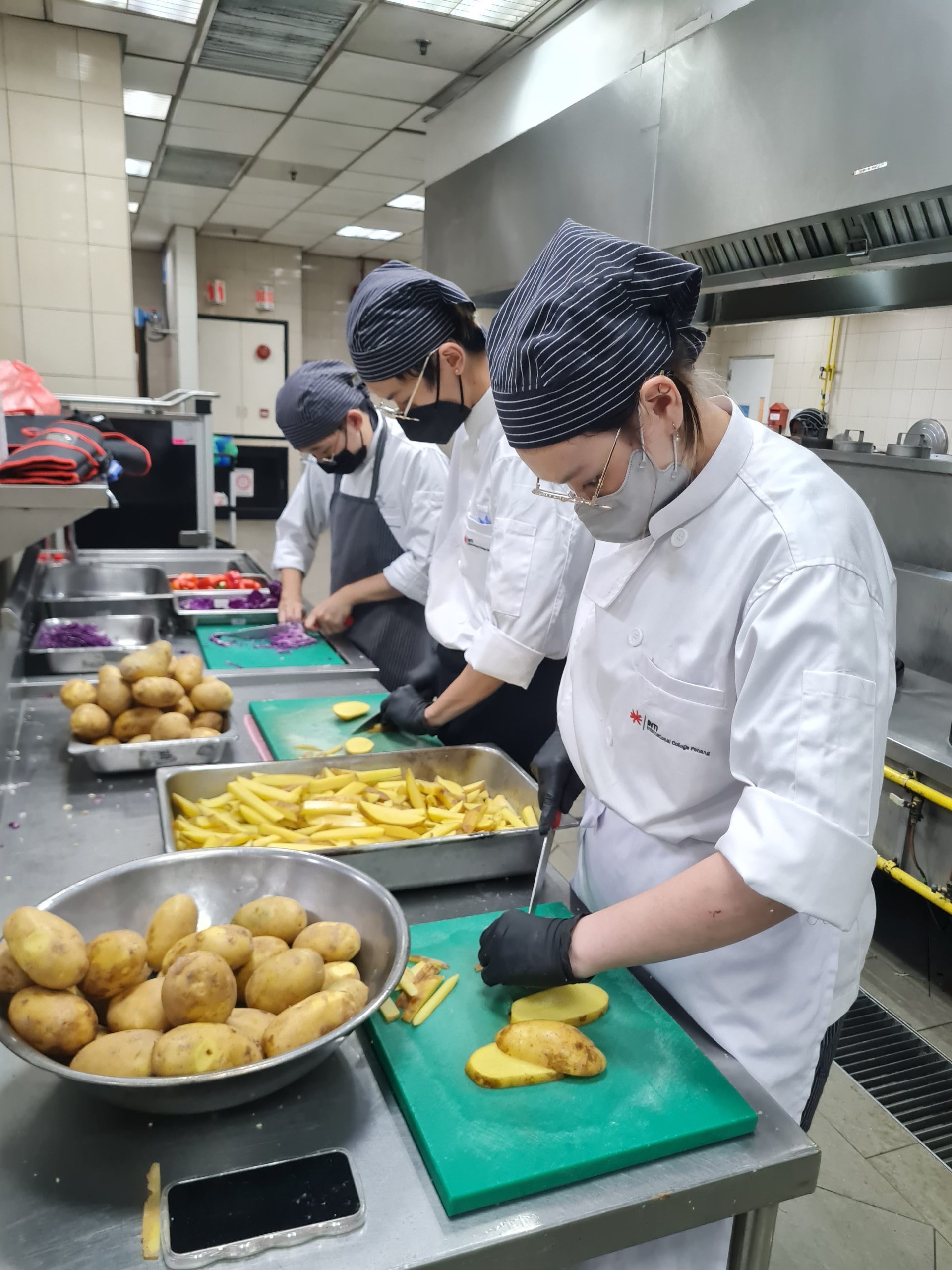 SOHOS students (from left) Tann Di Liang, Chow Si Wei and Goh Yan Ying doing mise en place in the kitchen.
According to SOHOS chef lecturer Nur Adilah Zulkiply, the project exposed students to valuable real-world experiences in the catering business such as customer service pressure, efficient kitchen management, and other new knowledge and skills. Additionally, it helps to broaden students' perspectives and understanding of career opportunities within the culinary industry.
"This project helps students gain knowledge on food production, serving, managing special requests, improving communication skills and dealing with peak hours," explained Nur Adilah.
On 8 and 15 February, students were divided into groups and assigned to four different cafeterias at two of the multinational company's offices. There they prepared and served lunch as planned by the cafeteria manager, under the guidance and supervision of cafeteria's chef and PG F&B staff.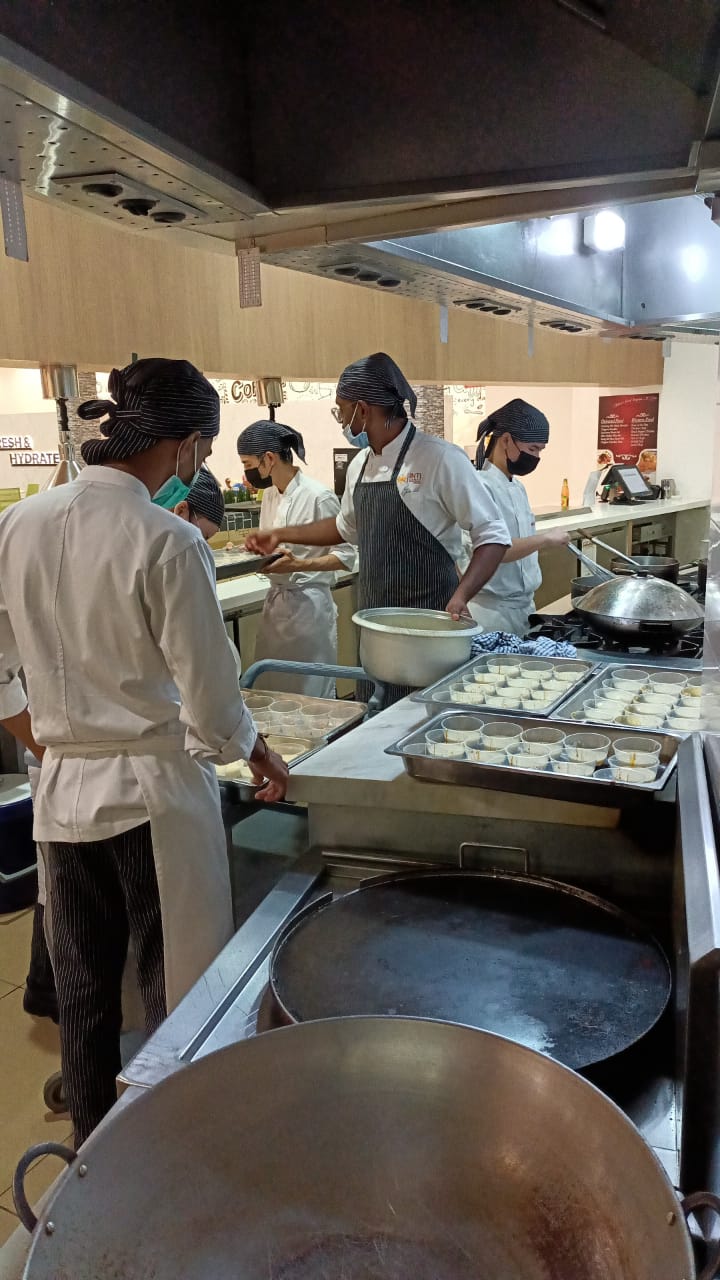 INTI's SOHOS students busy preparing meals in the kitchen.
The students kickstarted their on-the-job training with the most fundamental stage of preparation known as mise en place.
"They learned the importance of proper preparation, organization and timing under the supervision of industry professionals," said Nur Adilah, adding that students also had to procure the ingredients, prepare the food, and ensure everything was in order before serving.
She also pointed out that students had the opportunity to cook a variety of dishes using high-tech and large equipment not available on campus including the Convortherm Oven, Megcook Automatic Intelligent Cooking Machine, vegetable washer, and Merry Chef Speed Oven.
She said the students had to interact with real customers, understand their preferences, and serve them the food prepared."The true test of their skills came when they had to serve the customers," revealed Nur Adilah.
"It was an enriching experience that helped them develop customer service skills and understand the importance of quality and presentation," she said.
Among the menu they prepared were lunch sets consisting of Wild Mushroom Cream Soup with Garlic Bread and Golden Crispy Chicken Fillet with US Fries, Salad, and a Tangerine Dip for the company's employees. Their hard work paid off when they received positive and constructive feedback from customers on the delicious meals dished out.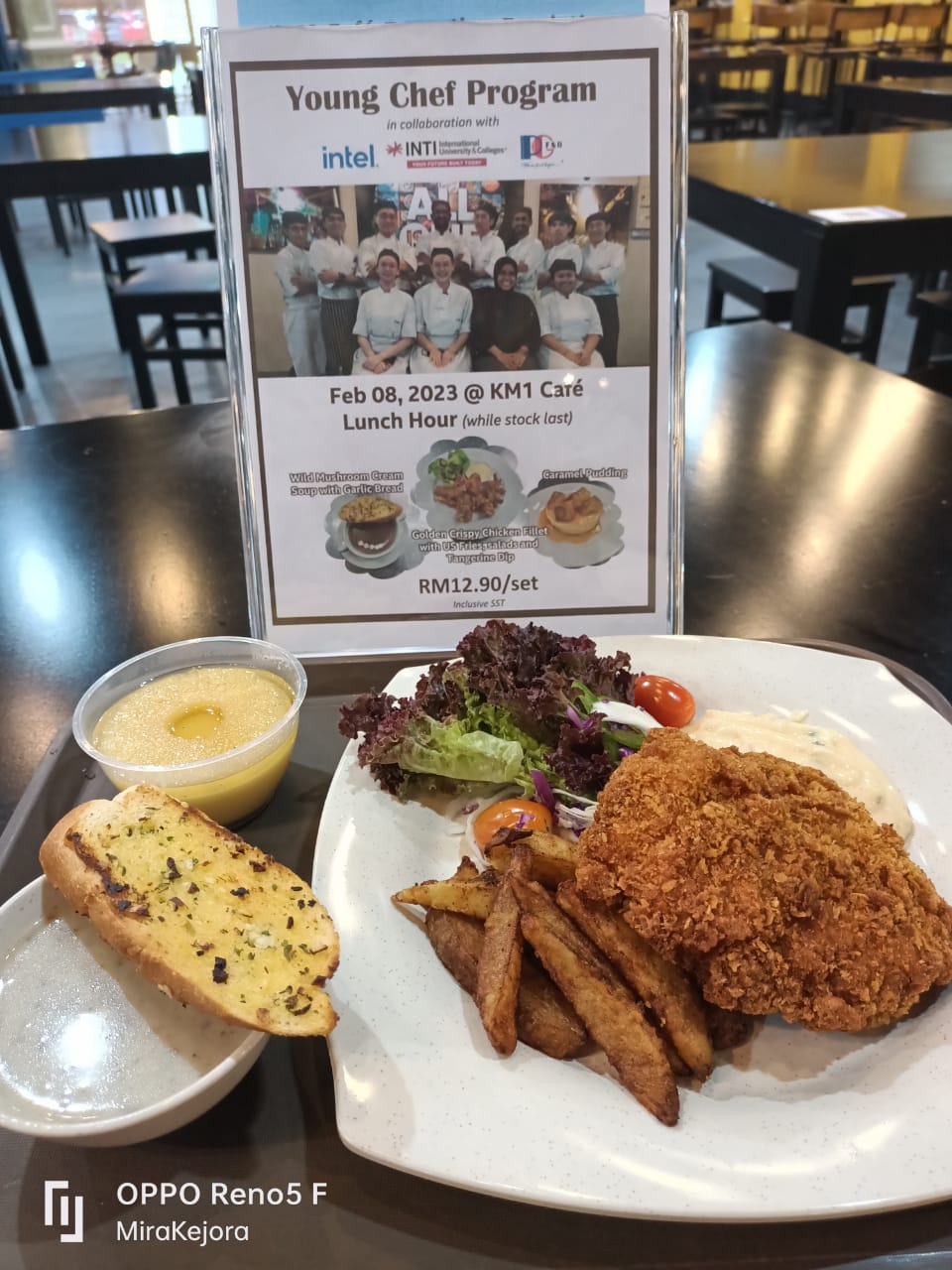 Golden Crispy Chicken Fillet with US Fries, Salad and Tangerine Dip cooked and served by students from INTI International College Penang's School of Hospitality.
Executive chef Billy Lee Chan Hoong lauded the effort saying the programme was an enormous success and that he looked forward to future collaborations with INTI.
"We were delighted to see customers enjoying the meals prepared by the students. We hope this experience was both educational and rewarding for them and we eagerly anticipate future partnerships with the INTI team," he said.
Meanwhile, cafeteria specialist Jiness Ooh Eai Har was impressed by the performance of the students. While there were areas for improvement, the response was largely positive.
"Our customers loved the meals. The chicken could have cooked a little longer and some thought the pudding was a tad too sweet, but overall, the feedback was great. We were stunned by the exceptional service provided by INTI students," she said.
Twenty-four-year-old Tan An Ze enrolled in the Diploma in Culinary Arts programme to pursue his dream of becoming a chef and one day own a restaurant that introduces new and exciting food concepts from different countries. He said the INTI Young Chef Programme provided him valuable training and experience to prepare him for the demanding workload and commitment of a top-notch chef.
"Working in a five-star chef's environment was an eye-opener. I have learned the importance of details and the art of serving the best meals," he said.
Despite the physically demanding long working long and the pressure to work quickly and efficiently, he was able to overcome the challenges he faced by following the instructions and tips of his sous-chef. Tan An Ze said that receiving compliments from customers about his quick performance and positive attitude, especially during an event involving Japanese staff and clients, gave him a boost and further fueled his passion for the restaurant business.
Neshalleni a/p Jayaselan, who is also pursuing her Diploma in Culinary Arts, dreams of owning a home bakery one day. The Taiping native's passion for cooking and baking has driven her to pursue a programme which can enhance her skills as a chef.
For her, teamwork and effective communication are the cornerstones of success in the culinary world.
"I thoroughly enjoyed working as a team of individuals from different backgrounds, strengths, and weaknesses, as we can help and complement one another," said Neshalleni.
The 21-year-old admitted that being able to use sophisticated and large equipment in the culinary industry increases efficiency and speeds up the cooking process.
She added that this project allowed her to polish her customer service skills.
"I learned to greet customers with a warm smile and politely answer their questions even while juggling multiple dishes in the kitchen with limited time. I also learned to adapt to any situation, no matter how stressful, and to maintain a positive attitude and professionalism when learning and working," she concluded.