With the end of the 2020 academic year set amid a new wave and higher number of COVID infections, students sitting for high-stake exams that will lead to their university entrance or pathways to future careers may have wondered: "How am I going to sit for exams with prolonged school closures?"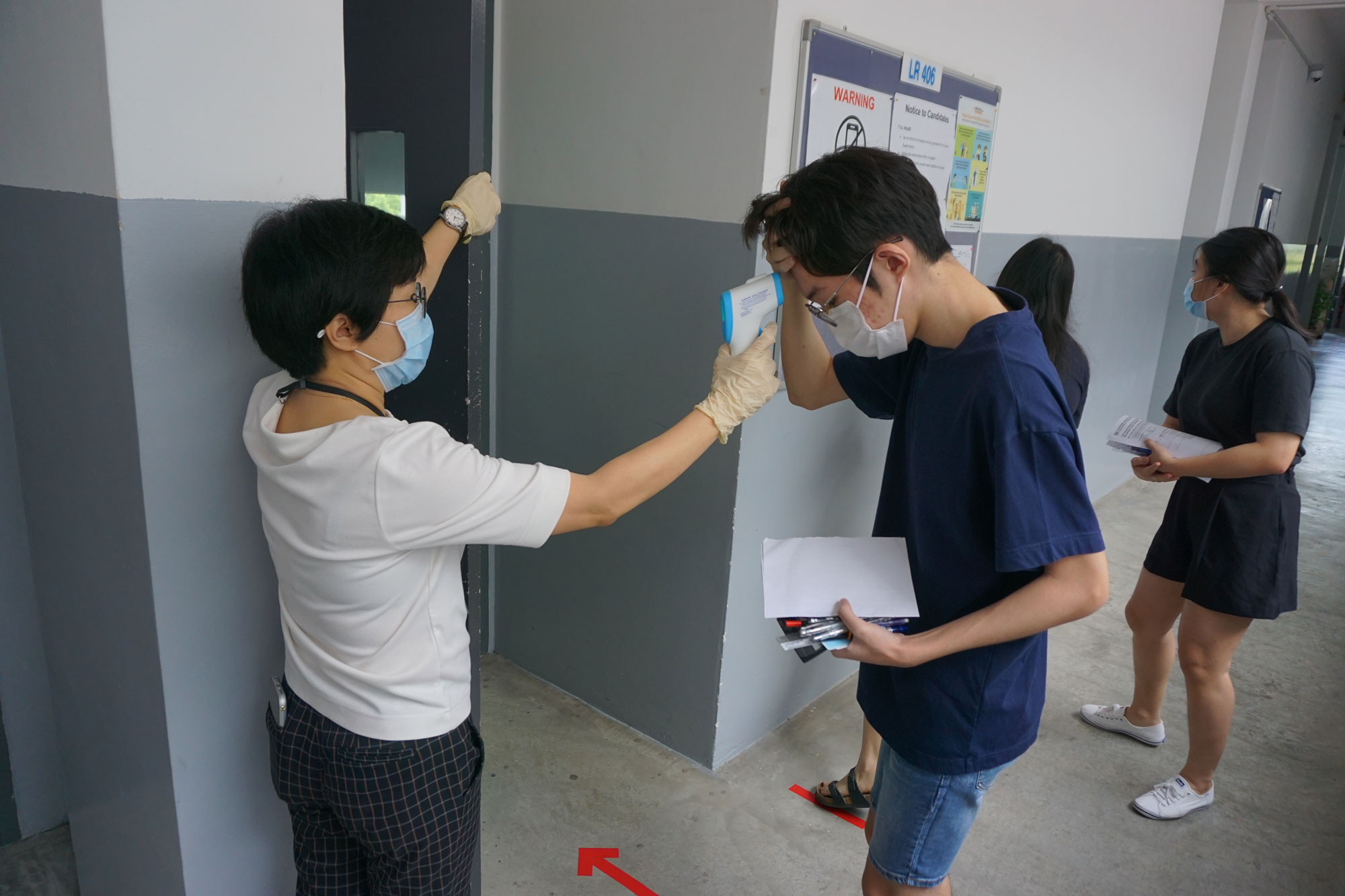 A student sitting for the October/ November 2020 A Level exam series has his body temperature checked before entering the examination hall.
In Malaysia, the spike in Covid-19 cases in October meant government examinations for high school students were again postponed, setting back the completion of secondary education for most young Malaysians even further.
While the idea of the dreadful pandemic being spread within exam halls is a real cause for concern, examinations could still be carried out in a timely and safe manner with proper management and guidance from the standard operating procedures (SOPs).
The completion of the most recent series of Cambridge A Level exams has served as one of the best role models on how this can be done while prioritising safety.
Adhering to the national and local governments' regulations and advice, as well as the safety guidelines and SOPs provided by the relevant ministries and the National Security Council (MKN), INTI International Colleges' Subang and Penang, as the authorised exam centres for the Cambridge A Level exams, administered the recent October/November 2020 exam series well, overcoming the very challenging circumstances posed by the Covid-19 pandemic.
"The main safety measures that were implemented by Cambridge Assessment International Education (CAIE) and INTI were separating the exam venues with additional sitting distance among students, ensuring everyone were wearing a face mask at all times, making sure there was more than enough hand sanitizer, temperature checks before anyone were allowed to enter the college compound, restricting only four riders in one lift at a time, updating of all entrants' data via the MySejahtera application and zero socializing activities either before or after an examination," summarized Suresh Arumugam, an economics lecturer for Cambridge A Levels at INTI's Subang campus.
Serving as the "Room Chief Invigilator" during the exams that spanned from early October to the mid of November, Suresh described the college compound as being quiet with only a limited number of students and staff being allowed in, in ensuring strict conformity to the SOPs.
"The students received the highest degree of safety measures to protect their health from any possible Covid-19 transmission. I noticed that the parents were very concerned about the safety measures adopted by the college before the examinations. However, upon realizing that comprehensive SOPs had been adopted, they were more than happy to permit their beloved children to complete the exams," said Suresh.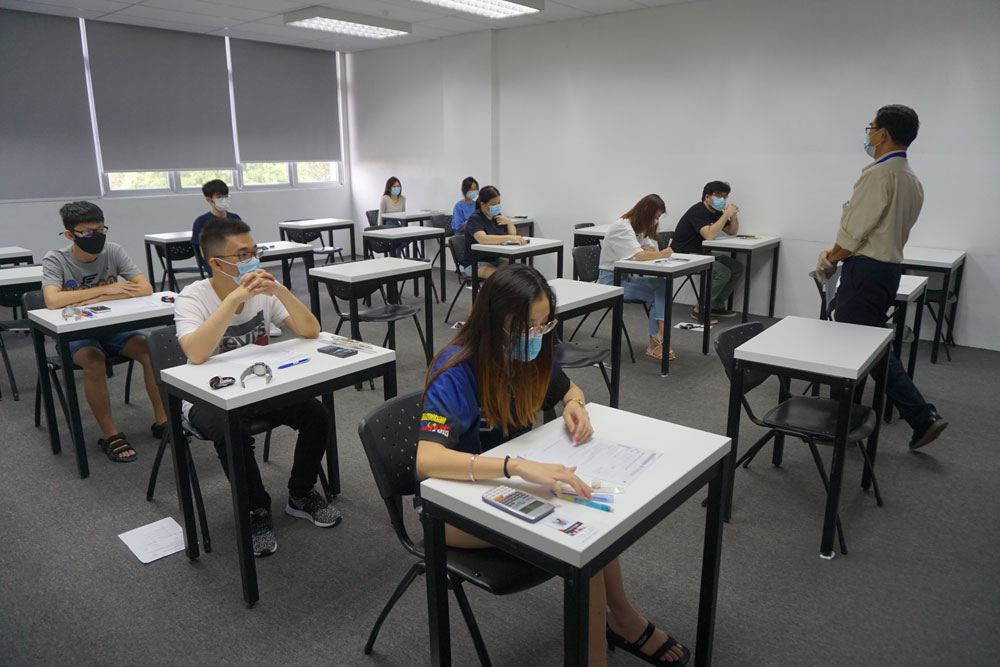 Strict SOPs for curbing the spread of Covid-19 were strictly observed during the October/ November 2020 A Level exam series, including increased sitting distance among students and the requirement to wear a face mask at all times.
Marisa Khoo Kim Gaik, an A Levels' biology lecturer at INTI's campus at Penang, who was also an invigilator during the exams, narrated, "We set multiple body temperature screenings at different entry points, starting from when students enter the campus up to when they enter the exams hall. If there were students from the red zone, we would isolate them in a separate hall from students from green zones. We also allowed students to enter the exam hall 30 minutes earlier to minimise them lingering around the corridors without social distancing."
Leela Rajaram, who lectures A Levels' chemistry at the same campus and served as the chief invigilator for several papers chimed in, "Students and invigilators had to be at the venue much earlier than normal. There were more classrooms used and more personnel needed for invigilation too as we ensured social distancing and minimal students were in a place at a particular time. I saw students being more disciplined as they queued up before entering."
She also saw the discipline while supervising for the chemistry practicals, which eased following the SOPs.
Recalling the six days he returned to INTI's Penang campus to sit for his mathematics, chemistry and physics examinations, Brendan Choo,19, was extremely satisfied with the SOPs carried out.
He said, "What I liked the most was that everyone at the campus, from the lecturers to the security guards, played their roles in ensuring that we adhered to the SOPs. Compared to the alternative system in May of using predicted grades, I preferred the sit-down exams, as the results were much more reliable. I am glad the processes went smoothly for me to complete my studies."
Brendan's mother, Goh Gaik Bee, who had been busy ensuring her child got sufficient sleep and a healthy diet throughout the exams, constantly reminded Brendan to eat at home after the exams to reduce the risk of close contact with others.
She shared, "When I dropped him off at the campus for his exams, I noticed that everything was carried out well with the college following the strict SOPs to a tee."
Sitting for exams with these SOPs in place for the first time in her young life, Chong Si Cheng, 18, spent eleven days on campus to complete her A Level examinations for biology, chemistry, physics and mathematics at the same campus.
"As I was travelling from a red zone, INTI took the extra effort to provide me with an e-verification so that I wouldn't be affected by police roadblocks," she explained.
Si Cheng continued, "During the exams, I had enough space to properly social distance myself from other candidates. When the time was up, we were asked to leave the hall in groups of five-person maximum at a time to prevent crowding. As I left the hall, I was able to sanitise my hands again thanks to the easy availability of sanitisers. I felt very secured as INTI had installed hand sanitisers throughout the whole campus to make sure we had easy access to these."
Her father Chong Siew Wei echoed her sentiments by saying, "I was satisfied as I could see how strictly the SOPs were implemented to ensure my child could safely sit for the exams."
Damien Chan Chern Yi, 17, from INTI's Subang campus took three subjects – mathematics, chemistry and economics for his A Level exams.
"It was nerve-wracking although I had somewhat experienced how it was like to sit for exams with SOPs in place during my mocks," he shared.
Although Damien was not travelling from a red zone, he also received his necessary documentation from Mr Lee Wee Xian, the Head of Subang's A Level programme, to show to the police in the event of any roadblocks.
"At the campus, what made me feel safer was that they used a designated building for us Arts students as our exams venue," he shared.
Apart from observing all the SOPs administered, Damien found that sitting for exams during the pandemic needed students to have a good state of mind by calming one's self down and taking the time to answer every question calmly.
Damien's mother, Melissa Lai Pei Yew, was pleased with INTI for putting everything in place, even though they needed to do so in a very short time.
She shared, "Their efficiency very much impressed me, as only a few hours after the re-enforcement of CMCO in Kuala Lumpur and Selangor, the college had already prepared the necessary documents for its students to travel to the campus without fear of getting stopped by the roadblock."
According to Mr Ng Kim Huat, Cambridge Assessment International Education's (CAIE) Country Director of Malaysia and Brunei, the majority of Cambridge centres globally were able to safely conduct the November 2020 exam series, including those in Malaysia.
"We produced extensive guidance to help schools run the exams safely and securely. We are grateful that the Cambridge International centres in Malaysia exercised the highest level of compliance, following both local regulations and Cambridge International's requirements. We are confident that similar safety regulations, procedures and SOPs will also be adopted for the coming May/June 2021 Cambridge exam series, albeit, to be further enhanced," he concluded.