This year marks INTI International University's 10th anniversary and here is a look at the university's 10 best achievements in the areas of teaching and learning, academic and industry partnerships, and certifications, all of which showcase how the institution has grown and evolved over the years.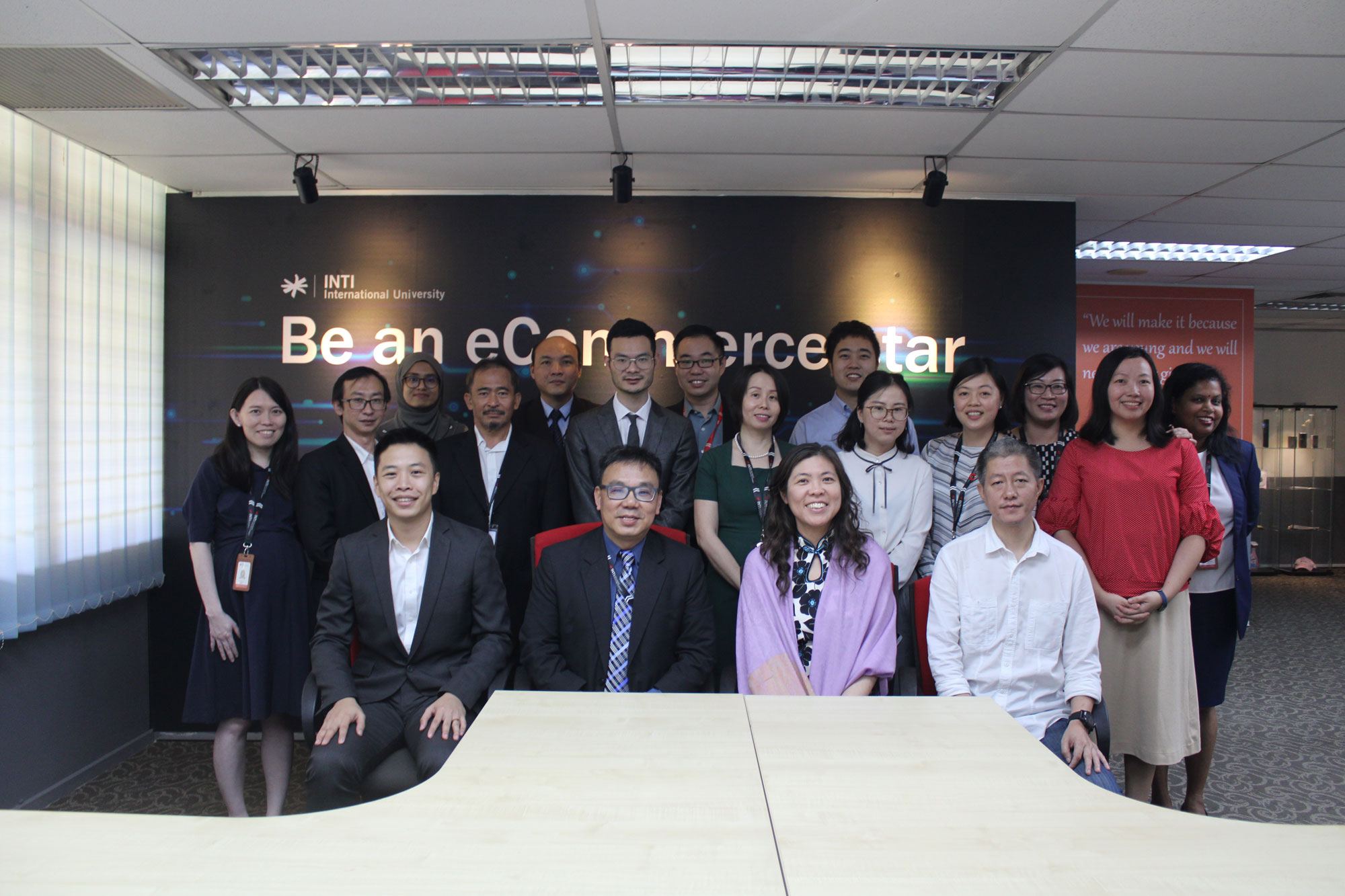 INTI International University Vice Chancellor Dr Joseph Lee (front, second from left) and INTI International University & Colleges CEO Tan Lin Nah (front, second from right) with representatives from Alibaba and INTI staff at the launch of the E-Commerce Lab.
1. INTI University College receives university status
In June 2010, INTI University College obtained university status from the Higher Education Ministry after it met the criteria for its elevation, which includes maturity of programmes and governance. The institution began preparing for this after it got its university college status in 2006. As a university, it has since then quickly become a hub of international activity of world class visiting faculty members, industry experts, and students, while offering home-grown programmes that are popular with both local and international students alike.
2. First Honorary Doctorate of Management conferred to Yang Amat Berbahagia Tun Ahmad Sarji bin Abdul Hamid
Former Chief Secretary to the Government of Malaysia, Yang Amat Berbahagia Tun Ahmad Sarji bin Abdul Hamid was conferred the first Honorary Doctorate of Management by INTI International University in recognition of his services to the country. He was awarded the doctorate by Tun Arshad Ayub, Chancellor of INTI International University during the university's 2016 convocation ceremony. Tun Ahmad Sarji's illustrious career in public service, management and social work reflect the admirable qualities that the university hopes to instil in its graduates.
3. Yang Berbahagia Tan Sri Liew Kee Sin awarded Honorary Doctorate of Entrepreneurship
Executive Chairman of Eco World Development Group Berhad and a pivotal figure in Malaysia's property development industry, Yang Berbahagia Tan Sri Liew Kee Sin was conferred the Honorary Doctorate of Entrepreneurship by INTI International University during its November 2017 convocation ceremony. His very first doctorate, Tan Sri Liew received this recognition for his exemplary business leadership both in Malaysia and internationally, for promoting nationalism through the AnakAnakMalaysia campaign and his commitment towards Eco World Foundation's Students Aid Programme which helps school children in need. Tan Sri Liew's qualities are in line with INTI's vision to empower students to be innovative, driven and to approach their lives and careers with an entrepreneurial mind set.
4. Dr Chia Song Kun conferred Honorary Doctorate of Management
QL Resources Berhad's Executive Chairman, Dr Chia Song Kun, was conferred an Honorary Doctorate of Management by INTI International University during the November 2019 convocation ceremony in recognition of his contribution to the country. Dr Chia, who was a Mathematics lecturer for over a decade, ventured into the private higher education sector and was one of the founding fathers of INTI. He served as a Non-Independent Non-Executive Director of INTI Universal Holdings Berhad from 1996 to 2008, making the conferment an even more meaningful one.
5. Founding member of the Alibaba Global Ecommerce Talent (GET) Network
In driving an initiative to enhance the teaching and development of skills in e-commerce, Alibaba Business School gathered renowned universities and training institutes from across the region to jointly establish a network. INTI International University became one of the founding members of the Alibaba GET Network in 2016. In 2017, the Alibaba GET 1.0 module was integrated into INTI's Diploma in Business and Diploma in Accounting programmes. The latest syllabus, Alibaba GET 3.0, was introduced in 2020 in various diploma programmes across 5 INTI campuses. INTI International University launched its first E-Commerce Lab in October 2018 with special guests from the Alibaba Group. The lab serves staff and students for various e-commerce projects, classes, and meetings with e-commerce related stakeholders. Other advantages of being in the GET network includes access to GET's online community of experts, online and offline teacher training, and the chance to visit Alibaba's headquarters.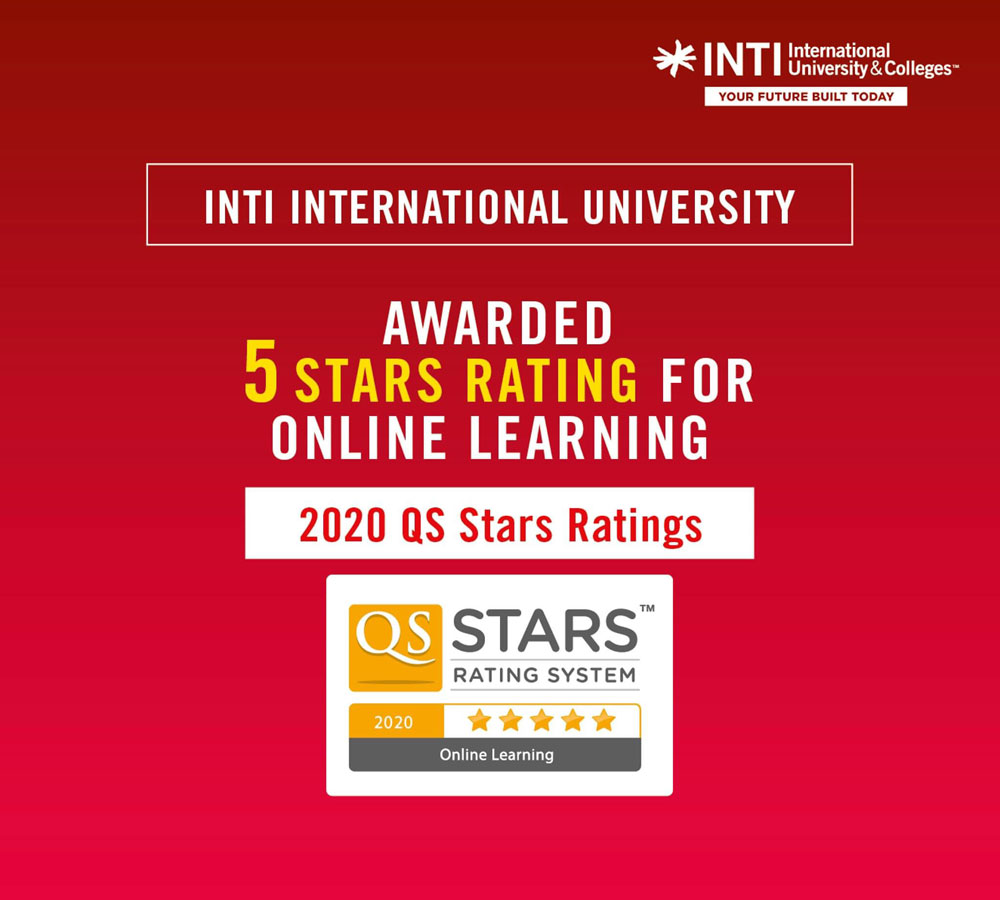 Having achieved maximum points on areas including Student-Faculty Engagement, Student Interaction, Student Services, and Technology and Commitment to Online Learning led to INTI International University being awarded a QS 5 Stars Rating for Online Learning.
6. Founding member of the Asian Society of Engineering Education (AsiaSEE)
The Asian Society for Engineering Education was founded in 2019 by over twenty leaders from higher education institutions across Asia, including China, Hong Kong, India, Macau, Malaysia, Singapore, South Korea, Taiwan, Thailand, the Philippines, United Arab Emirates and Vietnam. INTI International University is one of the members of the network which is committed to improving engineering education. The vision of AsiaSEE is to be the trusted body in Asia to facilitate communications and cooperation in engineering education between members, institutions, industries, stakeholders, and like-minded societies in the world. Meanwhile, its mission is to contribute to the advancement and enhancement in engineering education via research and practice for the future generation.
7. Affiliation with the Yunus Social Business Network
INTI International University signed a Memorandum of Understanding (MOU) in August 2018 for the establishment of the INTI-YUNUS Social Business Centre (INTI-YSBC) located at the INTI Nilai campus. The signing ceremony was graced by Nobel Peace Prize Laureate, Chairman of Yunus Centre and Founder of the Grameen Bank in Bangladesh, Professor Muhammad Yunus. The establishment of INTI-YSBC marks a milestone for INTI and Malaysian private higher education where students and faculty will contribute to social business through various initiatives including healthcare, IT, financial and marketing services, renewable energy, education and training for the poor.
8. Co-organizer of forum with Guizhou University during 12th China-ASEAN Education Cooperation Week
In 2019, INTI International University co-organised a forum titled "The Belt & Road Economic Co-operation and Development" with Guizhou University at the 12th China-ASEAN Education Cooperation Week in July 2019. Ten papers were presented by researchers from various universities in China and Malaysia. From the conference, the university recruited two PhD students from Guizhou University. The China-ASEAN Education Cooperation Week has encouraged educational and cultural exchange between Asean nations and international partners since 2008.
9. ISO 45001:2018 certification for good practices in Occupational Health and Safety Management Systems
INTI International University was awarded the ISO 45001:2018 certification by SIRIM after it completed a surveillance audit in February 2020, a testament of the university's commitment to safety and the welfare of its staff, students, and stakeholders. The ISO 45001:2018 confirms excellence and good practices in Occupational Health and Safety Management Systems and puts special emphasis on prevention systems and the company's global commitment for the development of a culture of prevention and continuous improvement in this field. Being ISO45001:2018 certified, INTI students are assured of quality education in an environment that ensures their safety and health. Meanwhile, the implementation of better and improved safety practices helps prevent work related injuries among INTI staff.
10. QS 5 Stars in Online Learning category
For close to a decade, academic teams at INTI have tried and tested what works in cyber classrooms. Videos, blogs, journals, virtual collaborations, and even augmented reality have found a foothold in INTI's day to day lessons and assessments, with students experiencing at least one out of three hours of online learning for every subject. These experiences, along with the integration of customised, secure online learning management systems and industry designed software, were invaluable when educators were forced to move lessons fully online within a day during the Movement Control Order. In July 2020, INTI International University was awarded a 5 Stars Rating for Online Learning in the 2020 QS Stars Ratings based on the assessment of areas such as student faculty engagement, student interaction, student services and technology, and commitment to online learning.