The production of shoes in Asia has steadily increased, whereby almost nine out of every 10 pairs of shoes are manufactured[1]. According to a study, about 300 million shoes are thrown away each year, but unfortunately not all shoes are easily decomposed. Some shoes end up in the landfill for more than 1,000 years due to the toxic ingredients that are not consumable[2].
Many of us keep a large number of shoes in the wardrobe – some left unused to the point that it has yellowed or peeled – not knowing that these old shoes can be recycled. In moving towards sustainability, INTI International College Subang joined forces with environmental organisation EcoKnights to run the Old Soles, New Life shoe recycling campaign. Through the campaign, the recycled shoes would be turned into a new playground for children at SK Bukit Tadom (A) in Banting, Selangor after it was severely damaged by floods in December 2021. The soles of the shoes would be ground into rubber granules and used to construct infrastructure such as sports surfaces and playgrounds.
Chee Cai Lee, an executive from the Student Services Department (SSD) at INTI International College Subang, who was part of the initiative, said recycle bins for shoes are a rare sight but having them at INTI through this collaboration allowed students and staff to give their unused shoes new life.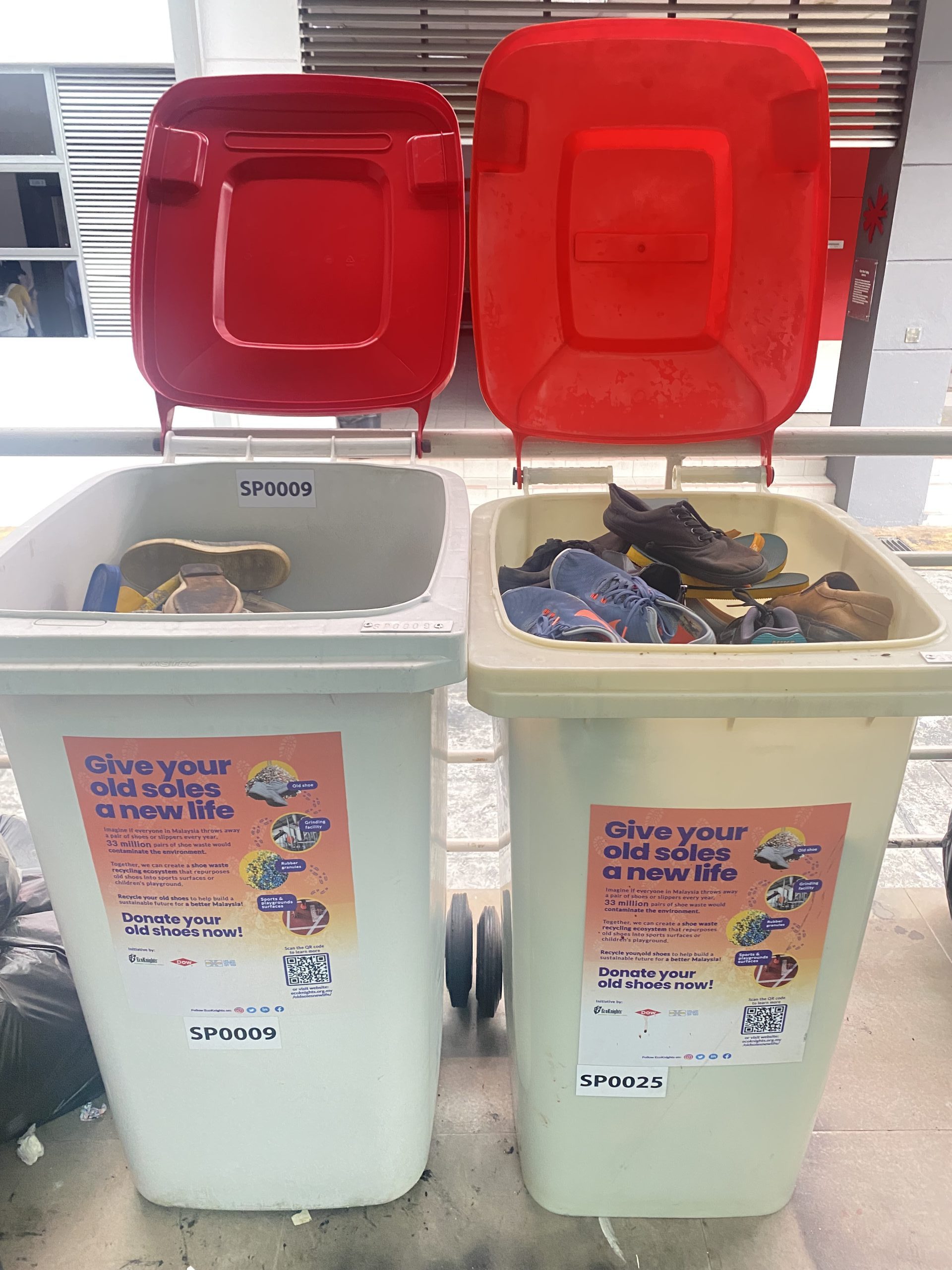 Two recycling bins filled with unwanted shoes were donated by staff and students of INTI International College Subang.
"INTI's students and staff were proud to be part of this project. They find it exciting that their unwanted and unused shoes can serve a good cause," he said.
Also putting up his own unwanted shoes, Chee Cai added that the initiative not only helped to reduce waste but also encouraged environmental conservation while building a new playground with recycled material for children.
"We managed to collect almost 200 pairs of unwanted shoes within five days, from 25 to 30 September. The overwhelming support from the INTI community is very much appreciated," she said.
The collaborative effort, he said, was an eye-opener as many were unaware of the need for the playground and that it was the least they could do to bring new hope and joy for those affected by natural disasters.
Meanwhile, Hooi See Lee, Senior Director of the Student Services Department (SSD) at INTI International College Subang, said that the initiative was another step towards a more sustainable future.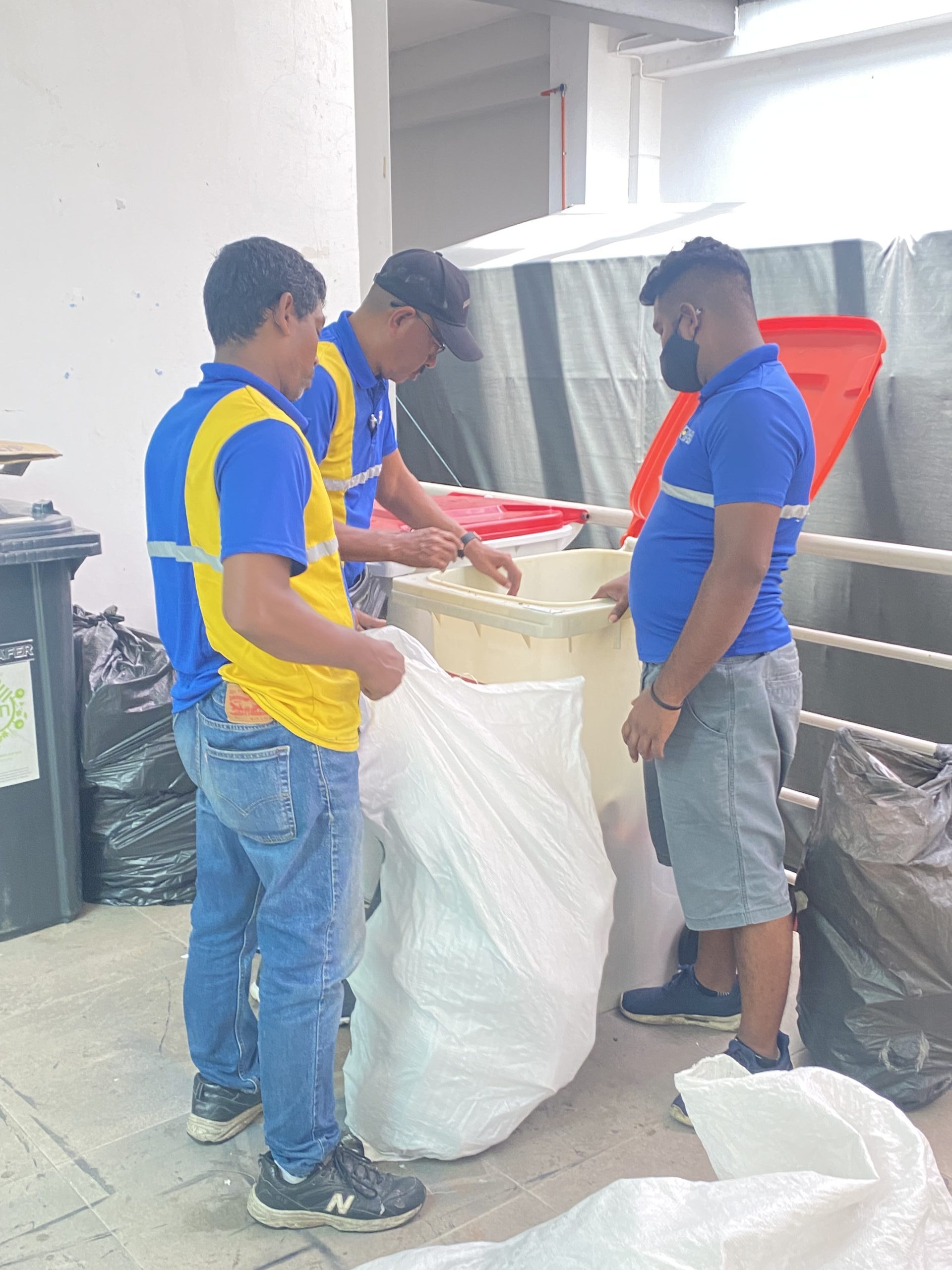 Representatives from EcoKnights collecting the donated shoes which will be put to good use for the children of SK Bukit Tadom (A) Banting, Selangor.
"Completing this project taught the INTI community a lot about shoe consumption and waste. Not all shoes are easy to decompose, but the technology built for this project has inspired them to contribute to making the world cleaner," she said.
She added that the most rewarding part was seeing the community reflect on their actions and realising how important it is to discard unwanted shoes responsibly.
The initiative, which began in July 2022, was a collaborative effort between EcoKnights, Dow Chemicals, and Lifeline Clothing Malaysia which created the first shoe waste recycling ecosystem in Malaysia.
[1] https://www.worldfootwear.com/news/footwear-production-with-new-record-of-243-billion-pairs/5356.html
[2] https://www.theguardian.com/fashion/2020/mar/21/some-soles-last-1000-years-in-landfill-the-truth-about-the-sneaker-mountain