Gamelan, recognized as an intangible cultural heritage by UNESCO, is a traditional form of music often encountered in various regions in Indonesia, such as Bali, Madura, and Lombok. Despite modern music dominating the airwaves, the relaxing sounds of gamelan has captured the hearts of people who appreciate its unique rhythms and melodies. The music is typically performed in religious rituals, ceremonies, traditional theatre, festivals, and concerts.
In an initiative to promote this traditional music among the younger generation and preserve it for future generations, INTI International University's Student Services Department (SSD) organises gamelan classes open to its staff and students.
Associate Professor Chan Kait Loon shared that the idea of promoting gamelan music at INTI was introduced in 2017 by the university's Vice Chancellor, Dr Joseph Lee, as an effort to introduce traditional music to students and staff so that they will grow to appreciate the culture.
"This initiative will further cultivate a sense of pride for Malaysia's rich cultural heritage among our students of various nationalities. The university hopes that these gamelan classes will foster cross-cultural understanding and appreciation of this art," said Associate Professor Chan, adding that learning gamelan provides students and staff an opportunity to develop teamwork and precision, qualities which are valuable in today's global workforce.
The gamelan classes have been under the guidance of Encik Yuzaimuddin Md Yusof since 2017. Encik Yuzaimuddin is a certified trainer with extensive experience in the art and qualifications that include the Traditional Music Performing Level Two certificate, National Arts and Culture Trainer (JSBN) Melaka for kompang and gamelan, as well as Cak Lempong Trainer certificate.
The well-equipped traditional music room on campus also provides an ideal space for intensive and effective gamelan training, with many participants sharing that they were able to grasp knowledge sooner than they thought, even those with no prior knowledge. As a group they have performed at in-house events like convocations and festive celebrations, and they hoped to perform at external events one day.
Masilah Mansor, a librarian at INTI International University, describes gamelan music as something that can be felt and is soothing to the soul.
"To be able to learn traditional music has always been a dream of mine," said Masilah who had no prior training in playing traditional musical instruments before.
The 54-year-old is among the pioneers of INTI's gamelan group, and acts as a point of reference for new and existing members. Since she joined, she honed her skills to play all the instruments including the bonang, gambang, saron, gong, kenong and gendang.
Meanwhile, final year Bachelors in Computer Science student Michelle Fang shared her excitement at learning gamelan for the first time.
"The gamelan is a unique traditional music which brings together different instruments together. The sound differs from that of orchestras," said Michelle who can also play the piano, violin, flute, demong and bonang.
She added that she is taking advantage of the classes conducted on campus as she might not have time learn music when she starts working.
A Diploma in Quantity Surveying student, Yeo Joyee, claimed that she was exposed to Gamelan music and instruments since school.
"I played gamelan for three years in secondary school. There was a teacher who trained me and the school team to play the instruments, and we performed at various events organised by the school," said Yeo Joyee who believes that music is a form of therapy.
Meanwhile, Tan Jia Hong, 20, has dabbled in music from an early age and received his first piano lesson at the age of five. While he had watched a gamelan performance in secondary school, he said had no interest in joining then.
"Learning to play a new musical instrument is challenging, but I love challenging myself as much as I love music. Why should I limit myself to modern music and not venture into something like Gamelan to broaden my horizons?" said Jia Hong, adding that the gamelan has simpler notes compared to piano.
Jia Hong, who played the gambang instrument, also noted that music is not just a form of entertainment, but it also helped him to focus on his studies. According to him, to preserve traditional music, it should be introduced in primary school.
When asked about the group's performance at the university's recent convocation ceremony, he said, "It was quite surprising when Yeo Joyee and I were asked to perform at the convocation ceremony after the first training session, but we were excited to give it a try."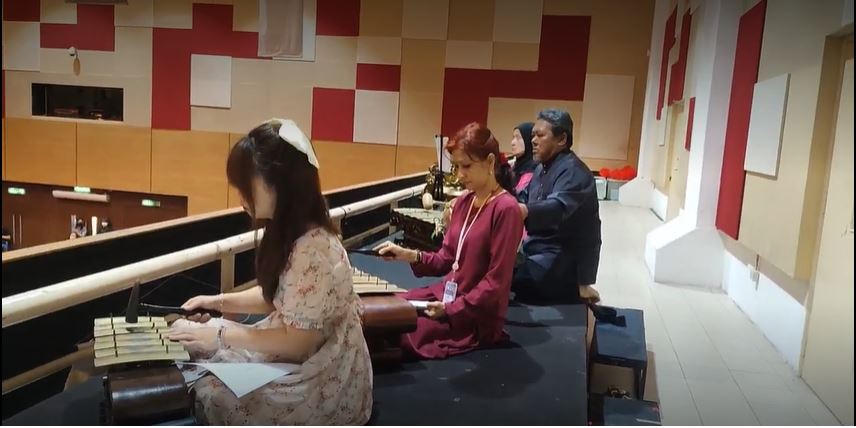 (From front) Yeo Joyee playing the saron peking, Dr. Saras Krishnan playing the saron baron, trainer Encik Yuzaimuddin playing the gendang, and Masilah Mansor playing the saron demong at the university's convocation ceremony recently.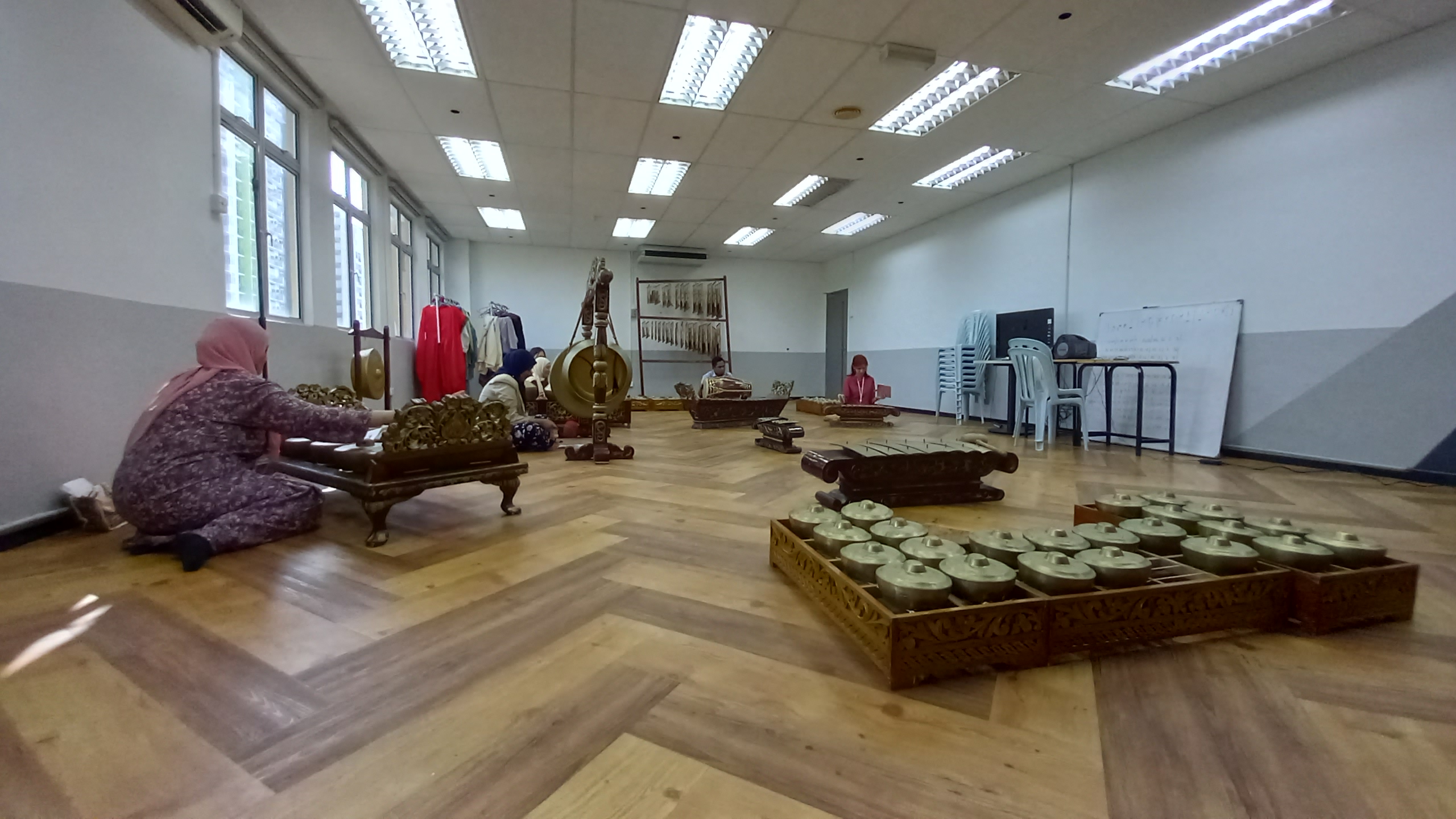 INTI International University hosts a well-equipped traditional music room which facilitates the gamelan classes.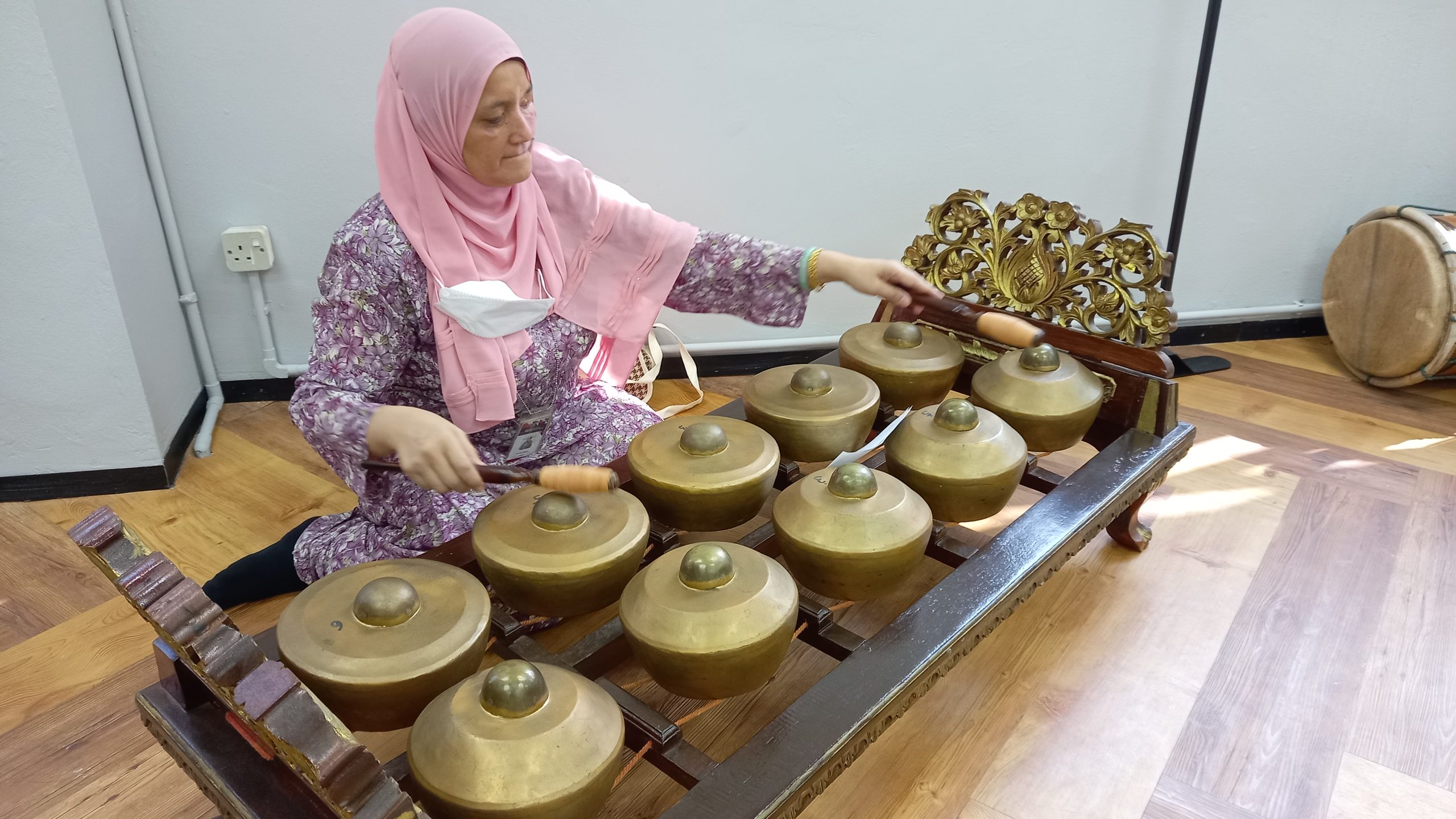 Masilah Mansor playing the bonang gamelan instrument during a gamelan training session.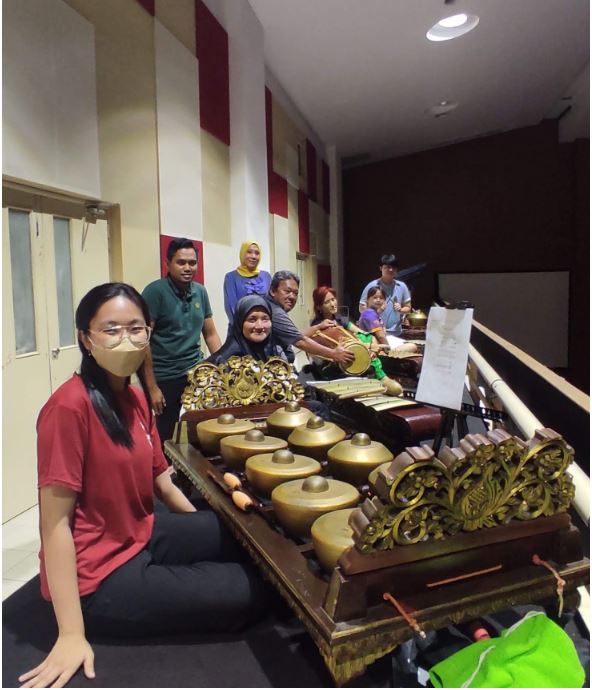 The gamelan team during rehearsal for the convocation ceremony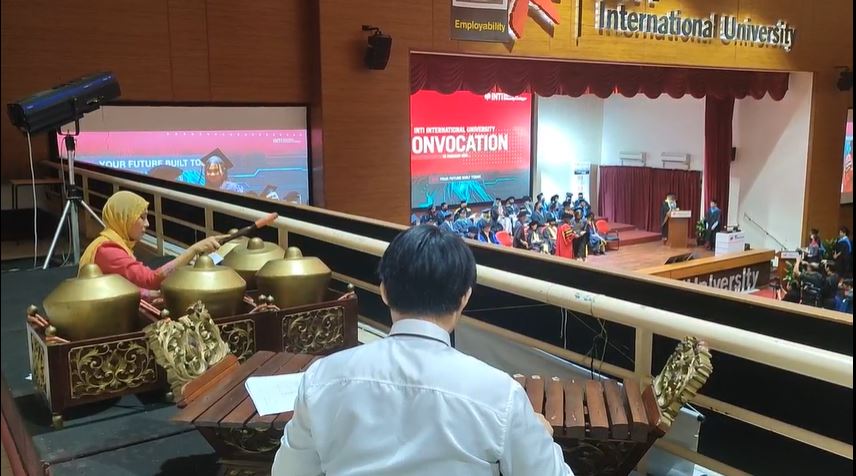 Tan Jia Hong playing the gambang and Haryati playing the kenong.