In support of women's empowerment, 48 students from INTI International College Subang's Pre-University (Pre-U) programmes and INTI's Centre of Language and Liberal Arts, together with the lecturers received certificates in a virtual ceremony held recently for successfully completing an Employer Project with the ADYA Empowerment Association.
The ADYA Empowerment Association is a registered NGO that works closely with the National Community Policy formulated by the Ministry of Housing and Local Government by aiming to address social issues faced by the community of housing premises, particularly the low-cost housing programme across the country.
From February to March 2023, the students were tasked to interview eight inspiring women in Malaysia and produce articles and videos about their inspirational journeys before publishing them on ADYA's website.
Ms. Poohnesha Devi, ADYA Empowerment Association's Director of Public Relations, said the project aimed to inspire and empower more women and youth to explore and fulfil their potential.
"The introduction of this new phase of our website today is also in line with this year's theme for International Women's Day, DigitALL: Innovation and technology for gender equality, which gave students the chance to publish their work digitally through writing and video production on women empowerment," she said.
Dr. Jane Lim, INTI International College Subang's Chief Executive Officerwas also enthusiastic about the project and added that INTI is committed to building a community that is inclusive.
"Nothing is more important than living in a healthy and safe society that values both genders equally. Without the full and equal involvement, rights, and dignity of women, we simply cannot build the future that we want to see for them. We believe that communities where people are connected, supported, and empowered by each other, are more crucial than ever.
"I am proud of the commitment shown by students during this project. They have reached out to these amazing leaders who are role models – their lives, careers, leadership in politics, diplomacy, and social norms have truly made a significant difference to society," said Dr. Jane.
Meanwhile, among the inspiring personalities featured on the website was Dr. Hajah Yatela Zainal Abidin, Chief Executive Officer of Yayasan Sime Darby (YSD), who humbly shared her career experience leading the foundation since 2010.
"In building my career, I never dreamt that I would one day lead a philanthropic foundation. I was in the thick of working in internal audit and corporate assurance when I was presented with a once-in-a-lifetime opportunity to lead YSD, by none other than the renowned Tun Musa Hitam, the Chairman of Yayasan Sime Darby then. The chance to lead philanthropy for one of the biggest companies in Malaysia, and for the betterment of the community no less – I jumped at this career change," she said.
Dr. Hajah Yatela added that her successes were also due to the great work of her team.
"I have arrived where I am today, because of the strong women with whom I work. In fact, my whole management team is made up of women. Strong and formidable women, with whom I work closely, towards achieving our goal of leading in making a sustainable impact and a difference in the lives of others. On top of that, many of the organizations that YSD sponsors are also led by strong and talented women, and they too have faced numerous obstacles to making the positive impact they wish to see in the world. I am proud to have been able to support them during their time of need, to achieve their selfless and noble goals
"As such, I encourage all students, and in fact everyone here today, to try your best to push through the challenges and difficulties you face. Never hesitate to reach out for help when you need it, as it doesn't make you a lesser person. Also, never forget to extend a helping hand whenever you can. Only you can make that difference," said Dr. Hajah Yatela a steadfast leader who prioritises the needs of the community and the environment.
The launching of ADYA's website featuring the success stories of eight female personalities namely YB Hannah Yeoh Tseow Suan, Minister of Youth and Sports Malaysia, Dr. Hajah. Yatela Zainal Abidin, Chief Executive Officer (CEO) of Yayasan Sime Darby, Prof. Dato' Dr. Noraida Endut, Associate Professor, Centre for Research for Unit and Gender (KANITA), Universiti Sains Malaysia, Noor Amy Ismail, Chief Operating Officer (COO) at Malaysia Venture Capital Management, Santhi Periasamy, Head of RYTHM Foundation at Qi Group, Anita Ahmad, Head of Community Development at Yayasan Hasanah, Navi Indran Pillai, a cancer survivor and motivational speaker, and Juliana Ooi Sue May, Founder of X Ed Malaysia and recipient of the Merdeka Award Grant 2019.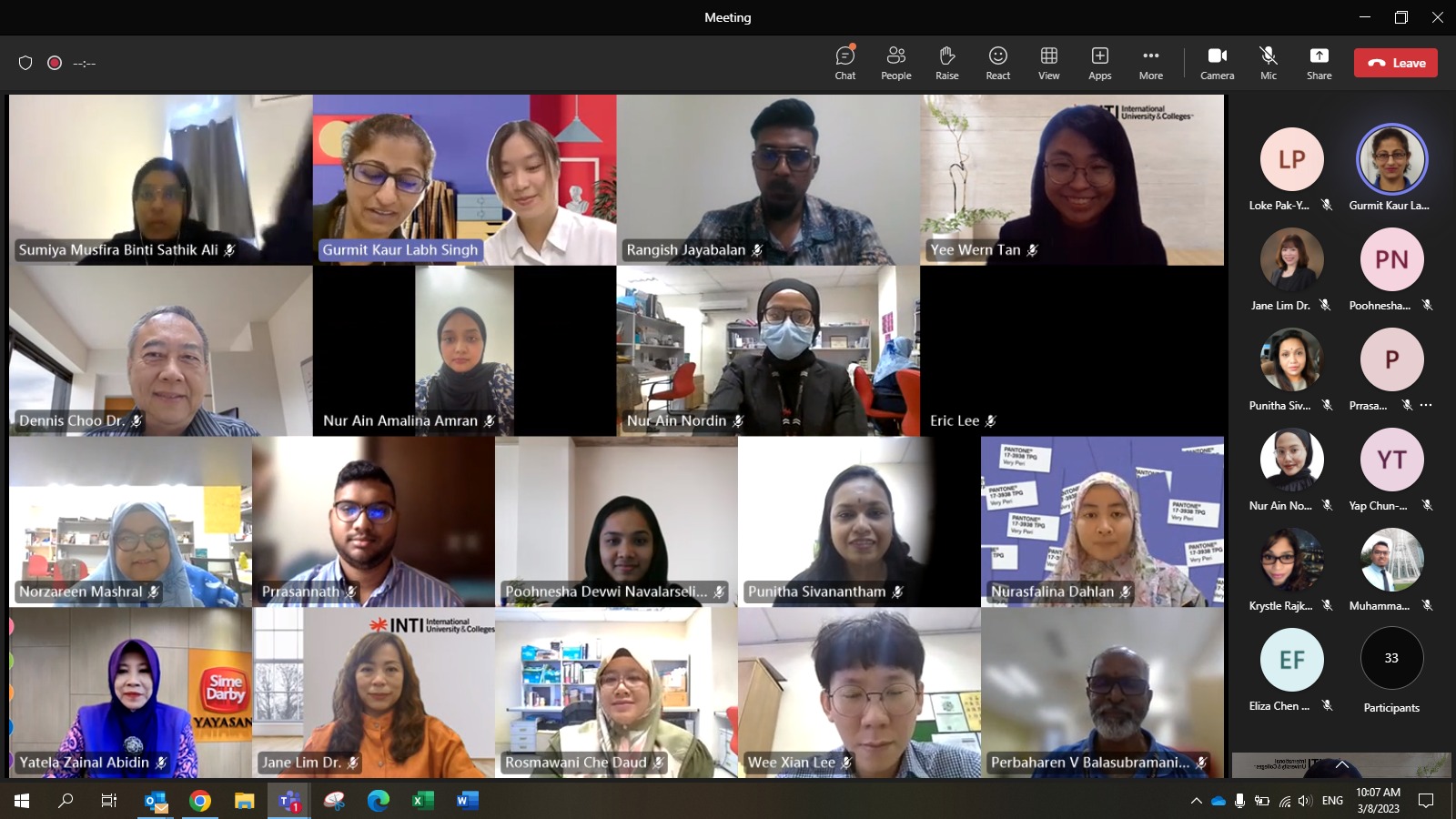 Participants of the Inauguration of Women Empowerment Project in conjunction with International Women's Day posing for a virtual group photo.