Dr Alex Ng Hou Hong is a man of many hats. Besides imparting knowledge to students, the Senior Lecturer at INTI International University's Faculty of Business, Communications, and Law is also Deputy Director of the Centre of Institutional Analysis and Development and Chair of the University Research Committee.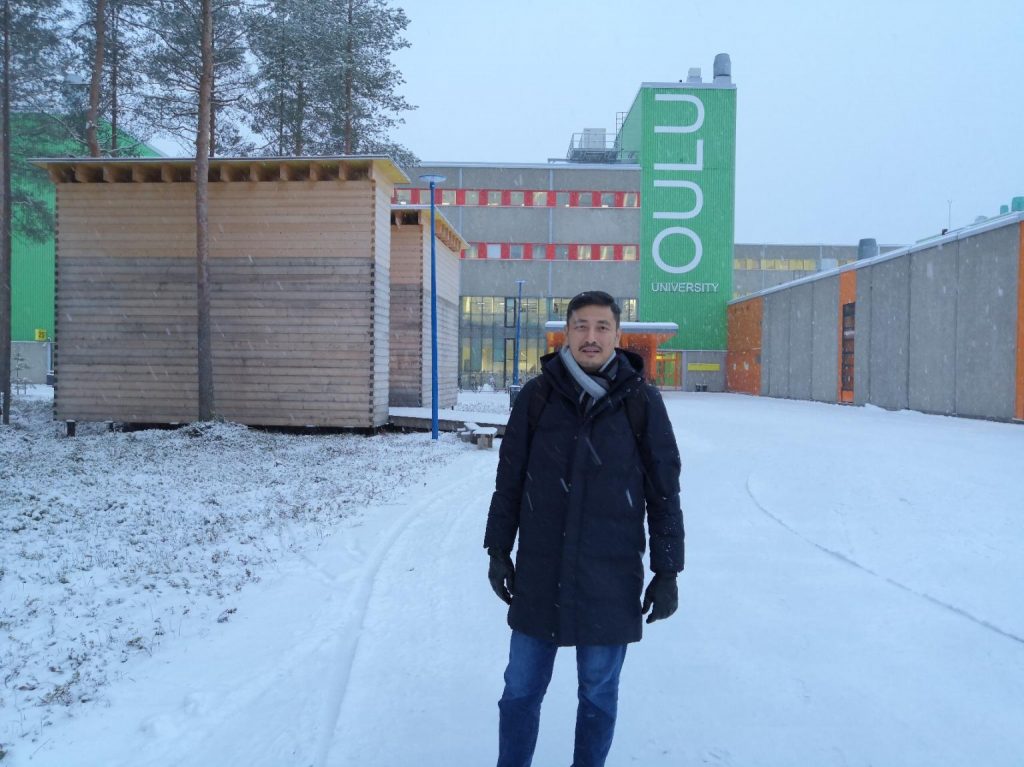 Dr Alex, when he was a Visiting Fellow at the Oulu Business School, in Winter 2019.
His experience not only includes academia and research but also 15 years of working in the industry. Prior to his academic career, Dr Alex was a practitioner in the field of sales and marketing with various multinational and local corporations in different industries, including industrial electronics, consumer electronics, telecommunications, and executive development.
Currently, his roles at INTI mainly involves teaching, cultivating a research culture, and enhancing the University's positioning and reputation. His ultimate goal and focus is to improve INTI's world university ranking into the QS World Top 500 University Ranking list.
A lot of Dr Alex's time is spent working on projects to support his goals such as a project involving micro-credentials, organising the 4th International Conference on Innovation and Technopreneurship (ICIT 2021), among others.
Research and Publications
It was when he pursued the Master of Science in Engineering Business Management programme at the University of Warwick, UK, that he developed a strong interest in academia and research. After completing the programme, he shifted his career from industry to education and began PhD in Strategic Planning at Universiti Teknologi Malaysia.
Dr Alex always knew that he wanted to work in education, supporting students, other educators, and administrators. He strongly believed that institutions of higher learning are not just there to educate students but to also influence people's lives in so many ways.
"A famous classic management book by Henry Mintzberg entitled 'Strategy Safari' drew me to the field of strategic management research. I was fascinated by the sophisticated concepts and theories in his book. Since then, strategic management has grabbed my curiosity," Dr Alex shared.
Dr Alex has 30 journal articles, over 20 conference papers, three book chapters, one edited book, and one newspaper article as both primary and co-author under his belt. His publications have been cited 152 times.
When asked about his past research projects, he cited a few that he was particularly proud of.
"I am very proud to have received an international research grant of € 9000 (RM44302) from the Foundation for Economic Education 2020 together with my Principal Researcher, Assoc. Prof. Dr Terence Tan from Oulu Business School, University of Oulu.
"Our research project was on The Digitalization-Sustainability Convergence in Business Transformation: The Perspective of Blockchain. Indeed, this was one of the positive outcomes of my Visiting Fellowship at Oulu Business School, University of Oulu, Finland in winter 2019," said Dr Alex with a smile.
He added that the study will make a difference as there is currently a lack of research that trace digital transformation in the sustainability domain. Dr Alex said his team aims to explore how blockchain technology can be adopted in business transformation and develop research propositions that can suggest a general framework to assist organisations to map the digital transformation blueprint in the near future.
With research interest in Strategic Management, Knowledge Management, Business Transformation, Tourism, Sustainability and Blockchain, he admitted that the more he learned and conducted research, the more he saw opportunities and future trends.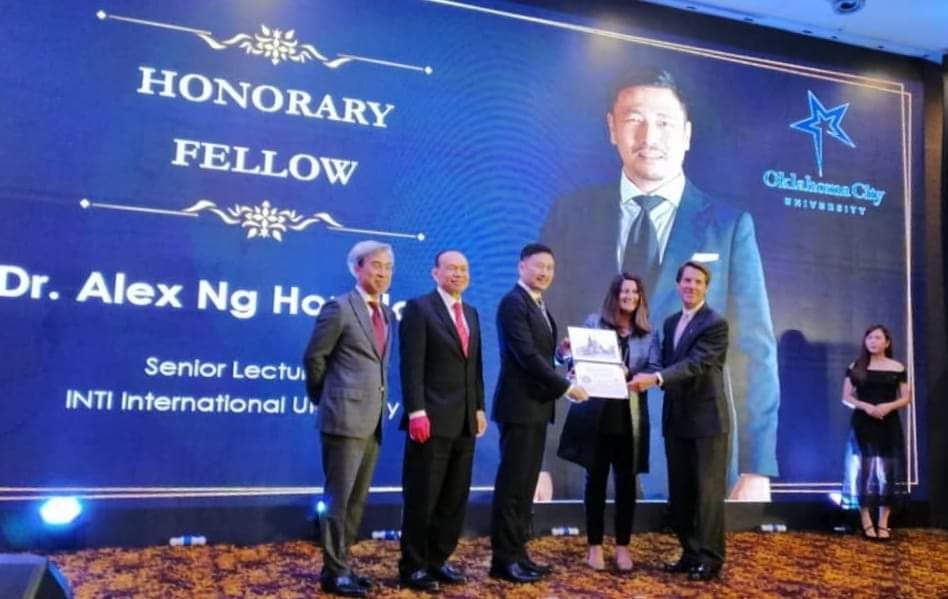 Dr Alex was conferred Honorary Fellow from Prof. Steven C. Agee, Dean of Meinders School of Business witnessed by President Prof. Martha Burger, President of Oklahoma City University.
Teaching Philosophy
Dr Alex, who was awarded INTI Employer Project Champion in 2019, firmly believed that education must include teaching and learning outside of the classroom.
"Orthodox teaching methods in the classroom can no longer be the only pedagogical approach employed in contemporary higher education. That is why I always emphasise the importance of students learning experience beyond the classroom to widen their exposure. So, I always engage my students with the industry via the INTI Employer Project platform," he shared.
Classroom education alone is not sufficient for the overall development of a student, because in today's world, the workforce seeks out young minds that are ready to hit the ground running with specialised knowledge in their chosen field and real-world experience.
"Experiences that allow collaboration, communication and teamwork for all students often happen beyond classroom walls. We need to facilitate these experiences in context, and our classrooms need to be a reflection of this," he added.
According to Dr Alex, research and teaching should also go hand-in-hand for academicians to bring the experience into the classroom and a great way to pique the interest of students. "We need to constantly develop new knowledge through research and disseminate that new knowledge through publication and teaching," he said.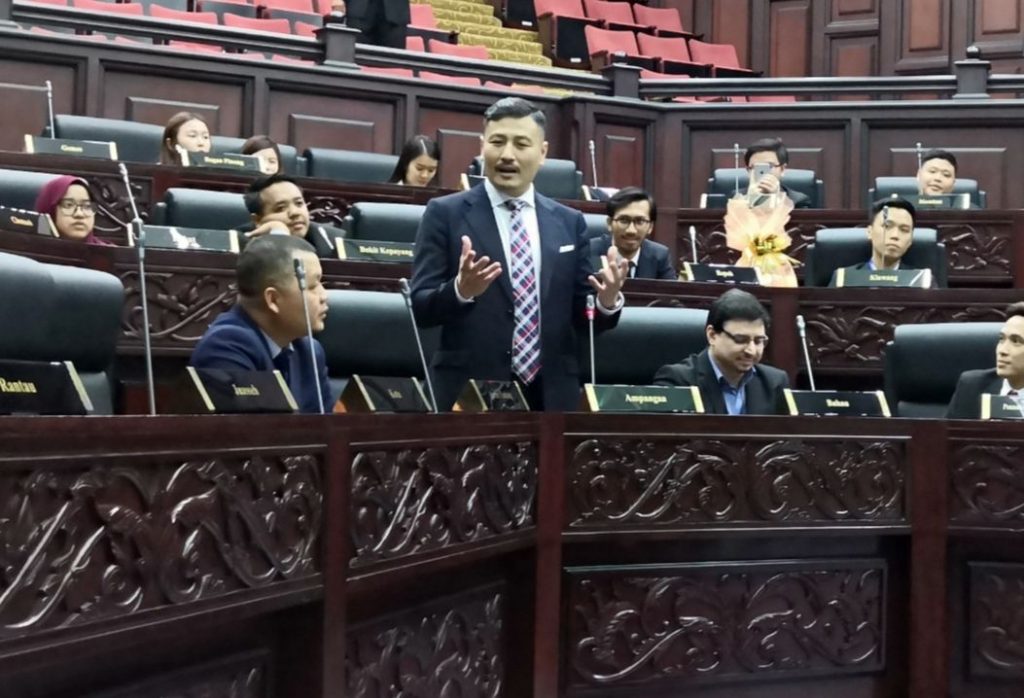 Dr Alex speaking at the Negeri Sembilan State Legislative Assembly in 2019.
Awards and Achievements
Dr Alex's career has allowed him to work with organisations and individuals from different cultural backgrounds in various countries such as Japan, Korea, Thailand, Vietnam, and Taiwan. In addition to that, apart from his daily routine, he is also very active in NGOs and community service activities.
Serving in both capacities of academic mentor and researcher, Dr Alex has received awards for his efforts, notably:
The Medal of Outstanding Community Service (Pingat Khidmat Cemerlang Masyarakat – PMC) awarded by His Royal Highness Tuanku Muhriz ibni Almarhum Tuanku Munawir, the ruler of Negeri Sembilan, on 14 January 2014.
Conferred the Honorary Fellowship by Prof. Steve C. Agee, Dean of Meinders School of Business, Oklahoma City University, during the OCU President's Dinner at Tropicana Golf & Country Resort on 15 March 2019.
As research is close to his heart, Dr Alex concludes with words of encouragement for new and researchers.
"Find a research topic that you are interested in that is relevant and significant to your area of expertise, then find a mentor who can advise you to set clear goals and plan your project. Most important of all, get it started!
"It is essential to reach out to communities in the same research areas to develop and expand your research network as well. Set clear personal goals for future career and life, create a vision, map a route to attain and work on it. Do not wait. If you wait, you will never get anything done. In the words of Zig Ziglar – You don't have to be great to start, but you have to start to be great. Remember, you are not alone. Let's work together to get it started.