Andreas Vogiatzakis, CEO of Havas Media Kuala Lumpur shared his leadership insights, techniques and people management skills to INTI International College Subang (INTI) students recently. As part of the institution's long standing INTI Leadership Series (ILS), the monthly leadership session features successful business leaders, entrepreneurs or INTI alumni who have created positive impact in their respective fields and made a difference in society.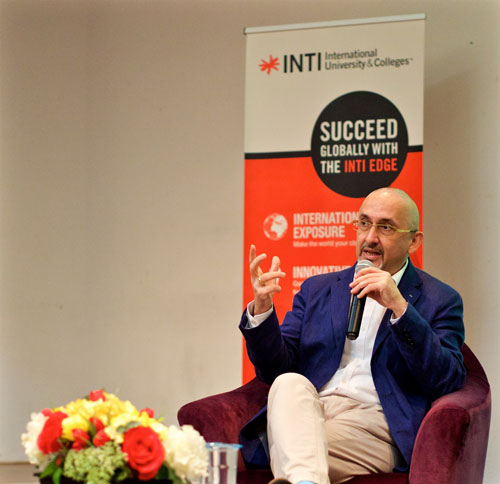 Vogiatzakis during a question and answer session, moderated by INTI students.
Known for establishing and transforming several agencies into award winning media groups and now leading the Malaysian operations for Havas Media Group, Vogiatzakis' leadership has seen him grow into a visionary leader, setting high standards for his colleagues and the industry and managing different positions throughout his career. His invaluable experience was shared in an insightful session in a way students could appreciate and engage.
"We are certainly excited to have Mr. Vogiatzakis with us today, considering he is one of the most wanted CEO's in the country – for him to spend some with the students today is invaluable," said Dr. Jane Lim, Chief Executive of INTI International College Subang. We also work very closely with Andreas in our INTI Advisory Board meetings, designed to take input from CEO's like himself in order to be incorporated into our curriculum. So, he has contributed tremendously to the institution and we look forward to a continuing collaboration."?
In his presentation to the students, Vogiatzakis shared on his early days as a teenager at Greece, finding his feet and passion before enrolling at the prestigious Mathematics University of Athens – only to quit to pursue his passion for Advertising at the University of Florida.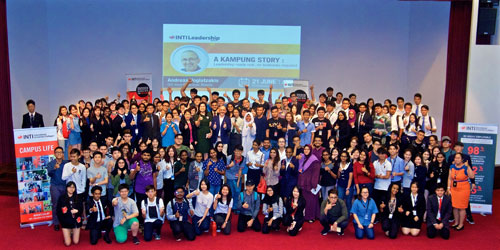 The customary group photo at the end of the event.
He shared, "I knew from the start that Mathematics was not meant for me in the long run and I eventually decided to follow my passion in Advertising. Although it took me a while to finally break the news to the family, I gathered some confidence and told them. Seeing where I am now, I guess it worked out fine."
In his duties with Havas Media Group, Vogiatzakis manages the company's operations in the country and is a highly sought after speaker, locally and abroad. Having conducted several high powered sessions for the industry and judged many prestigious award presentations, his leadership skills were not built in a day.
"We are what we do, and if you would like to be a leader, you need to train yourself to become one. No one is a born leader – leadership is not genetically engineered unto you; it needs to be built and earned," he added.
Jeremy Jude, a final year student studying Business Administration at University of Hertfordshire at INTI Subang, notes that the INTI Leadership Series allows students with the opportunity to meet established business leaders who knows the industry and provide in-depth details on what it takes for students to be employed once they graduate. ?
Asked on his collaboration with INTI, Vogiatzakis added, "The ILS is a tremendous initiative which adds to many of INTI's efforts to encourage students to learn beyond the textbook – real life examples and the opportunity to learn and interact with leaders in person I am glad I am able to contribute to their learning experience and at the same time it has personally allowed me to gain a better awareness of myself as a person and a leader."
With initiatives like the INTI Leadership Series, INTI Advisory Board, and Employer Projects, INTI has recorded its' best employability outcomes in 2015 validated by BDO Governance Advisory with 98% of INTI graduates being employed within six months of graduation with 82% earning incomes higher than the market average and 25% of graduates receiving job offers even before they graduate.