Seeing someone starting their diploma studies at the age of forty-two might be shocking for some, but you would have a deeper respect for her when you start realising that she isn't only taking up an additional role as a student – but juggling multiple roles as a part-time working mom-student!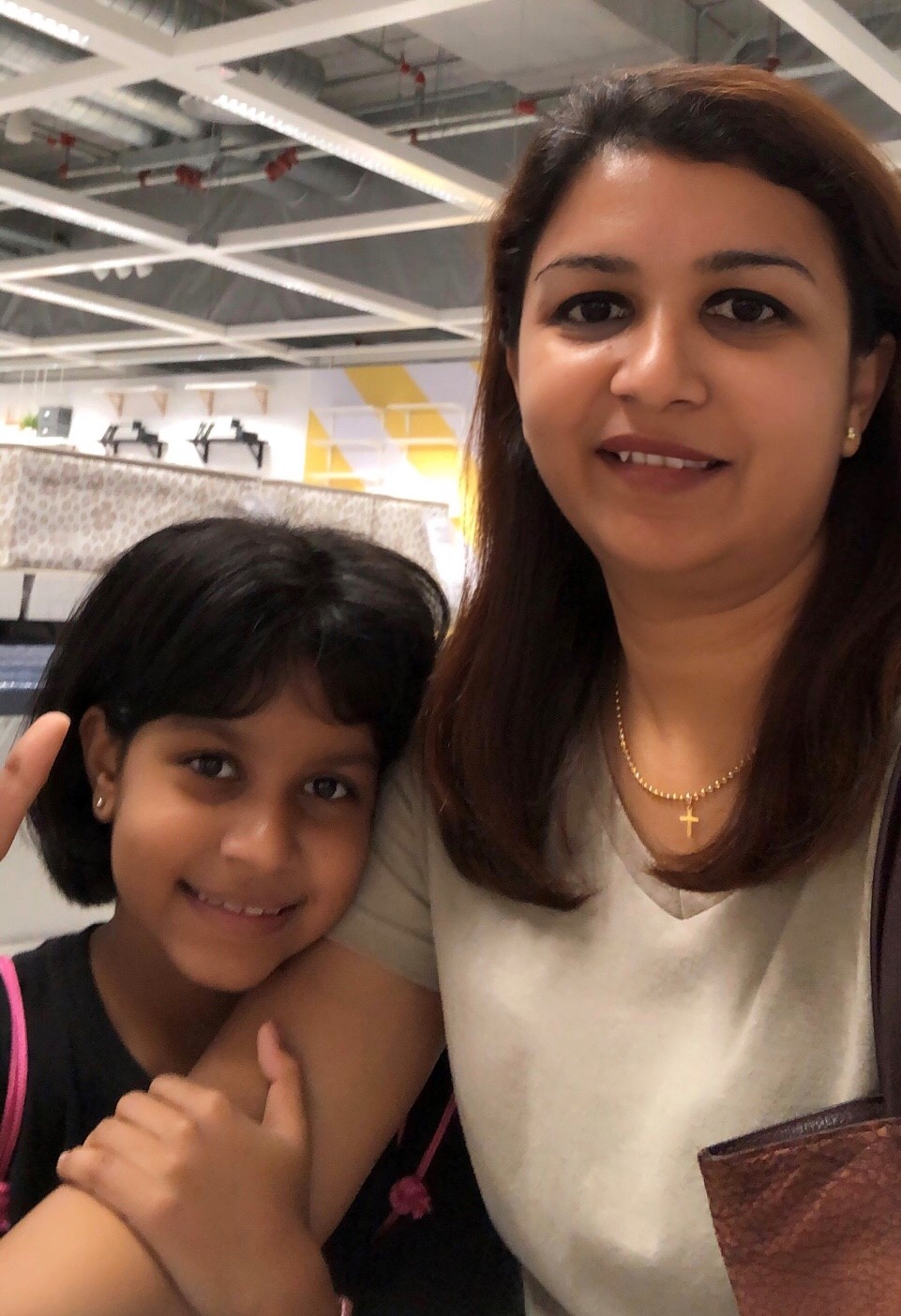 "We both bonded from the day she was born and are still very closely attached to and fond of each other," says Jacqueline Naomi Shalini Joel (right) referring to the unique bond between her and daughter.
As she walked into the campus where the students are mostly in their energetic 20s, Jacqueline Naomi Shalini Joel, or better known as Jackie Joel, finds herself inspired by the youthful surroundings, which very much helps to relieve her tiredness after hours of work.
Working as a part-time tutor, Jackie is keen on teaching Cambridge English to the junior class, as teaching is very much her passion, and is a fulfilling and fun experience for her. However, being a core working-age woman who gave birth to a child after going through many obstacles to conceive, Jackie feels that she needs and wants to spend more time to raise her only child and hence chose to work part-time.
"Doctors found a few issues in my body that made it difficult for me to conceive a child. But I never gave up. It took me eleven years to conceive my girl, this miracle happened in June 2010, it was a successful pregnancy," she recalled and continued, "Having my daughter was very precious and every second was just so tangible to me. We both bonded from the day she was born. We are still very closely attached to and fond of each other. It's a rather unique bond."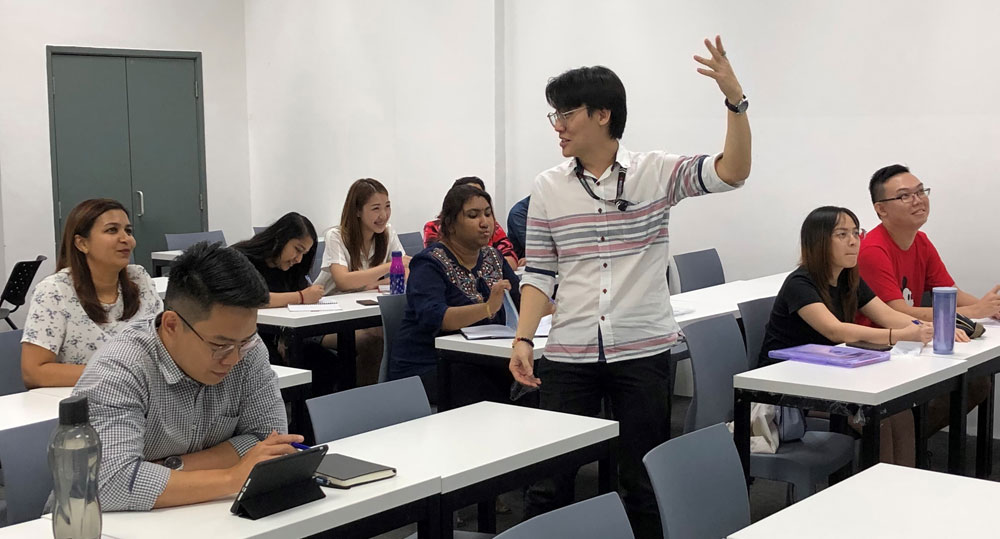 As a part-time working mom-student, Jacqueline Naomi Shalini Joel (left) attends class diligently. In this photo, she is attending night class lectured by Mr Calvin Cheah Wei Chieh.
What Jackie experienced after being a mom is generally shared by mothers in Malaysia. According to a recent survey, three-quarters (75%) of new moms in the country have cited a lack of work flexibility as their top reason for leaving their fulltime jobs. Other reasons included concerns about poor childcare while they were at work (60%) .
However, being a secondary school leaver with only an SPM qualification, Jackie realised that she needed to pursue a higher qualification to equip herself in a profession, and be a good example to her daughter. "Being a mother, it has made me see how important education is and I really want to be a role model to Naomi, my 9-year-old daughter."
"Before this, I had not pursued my studies in any particular field because, to be frank, I fell in love too young and put college aside. I started working then too, hence life went into overdrive, I guess!" explained Jackie on how she missed out on a college education. This encouraged her to equip herself academically.
In January 2018, Jackie enrolled herself into a programme for working professionals – the Diploma in Business Management, Flexible Learning – a programme that combines online and actual classes which can be completed in two and a half years, offered at INTI International College Penang.
Since then, Jackie's daily routine has become more fruitful and content. With her new role as part-time working mom-student, she attends 4-hour classes weekly and does her studies mostly online as the programme provides 24/7 accessibility to all learning materials, enabling her to study easily anytime and anywhere.
"During the day, I accompany my girl in her education and activities such as choir, piano and drum lessons. At night, I attend classes and do my assignments at home. Naomi watches me do my assignments whilst she is in bed and she sees me study for exams too. I believe it has somehow indirectly played a part in her studies too as she enjoys reading books daily now," enthused Jackie.
Reflecting on how she is juggling multiple roles in life, Jackie explained, "The programme is very flexible with everything done online including INTI's learning management system, Blackboard, e-books and assessment grading as well. It feels as if we are never far apart from college when we have our phones or tablets tagging along everywhere we go. Hence, I believe juggling a family and studies can be attained by everyone these days too!"
Jackie further expressed how much she enjoyed her classes and how much she treasures this opportunity as a working adult. "By returning to studies, I found out there is a brand new world. I think it is important to be disciplined and diligent when one enrols into a college. Last minute preparations will definitely not be enjoyed when results are out!" she quipped. During her 5th semester, Jackie proudly attained a CGPA of 3.52.
The Diploma in Business Management, Flexible Learning provides students with practical and applied knowledge and skills required to manage organizational development functions within the workplace. When asked what her future goal is, Jackie cited, "Having an advantage at my age now, I'm hoping to pursue an MBA course upon completing my Diploma in Business Management in the near future."
As for her beloved daughter, Naomi, who has a tremendous love for animals and already dreams of being a veterinarian, Jackie said that her role as a mom-student motivates her daughter in her studies, "I hope that she will do much better than me in her future studies and make me proud one day when I get to see her graduate."