The country of Cambodia was witness to one of the worst genocides of the 20th Century. Under the Marxist leader Pol Pot, the Khmer Rouge forced millions of people from the cities to work on communal farms in the countryside. As a result, people died from execution, starvation, disease and overwork. Between 1975 to 1979 when the Khmer Rouge ruled Cambodia, it claimed the lives of up to two million people . Today, the country of Cambodia is still recovering from the atrocities it witnessed.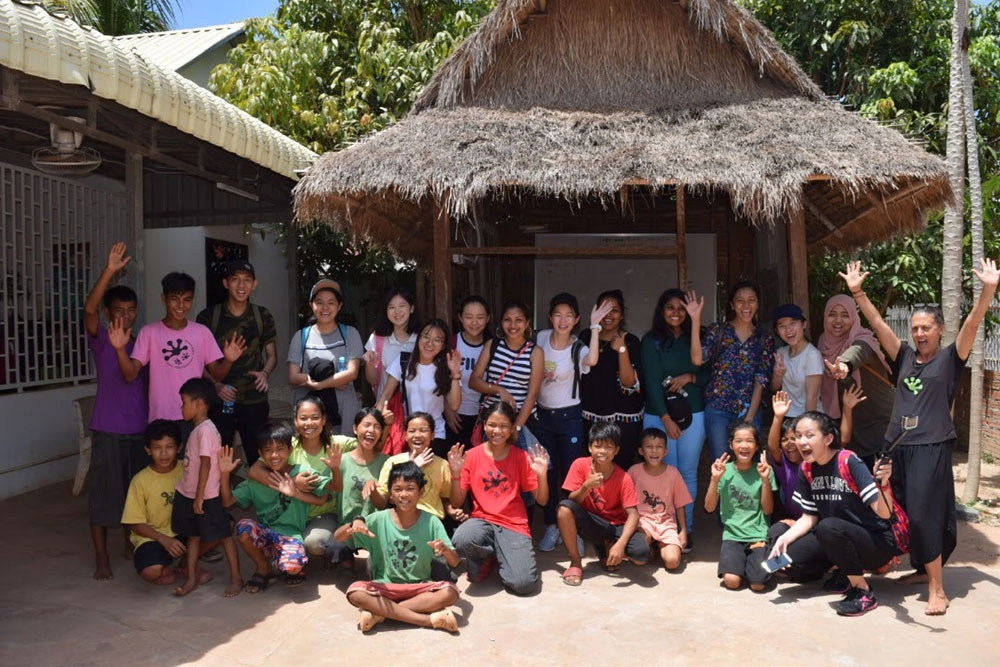 To discover and learn more about the history of this incredible neighbouring country, and to improve the lives of marginalised communities there, 12 eager students from INTI International University (INTI) and their lecturer Ms Intan Syafinaz Mohmad Rozee, Head of Programme cum Lecturer from the Centre of Liberal Arts and Languages spent a week in the Cambodian cities of Siem Reap, Kratie and Phnom Penh to experience for themselves the effects of human cruelty and the capacity for great good in spite devastating circumstances that drives the human spirit.
In Kratie, the students volunteered and stayed at the Dolphin School of English (DSE), where they prepared a nutritious breakfast of bread, eggs and milk for the children of the local community before they went to school, cleaned DSE's Multimedia room, painted its walls, prepared a dinner of curry, bread, omelette, fritters and fruits for about 120 children and conducted fun activities for them before they began their classes.
The students also started a "Breakfast for Kids" sponsorship programme to fundraise milk for the children and improve the level of nutrition among this needy community. While they initially aimed to collect funds for 3-months' supply of milk, they successfully raised funds for more than a year's supply of milk within a few hours.
The group from INTI also visited several places that teach and leverage social entrepreneurship, to see how Cambodian individuals support their livelihoods through social enterprises. Among these were Rehash Trash, a women's empowerment, skills-training, recycling and environmental clean-up initiative, and Project Y Frozen Yogurt, an educational social enterprise that sells frozen yogurt from Australia and is managed by university students from the Cambodia Rural Students Trust.
There were also visits to the world-famous UNESCO heritage site, Angkor Wat, near Siem Reap and also the Tuol Sleng Genocide Museum, a secondary school in Phnom Penh that was turned into a security prison by the Khmer Rouge regime.
Ms Intan Syafinaz shared, "Spending several days in a country that is still recovering from historical atrocities was not only a humbling experience, it also enabled our students to recognise the significance and value of being a part of the global community. Moreover, this journey served to help them learn from history so that they can make changes in our society.
"While the past has an immense impact on the present, younger generations have the power to change the future and this is one of the life lessons we want our students at INTI to take with them long after they graduate. Our students were privileged to experience this journey and have taken those lessons to heart, with many looking for opportunities to make a difference in the lives of marginalised communities here in Malaysia," concludes Ms Intan Syafinaz.