Students and lecturers from INTI International College Penang's Centre of Excellence for Pre-University Studies (CEPS) learned more about sea turtles and their environment during a volunteer initiative at the Chagar Hutang Turtle Sanctuary in Terengganu.
The Chagar Hutang Turtle Sanctuary is one of the most important nesting beaches on Redang Island, with nests ranging from 700 to 1700 nests annually, forming one of the most beautiful tourist destinations in the region. The secluded and sheltered bay is the perfect environment for sea turtles to take shelter and feed before making their way onto the beach to nest. Since the beach was gazetted as a turtle sanctuary 2005, the area is only accessible to researchers and volunteers from the Sea Turtle Research Unit (SEATRU).​
During their three days and two nights trip held from 15 to 18 September, at the sanctuary, which is a reserve territory dedicated as a safe haven for turtles and also a research centre, the group gained a better understanding on turtle conservation and how they could make informed decisions to contribute to the preservation of sea turtles. The group was led by Ooi Saik Huey and Dinash Kandasamy, who are the Head of Programme and Head of School respectively at CEPS.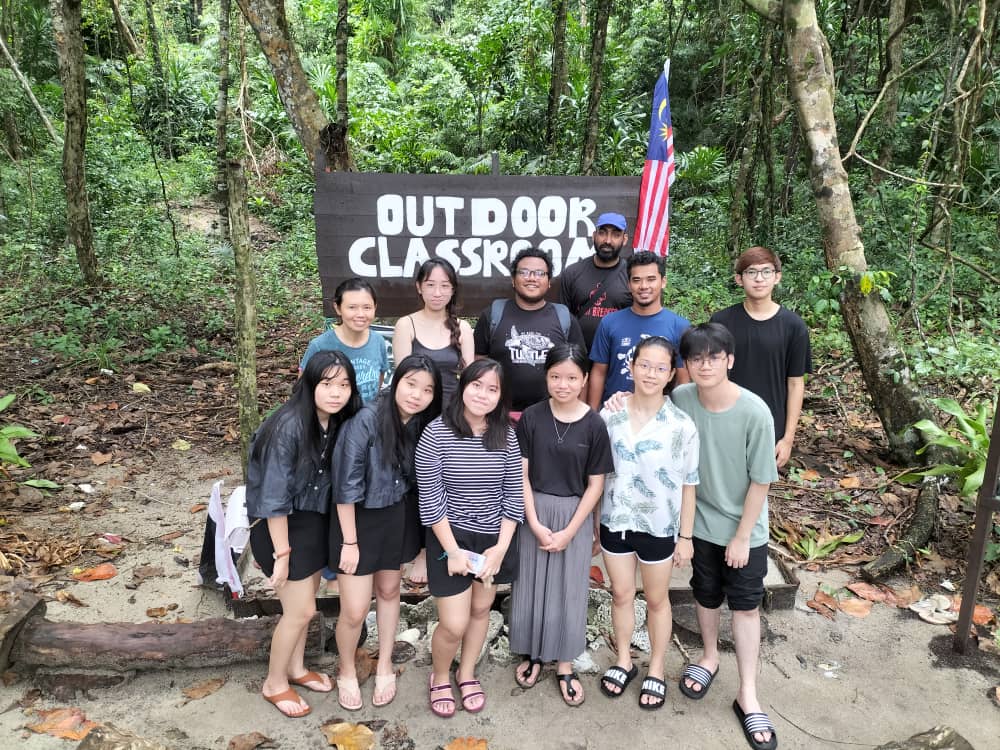 Students from INTI International College Penang's Centre of Excellence for Pre-University Studies (CEPS) and their lecturers at the Chagar Hutang Turtle Sanctuary, Redang Island, Terengganu.
According to Saik Huey, Peninsular Malaysia is home to around 18 species of freshwater turtles but most are currently endangered due to a range of threats. One of the main issues is water pollution in rivers and lakes caused by industry and farming operations. Additionally, turtles are victims of poaching for the pet trade as well as turtle egg consumption.
"This initiative is an eye-opener for all of us, even lecturers. The camp exposed us to and helped us understand the biological aspects and practical work in turtle conservation. It also fostered a love for sea turtles, an icon for the Terengganu state, which is increasingly threatened by extinction and will indirectly affect the tourism economy of the Redang Island community. I believe that our initiative to volunteer as part of the local community will make a difference towards protecting and conserving these species," he said.
The camp was made more exciting with the presence of interactive teaching and knowledge sharing. Students were able to gauge and absorb newer facts easily and effectively.
The SEATRU team demonstrated on turtle conservation such as how to get close to the turtles, patrolling the beach, measuring the turtles, handling turtle eggs reallocation, turtle net checking, and activities like hiking on an exclusive turtle rock, sleeping under an exquisite night sky, and snorkelling in crystal clear waters at the island.
"There is nothing more beautiful than seeing many small turtles on their way to the sea. That was the highlight of our entire camp experience," she said.
Meanwhile, Dinash said he never expected to discover sea turtles on the island prior to this camp.
"Who would have expected to see turtles on Redang Island – the island for sun and fun. On the flip side though, not many people know there's a turtle sanctuary that is successfully managed by SEATRU. Green turtles and Hawksbill turtles have been busy heading there and this is good news for turtle conservation. It was not easy getting them to nest and hatch there, but staff and volunteers are seeing the fruits of their labour especially after the beach was gazetted in 2005," Dinash said.
He said they were informed the beach was off limits to tourists and casual visitors except for SEATRU researchers, workers, and volunteers. The number of people is kept to a minimum to avoid disturbances on the nesting beach and real work only starts from midnight onwards. Nine stages are involved until the wee hours of the morning, namely landing where the turtles are just coming out from the water, crawling up the beach, digging a body pit then digging an egg chamber, laying the eggs, covering the egg chamber, sandbathing to camouflage the nest formed, crawling back to sea, and lastly re-entering the sea.
He explained, "During stages one to five, the turtles are very sensitive and may abort nesting if they are disturbed. Hence, monitoring is done during these stages. After the eggs are laid, the staff measures and tags the turtle before labeling the nest, but work doesn't end there. The beach is continuously patrolled throughout the day to inspect the nests."
Besides learning, Dinash said the students enjoyed themselves engaging in activities and observing turtles in their natural habitat.
"It was exciting to see turtles landing one by one and later laying eggs. Most of us never dreamt that we would get to experience this precious moment. Through this trip, we now know that in conservation, it is important to influence the local communities who are a crucial part of the ecosystem, which means changing people's motives and behaviour to see continued success in the efforts and initiatives taken by organizations like SEATRU.
"Trips like this are a testament of INTI's efforts in providing students with a hands-on learning experience that goes beyond the classroom. These experiences will provide them the tools and skills to become exceptional individuals and future employees," concluded Dinash.