It was a sight to behold – Malaysians standing tall amongst some of Germany's best students in one of the most internationally recognized Business Case Study competition in the world.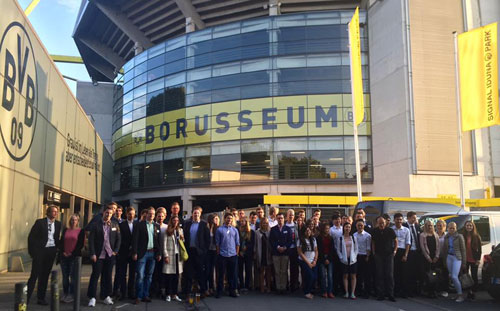 Held over 4 days, the Rubicon International Business Case Competition, held in Iserlohn, Germany, brought together some of the best students from Germany and two teams from Malaysia.
The two teams were both from INTI International College Subang and currently studying with the University of Hertfordshire.
The first team, comprising of Ivan Choong Wye Onn, Calvin Tog Sew Joe, Tan Sze Jie and Seow Wei Ken made the college proud by becoming the third best placed team in the overall competition, beating teams from the home country Germany.
The second team, which included Evelyn Tan Ee Teng, Lan Yuan Ling, Ng Wei Lym and Vivian Wong Sze Ern managed to bag fourth place.
Organized entirely by the students, Rubicon encourages students to participate in a thrilling case study competition and develop critical thinking skills, especially about current issues. Each team is presented with a case and is given 15 minutes to understand the complexity of the issue – and then is required to analyze and present possible solutions to a panel of expert judges. The cases mostly revolve around different economic problems that countries face.
The winners are then decided by a panel of expert juries who rate the effectiveness of the solutions provided by the teams.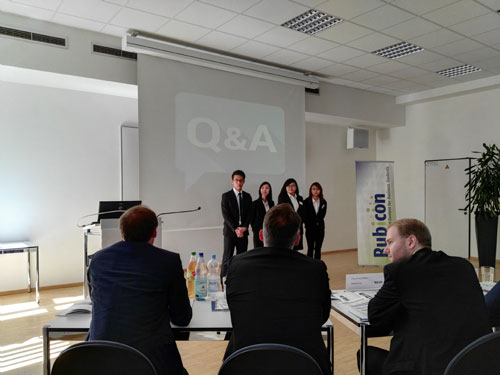 "It is always a defining moment when your students do well, and this competition is no different," Irene Wong, the Dean of University of Hertfordshire said jubilantly.
But the fact that these students have gone all the way and even beat the teams from Germany to come third is a great achievement. UH students have been participating at Rubicon for over three years now and we've walked away with our heads held high every time." she added.
The theme for this year's competition was 'The Internet of Things' and while the teams were lauded for its efforts and presentation at the competition, the students were not without their challenges.
"The world is evolving to an extent that everything seems to revolve around the Internet. So the business cases that were given to us were very challenging as we had to come up with solutions regarding E-Commerce amongst other things," said Ivan Choong Wye Onn, studying final year in Bachelors in Marketing.
He added:
But we managed to pull through, especially as we came very well prepared thanks to the multiple training sessions and mock up competitions prepared by our lecturers before we flew to Germany. We even had Mr See Seong, one of our lecturers who came along to Germany with us."With the right materials, support and technology, INTI ensured that the students were given full support, not only in providing them access to these competitions, but also through the practical assistance provided by its academic team.
"By enabling our students to participate in such competitions, INTI offers them first hand experiences to work on practical ideas which have an actual impact on the society around them. Our aim is to empower our students to not only develop their skills and capabilities to compete against their global peers, but to equip them with the relevant exposure they need to stand out in their future careers," Irene concludes.