Interpersonal relationships and communication skills are as important to Quantity Surveyors (QS) as other areas of their professional training, given that they need to interact and communicate with architects, subcontractors, engineers and planners to deliver high-value and low-risk services to their clients.
At INTI, QS graduates are well-equipped with knowledge in all dimensions required of their profession. INTI's QS programme is designed to give graduates a head start in their career by enabling them to master not just professional knowledge and theories but also essential practical skills. It covers cost planning, cost control, building development techniques, building research, software application, quantity measurement of the building and foundation structure, and management of legal issues pertaining to construction.
INTI International University (INTI) is among one of the first private institutions of higher learning in the country to collaborate with Glodon, a leading Chinese construction corporation, in introducing the Building Information Modelling (BIM) software. This software is an intelligent 3D model-based programme that helps students effectively plan, design and manage buildings and infrastructure. With a firm grip of the BIM application, students are in a better position to broaden their career prospects and develop their respective areas of specialisation, such as property development, construction, building material supplies and consultation.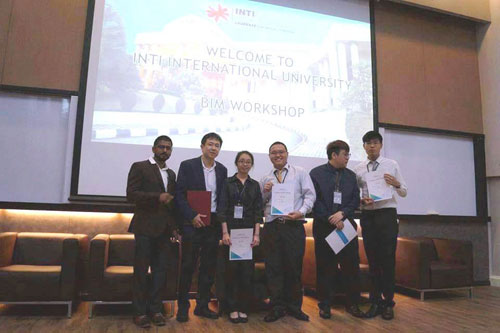 (From L-R) G.D. Pratap, Chor Goeh Huei, Goh Yie Wei, Soh Chun Shen, Ng Yin Lun, and Wu Kai Xuan.
"INTI is committed to providing a rich and comprehensive learning experience to our students. This is fully reflected in the quantity surveying programme, where practical learning and theoretical concepts assume equal importance. To ensure our students have the right skills that meet the expectations of their future employers, INTI has collaborated with Glodon to introduce BIM, an industrial software system through which students gain insight into actual problems in the process and accumulate valuable experience. This is invaluable in making them job-ready and opening up their career prospects," said Dr Chan Siew Chong, Director of the QS Programme at INTI International University.
This year, four students of INTI's QS programme were awarded Grade C certification for their capabilities in completing a project (with a building area of 5000 m2) independently with the software. They are Wu Kai Xuan, Ng Yin Lun, Goh Yie Wei and Soh Chun Shen. Meanwhile, Sr Chor Goeh Huei, INTI's Head of Programme and Senior Lecturer in Engineering and Certified Trainer in charge of the training programme, has been promoted to the position of Elite Trainer. This will enable him to assist students in solving problems pertaining to the use of the software in an even more precise and effective manner.
Among the first batch of certified INTI quantity survey graduates is Eric Lee Kuan Liang, who has been appointed by Glodon as a service consultant. He said, "Internationally recognized, Glodon's Building Information Modelling software focuses on large data and Internet financing services relevant to construction projects throughout their entire life cycle. The software complements INTI's QS programme, and I can readily apply what I have learned in class to the projects."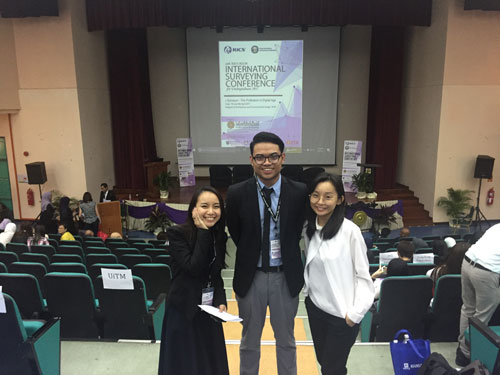 (From L–R) Josielyn Venesa Quintin, Zulfadhli Zulrushedi and Annabel Chan at the 9th Asia-Pacific RICS-RISM International Surveying Conference.
INTI's QS programme places equal emphasis on cultivating practical skills and imparting solid theoretical knowledge. In the 9th Asia-Pacific RICS-RISM International Surveying Conference held this year, Annabel Chan and Zulfadhli Fadlullah bin Awang Zulrushedi from INTI outperformed other contestants and took home the coveted Best Presenter Awards with their theses titled "Waste as renewable energy: From renewable energy to sustainable building waste management" and "A feasibility study on solar panel implementation at the Investigation Office of Temburong District, Brunei Darussalam" respectively.
Meanwhile, Josielyn Venesa Quintin shared her views and engaged experts, scholars and students from major universities in a discussion with her presentation titled "Determinants of cleanliness pertaining to construction site management in Malaysia", which aims at increasing public awareness of the importance of site cleanliness in the construction industry.
Annabel Chan said, "As a first-time participant, my experience is all the more meaningful for the fact that I have to compete with experienced presenters from different universities."
Zulfadhli Zulrushedi attributed his success to his mentor, Ms Nurul Aini Osman. He said, "Ms Nurul Aini Osman has made every effort to give me guidance and encouragement, from drafting the thesis to rehearsing the presentation."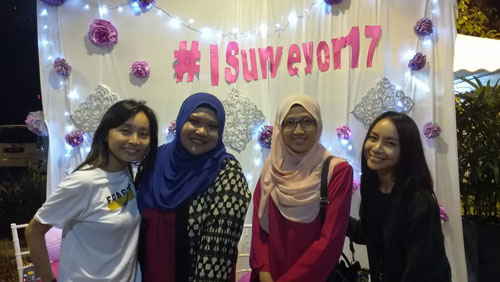 Annabel Chan (left) and Josielyn (right) with their mentors.
Josielyn Venesa Quintin said, "I have learned a lot from the International Surveying Conference, with valuable knowledge gained from fellow participants, especially those from overseas institutions such as the Hong Kong Polytechnic University, the University of Hong Kong, the Assumption University of Thailand, the Thammasat University of Thailand, the Chongqing University, the Tongji University and the Huazhong University of Science and Technology."
INTI's Bachelor of Science in Quantity Surveying (Hons) has 100% internship placement. INTI has over 450 industry partners that support student participation in employer projects, addressing actual industry issues and coming out with practical solutions. This gives students opportunities to get in touch with potential employers and industries before graduation.
INTI's QS Programme is recognized by the Royal Institution of Surveyors Malaysia (RISM), the Royal Institution of Chartered Surveyors, UK, the Singapore Institute of Engineering Technologist (SIET) and the Board of Quantity Surveyors Malaysia (BQSM).
As a higher education institution which prioritizes the employability of its graduates, INTI posts impressive graduate employment ratings with 98% of INTI graduates are employed within six months of graduation, while 25% receive job offers even before they graduate. 82% are also paid higher than the market average, highlighting their edge over their peers. With these figures having been validated by BDO Governance Advisory, INTI remains the only institution of higher learning who can vouch for its employability outcomes.