Mobile phones are incredibly powerful communication tools that have become an integral part of our lives. As the world continues to grapple with so many tragedies, people enjoy relying on the use of the internet for newsworthiness. According to the National Library of Medicine, it was reported that mobile users spent majority of their time accessing information and entertainment.[1]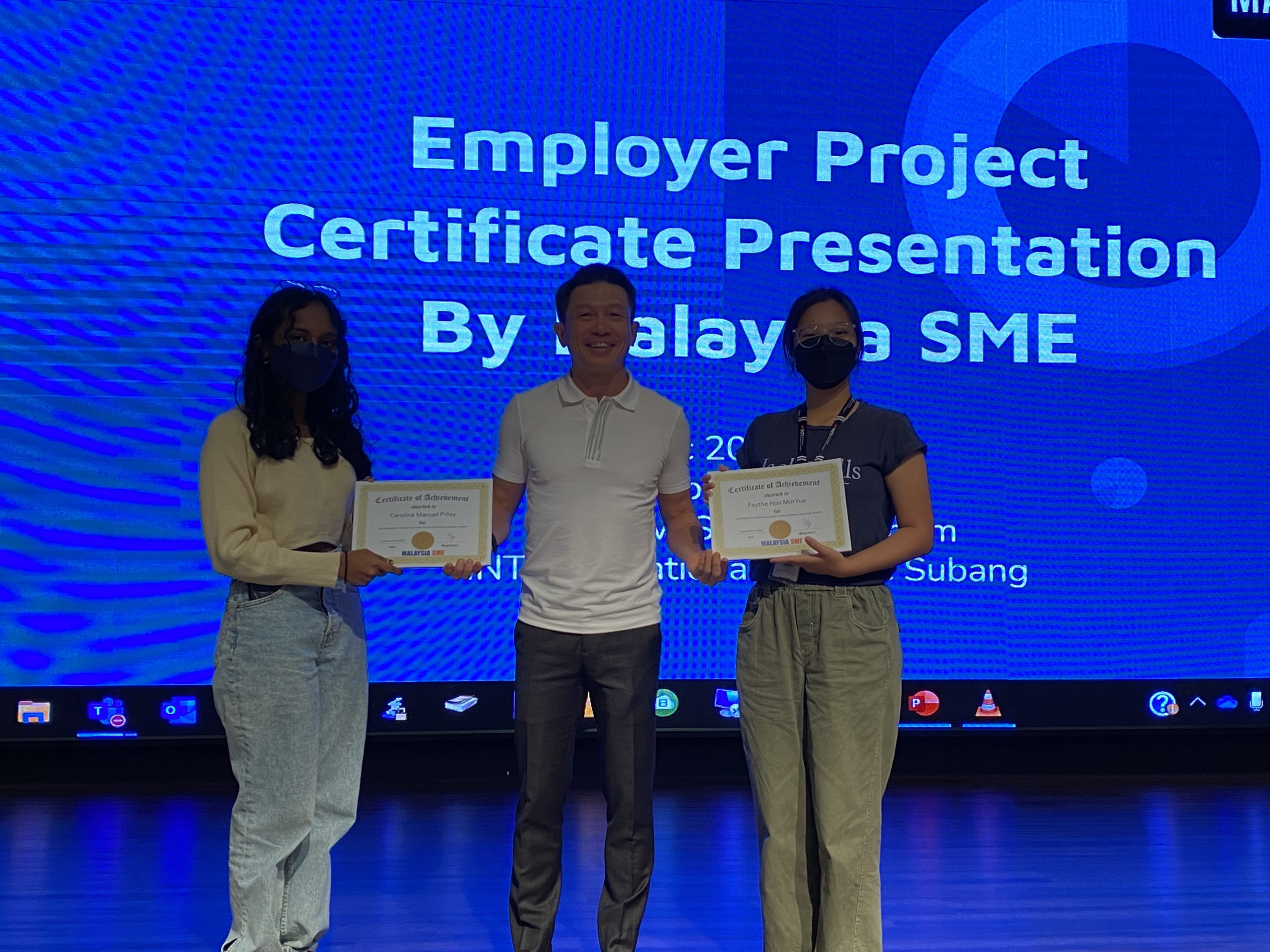 Malaysia SME Group Chief Editor Wayne Lim (centre) posing for a group photo with representatives from INTI International College Penang's Diploma in Mass Communication programme.
In support of accelerating today's digital trend, INTI International University & Colleges embarked on another collaboration with one of the fastest-growing companies, Malaysia SME, which would help students provide a solution to various critical issues relevant to the industry's needs. Through an employer project, students were tasked with developing Malaysia SME's newest mobile application platform known as CJOP (Citizen Journalist Online Platform) which allows citizens to quickly and seamlessly capture and report newsworthy events on-the-go.
On 16 December 2022, over 100 Mass Communication students from INTI International College Subang and INTI International College Penang received  certificates presented by Malaysia SME in a hybrid event organised by INTI's Career Services team to celebrate the success of the project.
Wayne Lim, Group Chief Editor of Malaysia SME, said the students brought creative innovation to the table to offer a valid solution.
"The students' hard work on the project encouraged creativity, critical thinking, and entrepreneurship skills that will contribute to their career development in the future," he said.
Caroline Manuel Pillay, a student currently pursuing the Diploma in Mass Communication programme at INTI International College Subang said the project pushed them to think out of the box and taught them to overcome challenges.
"Working with a future-thinking company allows us to build a strong foundation to adapt to a fast-paced work environment. The project helps us develop critical thinking skills to solve real business problems," she said.
Meanwhile, Teh Tze Yii, a student pursuing her Diploma in Mass Communication at INTI International College Penang, shared her experience in planning, researching, and collecting the data for Malaysia SME's newest mobile application.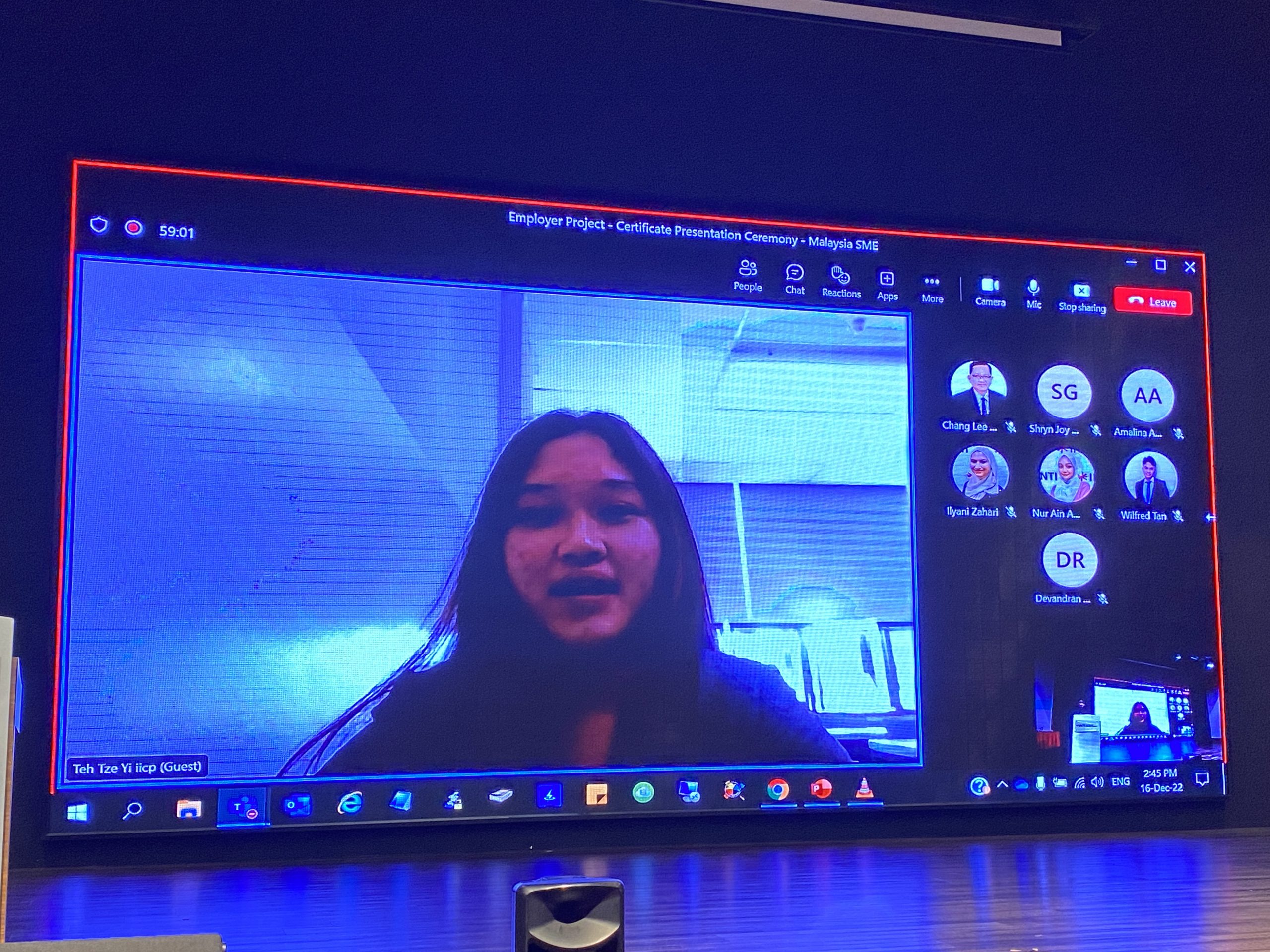 Teh Tze Yii, a Diploma in Mass Communication student at INTI International College Penang, sharing her experience on the project with Malaysia SME during the hybrid event.
"We were given a research topic on how Malaysians would perceive the citizen journalism online platform in general. More detailed approaches were discussed as we came out with a problem statement, literature review, and methods of collecting the data," she said, adding that their communication research class enhanced their understanding on research methods.
She was also humbled to be able to receive continuous guidance from the management of Malaysia SME from start to finish.
"We got to work with amazing industry experts who brought out the best in us. It motivates us to produce good quality work," she said with a smile.
The CJOP will allow subscribers to conveniently upload news at any time or place. The mobile app is expected to launch soon and can be downloaded from the Apple App Store and Google Play Store.
[1] https://www.ncbi.nlm.nih.gov/pmc/articles/PMC8499705/