In its continuous effort to achieve excellence in academia, INTI International University has rolled out various initiatives to support this goal, one of which includes organising academic conferences. This November, the University is hosting the ASEAN Social Business Conference (ASBC 2021) and the International Conference on Innovation and Technopreneurship (ICIT 2021) which will convene academics, industry professionals, and students for a sharing of knowledge, views, and ideas.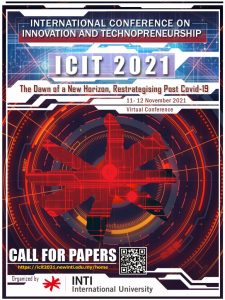 The International Conference on Innovation and Technopreneurship (ICIT 2021) will be held from 11 to 12 November 2021.
INTI International University is honoured to have the presence of Nobel Peace Laureate Professor Muhammad Yunus, who is also Managing Director of Grameen Bank, to deliver the keynote address for ASBC 2021, organised by the INTI-Yunus Social Business Centre in collaboration with The Yunus Social Business Centre at Universiti Kebangsaan Malaysia (UKM).
Often referred to as "the world's banker for the poor", Professor Yunus, who holds 63 honorary degrees from universities in 26 countries, has succeeded in turning the seemingly impossible vision of disbursing loans to the poor who lack financial security into a viable business model. This has benefited millions of people, not only in Bangladesh, but also in many other countries.
During the opening ceremony of the recent Tokyo 2020 Olympic Games, Professor Yunus was awarded the Olympic Laurel award for his substantial work in sports for development, which includes introducing social enterprise to the sports world.
He has inspired countless students and millions throughout the world through his life's work, demonstrating that business and entrepreneurship can be a beneficial force in the world.
With the theme "Thinking Outside the Box: Social Enterprise Survival in the COVID-19 Period", the two-day virtual conference from 15 to 16 November 2021, will gather academics and social entrepreneurs, government agencies, and social services to discuss and share their ideas through rounds of workshops besides academic paper presentations that would touch on Social Businesses in Academic, Technology, and Sustainability in Charity related to the COVID-19 pandemic.
The ASBC 2021 will also address and look at ways for entrepreneurs to survive and at the same time provide that humanitarian aspect we need most in these trying times. The conference also highlights an opportunity to connect with established individuals in the field as INTI International University continues to grow social business in Malaysia and the region.
Apart from workshops and academic paper presentations, INTI International University is also excited to have distinguished speakers such as Datin Dr Syahira, Under Secretary, Policy and International Relations Division Ministry of Entrepreneur Development and Cooperatives Malaysia, who will be sharing on the Social Entrepreneurship Blueprint for Malaysia. Other esteemed speakers lined up for the conference include Wan Faizal Mohd Anwar, Programme/Senior Director Advisory and Consultancy Division, Malaysia Green Technology & Climate Change Centre (MGTC) who will speak on the Jaguh initiative and how will it plays a role in Social Business among fresh graduates; Anja Juliah, President of Chamber of Social Entrepreneur Development (CSED Malaysia) on Social Entrepreneurs who will share about adjusting to the impact of Covid-19 in Malaysia; and Prof. Ir. Dr Khairul Salleh, Deputy Chief Excellence Officer (Quality Assurance), Malaysian Qualification Agency whose sharing will be on the Robotic Roadmap for Malaysia.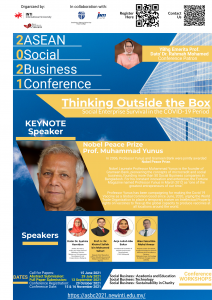 The ASEAN Social Business Conference (ASBC 2021) will be held from 15 to 16 November 2021.
Meanwhile, from 11 – 12 November 2021, INTI International University will be hosting the International Conference on Innovation and Technopreneurship (ICIT 2021). It is expected to welcome leading experts, innovators, technologists, educators, and researchers from all over the globe in one room to share essential work in all aspects of technology and innovation.
Its theme, "The Dawn of a New Horizon, Re-strategizing Post COVID-19", reflects the urgency of discussion on current trends of changing culture and workforce in most work sectors and how society adapts to the inevitable crisis. It will also look at how academia, researchers and industries are adapting, innovating, and staying productive amidst the COVID-19 pandemic.
The 4th ICIT, like its predecessors, will feature a variety of Plenary Talks by notable figures from academia, industry, and research. Tan Tze Kiat, CEO of BBDO Group Greater China, Assoc. Prof. Dr Cecilia Chan of Hong Kong University, and Prof. Dr Andrew Harding of the National University of Singapore are keynote speakers for the two-day virtual event.
As a platform for attendees to share, discuss, and debate ideas about post-COVID-19 strategies, ICIT 2021 is also a strategic forum for participants to address their concerns. In keeping with its theme, the conference will include topics such as digital business, social impact, talent development, and the impact of the present health crisis.
In addition to this, a forum will be held to provide critical analysis and review of the technologies and prospects that have emerged as a result of COVID-19 and how businesses are utilising the positive effects. A discussion will also be held to explore the philosophical concerns surrounding re-establishing proper business ethics following the pandemic.
Conference Registration
While INTI International University is excited to bring people together in person, we believe that, at this time, a virtual conference experience will provide the best opportunity to learn, connect, and be inspired in 2021, given travel restrictions and concern on safety during these uncertain times.
No matter where you are in the world, these conferences are just one click away. To register or get more information on ICIT 2021 and ASBC 2021, please visit:
ICIT 2021: https://icit2021.newinti.edu.my/conference
ASBC 2021: https://asbc2021.newinti.edu.my/conference