"I'm really proud of how far I've come since starting my degree at University of Central Oklahoma (UCO). Looking back, I started here as a reserved and quiet student, and I didn't have a lot of confidence in myself. I would always look at my 'international' status as an excuse to why I couldn't step out of my comfort zone and saw myself as less compared to my American counterparts," said Student Broadcaster of the Year award recipient Amanda Siew.
Achievements, however, did not come without any effort. Amanda like any other Malaysian student overseas, strived hard to get where she is now.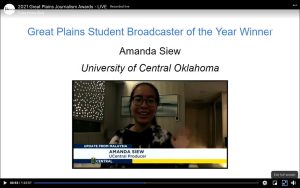 Amanda Siew at the virtual Great Plains Journalism Awards where she received the Student Broadcaster of the Year award in May 2021.
"I felt like I grew a lot as a person while studying in the United States (US). When you're thrown into a new and foreign environment, you have to immediately learn how to be independent, adapt quickly to changes, and deal with stress on your own. The list goes on," she said, adding that studying at an American university has increased her understanding of the world.
Having gained leadership opportunities during her time in the US, Amanda believes it has provided her a wholesome of experiences to sustain in the real working environment. Sharing about the award she recently bagged, Amanda attributes it to her professor.
"One person I would like to thank, who is also probably tired of me mentioning her at every interview I have done is Dr. Desiree Hill, my professor at UCO. She believed in me, even when I doubted myself. I had zero experience when I got into producing, but she took a chance on me and mentored me anyway. She always pushed me out of my comfort zone and encouraged me to apply for all the awards and recognition I have received thus far. I owe most of my successes to her," shared Amanda who hails from Petaling Jaya, Selangor.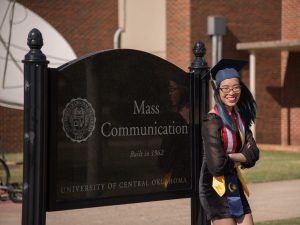 Amanda Siew posing next to the Mass Communication school landmark at the University of Central Oklahoma.
Amanda earned the Student Broadcaster of the Year award through a reporting assignment that she completed last year. In the report, she had shared about her trip back to Malaysia when the pandemic struck and what the quarantine process was like.
"Dr. Desiree had asked me to submit my coverage for the award, but I was hesitant because I didn't think it was good enough. But then I thought, what do I have to lose? I submitted all my files for the award and the rest was history."
"In all honesty, I still can't believe that I won the award. When I think of a broadcaster, I imagine someone who is on camera, like an anchor or reporter and I see myself more as someone who works best behind the scenes instead," she said.
The Great Plains Student Broadcaster of the Year award is part of the annual Great Plains Journalism Awards sponsored by the Tulsa Press Club, a professional journalism organization based in Tulsa, Oklahoma. The regional competition is held among eight US states: Oklahoma, Arkansas, Kansas, Missouri, Nebraska, Iowa, North Dakota and South Dakota[1].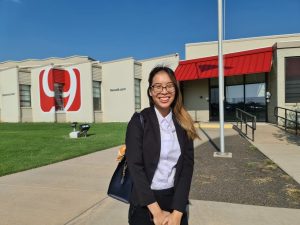 Amanda Siew during her first day working at KWTV/News 9 in Oklahoma City in July 2021. She is currently working as a producer.
This isn't the first award that Amanda has received. Other recognition and accolades under her belt include the Milton R. Reynolds Most Professional Advanced Student Award at the UCO Mass Communication awards; New Media category in the Oklahoma Broadcast Education Association Awards; emerged Top 3 in the national 2020 College Coronavirus Coverage Awards by the Society for Professional Journalists; the 2021 Brian Jay Walker Scholarship in Journalism Ethics from the Oklahoma Journalism Hall of Fame; and best newscast in the Oklahoma Broadcast Education Association Awards for 2019-2020 and 2020-2021.
Twenty-one-year-old Amanda graduated with a Bachelors in Professional Media and minor in Public Relations from UCO this year and is currently working in the US as a producer.
"I'm really proud to have landed a career opportunity after graduation. It's definitely different being the youngest employee at the office, but it's good to know that my co-workers also believe of my capability regardless of my age," said Amanda.
While in Malaysia, Amanda always knew she wanted to pursue her higher education in the US. "I wanted to move away from examination-based programmes to something that would focus more on coursework. Besides, I feel that an American university would best suit me as I pursue a degree in Mass Communication," she explained.
While doing her research about institutions of higher education offering American Degree Transfer Programmes (AUP) within the Klang Valley, Amanda discovered INTI International College Subang.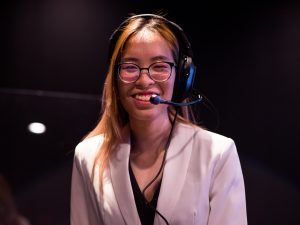 Amanda Siew successfully produced shows for UCentral, a student-run news organization at University of Central Oklahoma, from Malaysia although despite a 13-hour time difference.
"INTI's AUP programme caught my eye because it offered an array of US university partnerships, I believe it is also the longest-standing programme among other Malaysian universities offering it," said Amanda about her choice of kick-starting her higher education journey at INTI.
On a sentimental note, Amanda concluded, "My parents have been my pillars since day one. Ever since I was a kid, they have always encouraged me to pursue my dreams. Despite the distance, my family's continuous support has kept me going and I couldn't have become the person I am now or achieved all these awards without their love and support. Mom, Dad and Mei, if you're reading this, thank you for all that you've done and I love you'll!"
[1] http://wp.greatplainsawards.org/