INTI International College Penang is beaming with pride as it highlights the accomplishments of seven remarkable students who have soared to impressive heights in the recent Cambridge A-Level (CAL) examinations. They have achieved a noteworthy feat of obtaining 4A* grades or more, showcasing their exceptional abilities in various subjects.
The accolades awarded to students for their Cambridge A-level achievements represent more than just successes – they signify the pinnacle of academic excellence. Each distinction marks a significant milestone in the transition from pre-university pursuits to gaining admission into some of the most prestigious universities in the world. It does not just symbolise academic success; it's a testament to dedication and the beginning of an inspiring journey.
Among the high-fliers, Chermaine Wong Xin Mun and Bryan Lau Jun Qian from INTI International College Penang's Cambridge A-Level programme have demonstrated exceptional dedication and zeal in their studies.
At 19, Chermaine Wong Xin Mun stands out among the seven top-performing students with her 4A* grades in Chemistry, Biology, Physics, and Mathematics. Her enthusiasm and commitment to the sciences are evident.
Chermaine revealed how her intensive study routine, mainly her focus on past-year papers, played a crucial role in her success. "Tackling the A-levels was a formidable challenge, yet I can vouch for the significant benefits of consistently practising past-year papers. It was by no means simple, but this thorough method undeniably enhanced my journey to A-level success," she stated.
Similarly, Bryan Lau Jun Qian, also 19, secured 4A* grades in Further Mathematics, Mathematics, Chemistry, and Physics. His interest in these subjects was fuelled by personal intrigue and their relevance in the STEM field. Bryan also acknowledged the advantage of past-year paper practice in deepening his understanding of the subjects.
He remarked, "Working through past-year papers improved my grasp of the topics."
Bryan Lau Jun Qian, 19, aspires to further his studies in engineering at a university in Australia.
Chermaine and Bryan are part of the top seven students who achieved 4A* grades or higher in the A-Level examinations at INTI International College Penang out of a total of 70 students. Their excellent academic performance showcases their remarkable abilities.
Both Chermaine and Bryan encountered several challenges during their A-level studies, such as demanding academic schedules. Chermaine emphasised the importance of effective time management, while Bryan created a detailed study plan to manage his time efficiently across different subjects. Their disciplined study methods allowed them to cover the course material comprehensively without feeling overwhelmed.
Chermaine and Bryan not only focused on their academic achievements but also acknowledged the significance of a holistic education. They emphasised the role of extracurricular activities in developing soft skills and personal growth. They both highly appreciated the support and dedication of their lecturers at INTI International College Penang.
Chermaine praised, "Throughout my academic journey, the lecturers at INTI have been dedicated mentors and supporters, always available to address my questions, even outside regular hours. Their commitment to our success has shaped my educational path."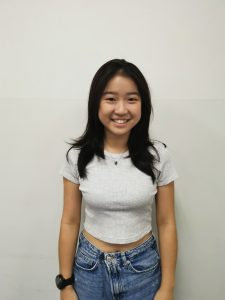 Chermaine Wong Xin Mun, 19, aims to become a renowned pharmacist and is pursuing a bachelor's degree in pharmacy at one of the local private universities in Malaysia
Ms Bee Hooi Tan, Head of the CAL programme at INTI International College Penang, shared her thoughts on this notable achievement.
"We are fully committed to ensuring our students' holistic development by combining academic rigour with a well-rounded education. The success achieved at the Cambridge A-Level Awards ceremony is a testament to the effectiveness of our educational approach. It signifies not only a personal victory for our students, but it also reflects positively on INTI International College Penang's unwavering dedication to academic excellence and our ongoing pursuit of scholastic distinction," she commented.
Ms Tan is very hopeful for the future. She said, "We are looking forward to seeing their future accomplishments, and we believe they will continue to excel and make important contributions to their academic and professional fields. This victory will inspire our current and future students."
INTI International College Penang reaffirms its commitment to excellence by celebrating outstanding student achievements and producing well-rounded graduates prepared to make a positive impact in their academic and professional pursuits.