Investment analysts are influential people. They are sought after by the media to comment on all manner of news stories, and their recommendations to buy, sell or hold shares of a company.
To find out exactly what an investment analyst does, Li Jian Hang, a first year student studying Bachelor of Business Studies at INTI International College Subang, together with a couple of his classmates took part in the CFA Investment Research Challenge 2015 recently.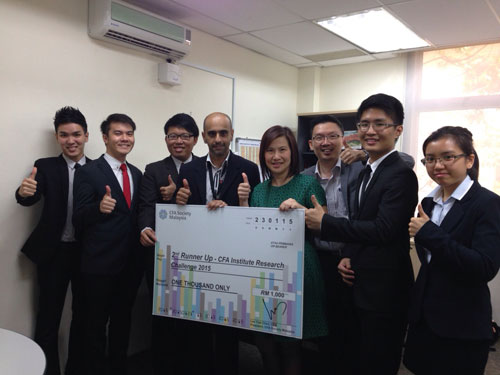 They emerged as second runners up in the competition, despite it being their very first attempt in the competition.The competition involved Lai Jian and his team to conduct a detailed research on a company with limited access to the management. They were then required to prepare a report on the company, the market it operates it and its prospective financial performances in the future.
"We were assigned to conduct a research on Sunsuria Berhad, a prominent real estate developer here in Malaysia. We had to compile research reports and come out with a suitable target price for Sunsuria Berhad's stock price. The aim is to provide a comprehensive report to the CFA Society for them to evaluate," he said.
Currently majoring in Finance, Li Jian has firmly found his feet in the industry. Together with the other participants in the Research Challenge, he took a crash course in valuation of assets as well as the skills required to write a well structured report on the findings. Finally the participants presented the report to a panel of professionals from the financial industry – similar to what real life professional financial analysts would do for prospective clients.
"It was very surprising and exciting for us to make it into the top three, despite being first-timers!. We are delighted that our team is able to achieve such good results, and we have learnt so much from the experience," he added.
Guided by a dedicated team of highly qualified and experienced lecturers, INTI's students are groomed to be dynamic leaders of the future. Their international exposure, innovative learning and individual development are enhanced through participation in competitions, industry projects, international study trips and practical training with established local and foreign organizations.
When asked about studying at INTI, Li Jian said, "The one thing that I like most about my course is that I have the chance to learn what a person in the finance industry actually does, as my assignments not only focus on theory but also revolve around practical and real financial issues, which I believe is what I need to prepare myself for my future career."
The CFA Institute Research Challenge is an annual global competition that provides university students with hands-on mentoring and intensive training in financial analysis. In the first eight years of this annual competition, 15,000 students from more than 1,000 universities around the world participated with the help of thousands of dedicated volunteers.