INTI International University celebrated the exceptional accomplishments of its Civil Engineering students at the prestigious IDEERS 2023 contest in Taiwan. The university's Civil Engineering team garnered an impressive array of awards: the Certificate of Quake Resistant, Best Structural Design Award, a second Certificate of Quake Resistant, the Certificate of Excellence for Efficiency Ratio (ninth place), Aesthetic Award, Structural Design Award, and the Design Concept Exhibition Award.
Guided by their mentor, Associate Professor Ts. Dr. Lee Hoong Pin, the teams demonstrated their commitment to excellence and resilience against competitive challenges. Bolstered by their prior achievements in the Structural Earthquake Stability (SES) 2023 competitions, they approached the international stage with heightened confidence and ambition.
The undergraduates did not hesitate to express their gratitude for the enriching experience and the guidance provided by their esteemed advisor. "We are profoundly grateful to Dr. Lee Hoong Pin for giving us the opportunity to partake in this international contest. His extensive knowledge and experience in earthquake engineering have been the cornerstone of our success," shared Cheyenne Low, student from INTI International University's Faculty of Engineering and Quantity Surveying.
Their hard work was recognised with the Certificate of Quake Resistant and the Certificate of Excellence for Efficiency Ratio, which confirmed not only their diligence but also the seismic soundness of their design model and their in-depth understanding of seismic design principles.
On the other hand, the postgraduate team's receipt of the Structural Design, Aesthetic, and Design Concept Exhibition Awards underscored their inventive approach and dedication. "The public recognition of our creative solutions reinforces the seismic integrity of our designs and the practicality of our models in withstanding real-world earthquakes," Chong Chun Han, student from the Faculty of Engineering and Quantity Surveying at INTI International University.
Participating in the IDEERS competition allowed the teams to put their theoretical knowledge into practice while constructing earthquake-resistant structures. They demonstrated the value of utilising innovative techniques like the mortise and tenon joint, which is especially relevant for Malaysia's increasing number of high-rise buildings in seismically active zones. This competition provided a pivotal platform to showcase their adaptability and skills.
The competition highlighted the importance of experiential learning, challenging students to adapt designs and thrive under pressure.
Meanwhile, Associate Professor Ts. Dr Lee Hoong Pin emphasised the importance of specialised mentoring and support for students in such competitions.
"Triumphs and trials are part of the competitive journey. I am immensely proud of these students for their strong command of earthquake engineering principles. The experience they have gained here is invaluable for their future professional endeavours," he said.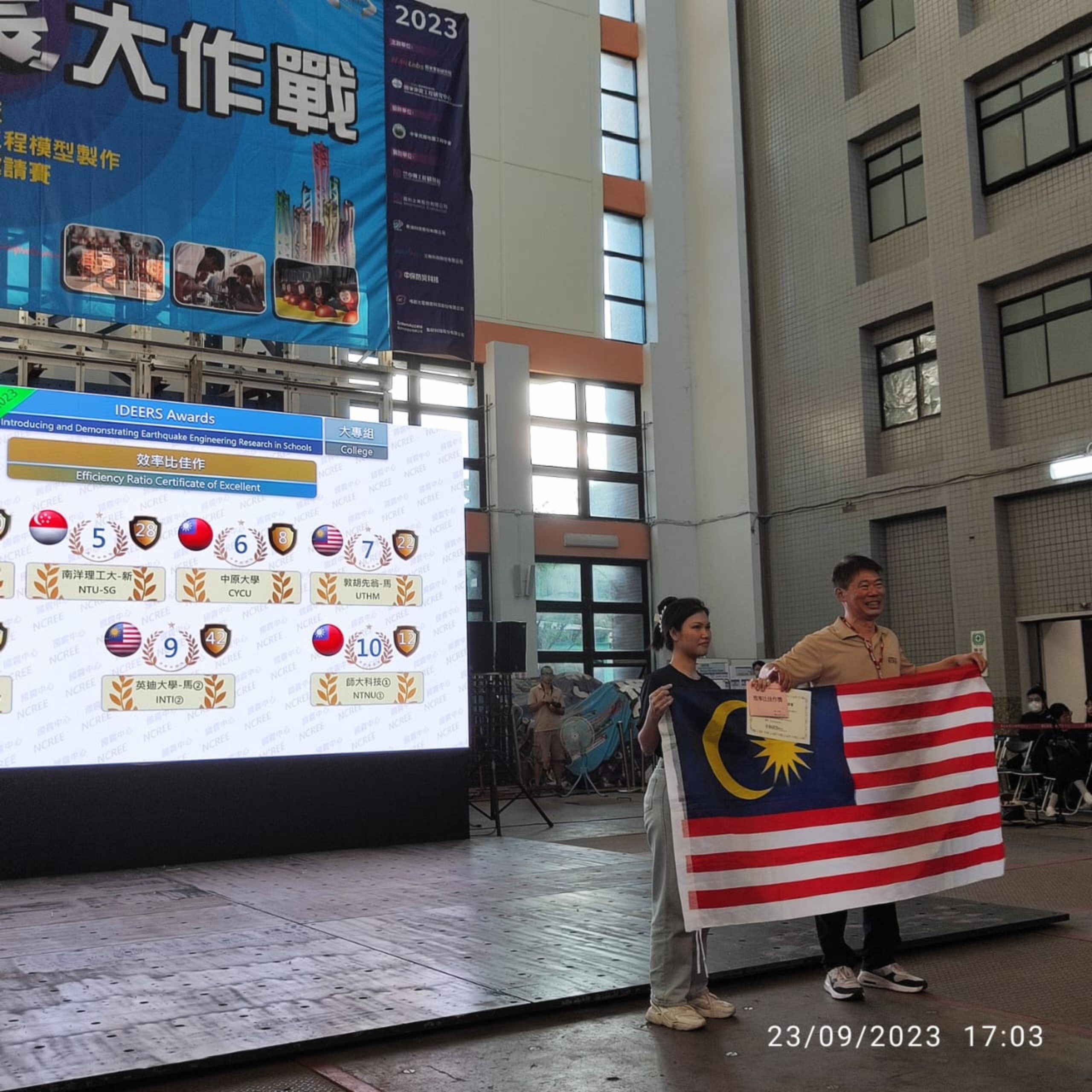 The undergraduate team received the Certificate of Excellence for Efficiency Ratio.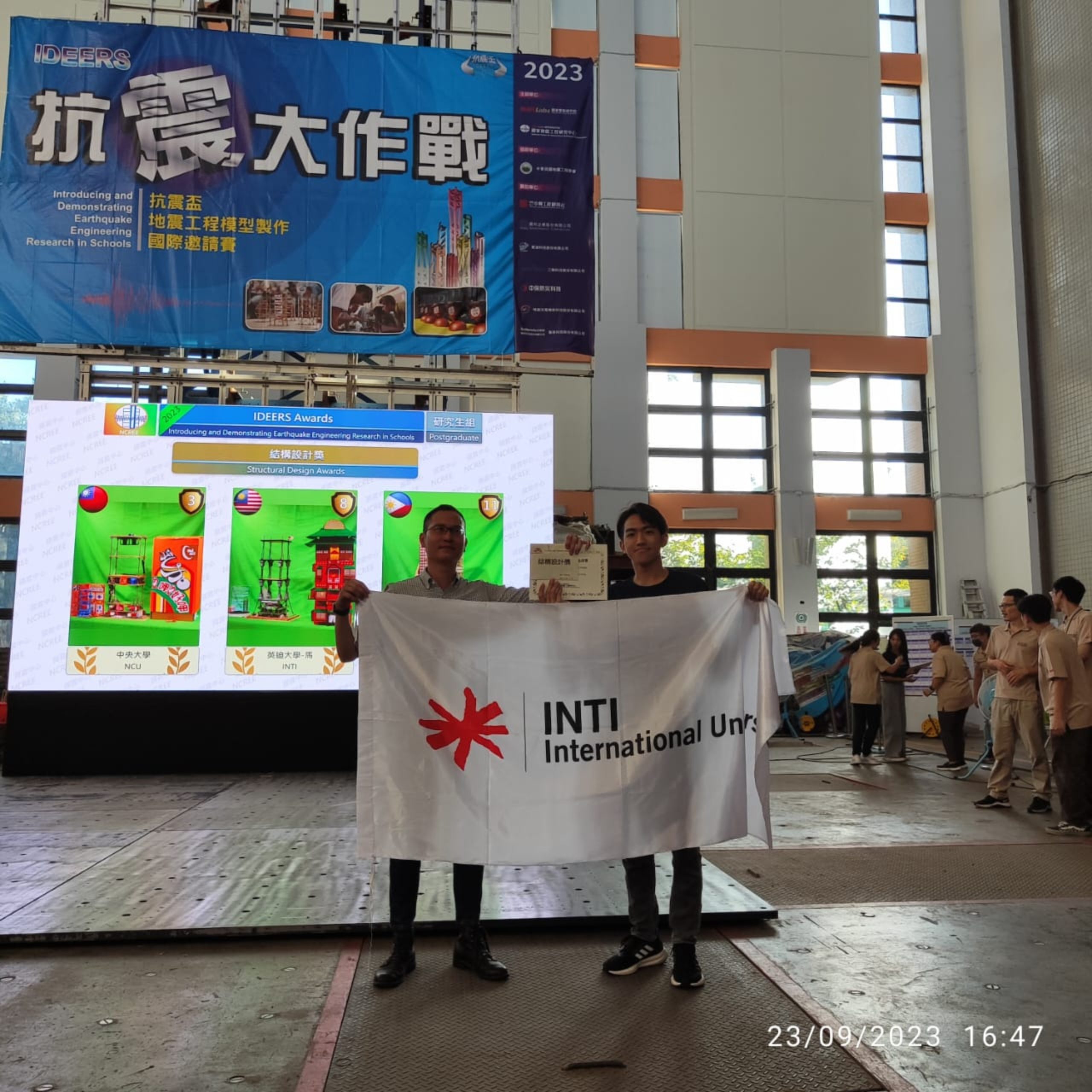 The postgraduate team received the Structural Design Award.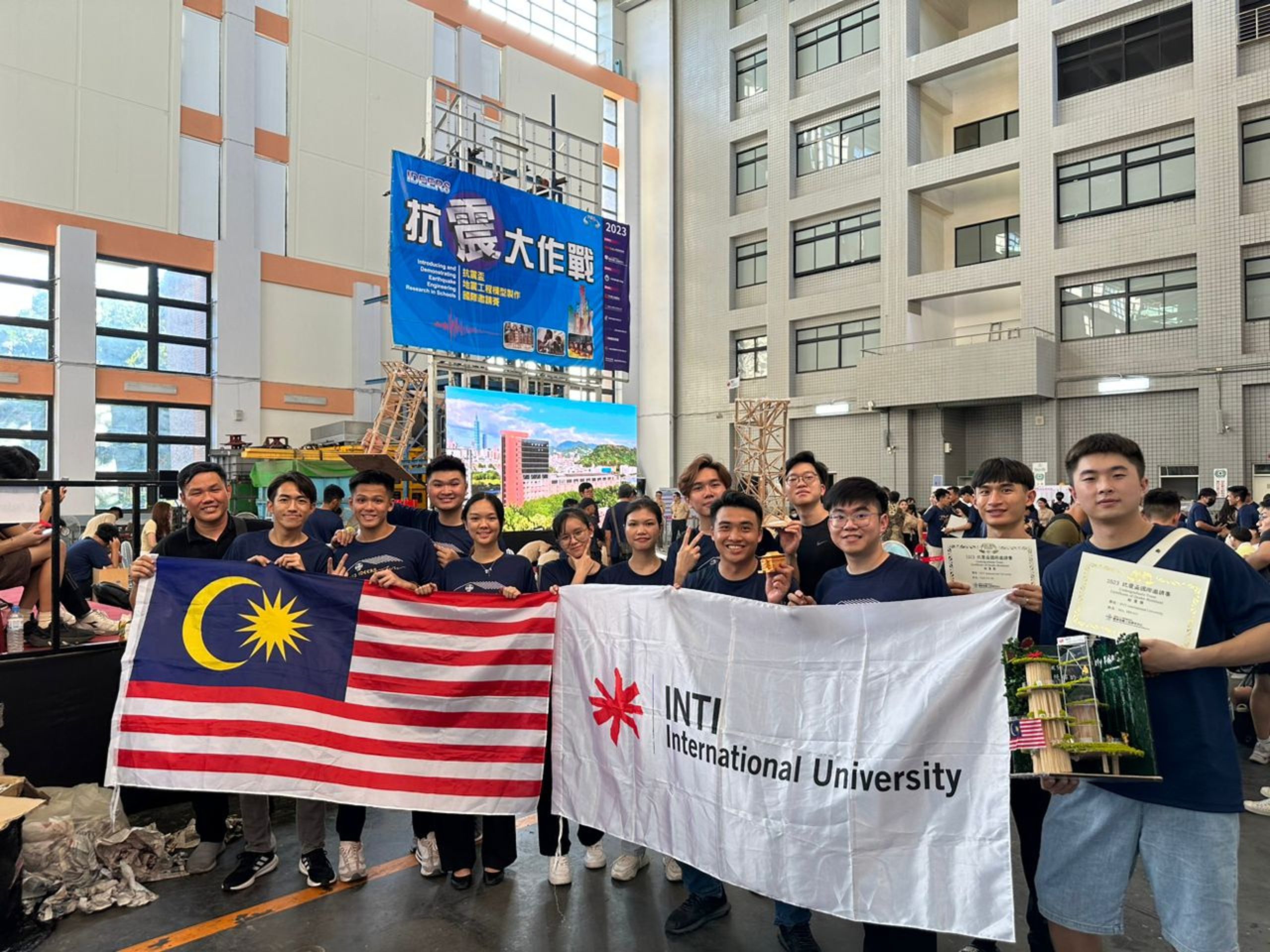 The students pose with their advisor, Associate Professor Ts. Dr. Lee Hoong Pin, at IDEERS 2023.