Since 2020, we have been using up our resources and time trying to bring back our old, normal ways especially since we've been in lockdown for so long. Higher education institutions have to respond to this situation methodically as higher learning still has its place in society. However, many students need to destress through the means of activities outside the classroom. Clubs and societies benefit students with more than just the satisfaction they give. These university activities help in the development of students' social and personal life skills. They may even go as far as to allow students to evolve academically. Here are some benefits, challenges and tips on how to carry out university extracurricular activities amidst the pandemic.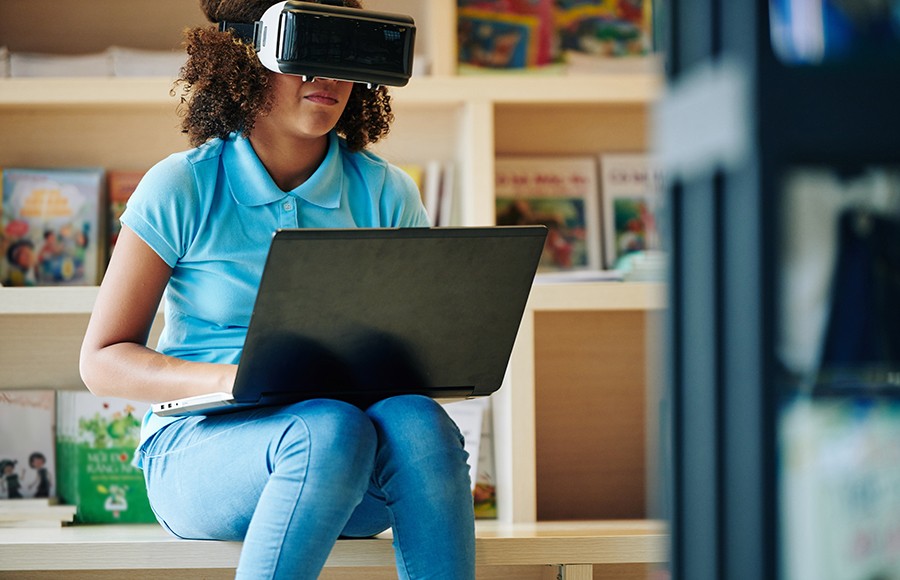 INTI student with VR and laptop for university online activity
The Benefits of Extracurricular Activities 
Extracurricular activities can teach a person skills that they can carry with them and utilise in real-life situations. This skill can also develop into a hobby that keeps their routines interesting such as learning an instrument, baking and more. Activities like sports could be the basis of skills such as teamwork, time management and leadership. Besides that, these non-academic activities can potentially boost education performance as it helps build skills such as critical thinking and problem-solving skills. Social and communication skills can also be useful when going into the working world so that fresh graduates can display confidence in communicating with their potential employers, colleagues and clients.
Challenges During the Pandemic  
When it comes to college extracurricular activities, the term we heard most was "postponed" at the beginning of the pandemic in 2020. It has been a year and with many adjustments, we are getting accustomed to this situation. The pandemic has posed many challenges. The virus is transmittable through droplets from a person's cough, sneeze and even breath. This makes it impossible to be within close proximity to your peers as these droplets can even get on object surfaces as well. This virus is why we have to be in lockdown at home. We have to work online and study through university webinars, which pose another challenge. The isolation and not being able to socialise physically can take a toll on a person's wellbeing. After all, we are naturally physical and social creatures1. Not being able to meet others can cause depression, anxiety and many other mental health issues.
Extracurricular Activities That Can Be Carried Out  
The list of extracurricular activities that can be carried out through these means is endless. Many clubs, societies and even sports groups can participate as long as they do not require a physical partner's presence. Religious societies, Law society, Manga, Anime, Games Club and more at INTI can still be carried out through virtual activities for college students.
How to Implement Extracurricular Activities Amidst the Pandemic 
With all the Standard Operating Procedures (SOPs), the chances of students meeting each other face-to-face are low. However, we can thank technology for being able to bring online activities for university students. Clubs and societies can meet through various online platforms. This can even be applied to those involved in sports by exercising together through web calls and having a mentor guide them.
Never undervalue the significance of human interaction regardless of the means. If you are worried about extracurricular activities distracting your studies, know that these activities will help enhance brain functioning, concentration and more. At INTI, there are various clubs and societies that may be of interest to you. INTI Student Support and Services provide future students with excellent support in the midst of your student life to achieve the balance between academia and social activities. Click here to reach out to us today!