INTI College Sabah (INTI) recently opened their doors to host an awards ceremony for INTI's top industry partners that have collaborated with INTI in the last three years.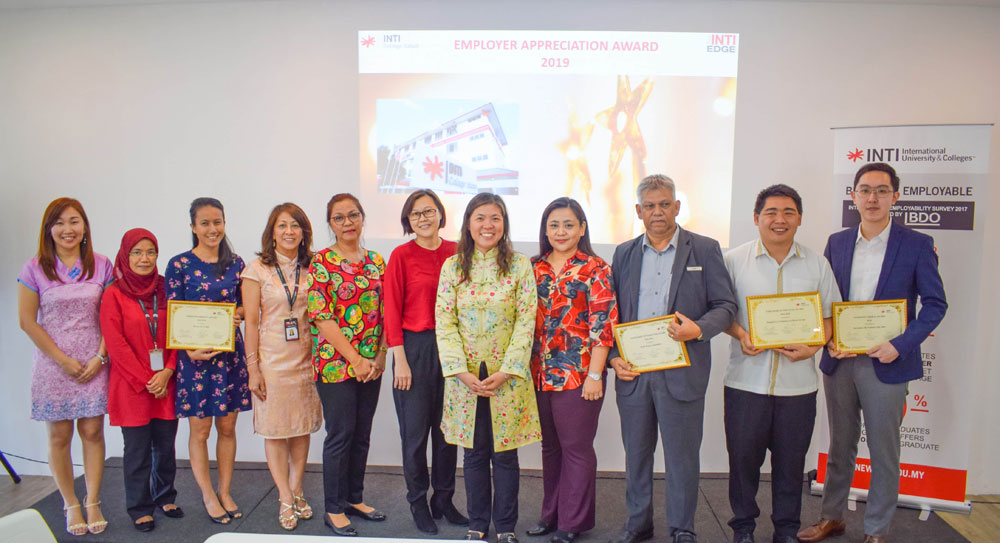 Representatives from Hyatt Regency, Shangri-La's Tanjung Aru Resorts and Spa, Successive JK Ventures, and Borneo Eco Tours share their award certificates in a group photo with INTI representatives
This event was meant to recognise and celebrate INTI College Sabah's strong industry-academic partnerships that have assisted INTI in achieving its graduate employability outcomes.
"Our industry collaborations have allowed us to achieve outcomes validated by BDO resulting in 99% of INTI graduates securing jobs within 6 months of graduation, 60% getting job offers before they graduate and 91% earning salaries above the minimum market average in 2017," shared Roselyn Chua, Chief Executive of INTI College Sabah.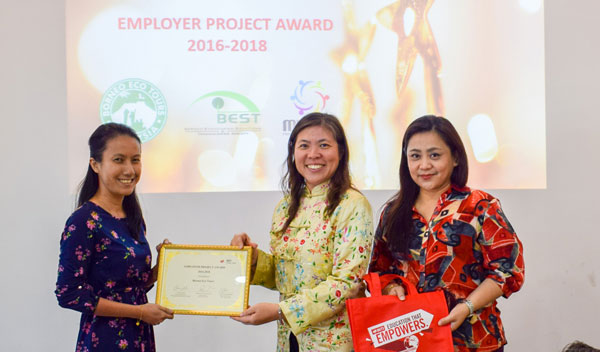 Leanne Marian Hong (left), representative of Borneo Eco Tours, receiving INTI's Employer Project Award from Tan Lin Nah (middle), Chief Operating Officer of INTI International University and Colleges, and Roselyn Chua (right), Chief Executive of INTI College Sabah
"These results could not have been possible without our partners, hence this ceremony was our gesture of appreciation in recognising our partners' collaboration," added Roselyn.
The ceremony saw five categories endowed to industry partners and the winners for each category were awarded to:
• Borneo Eco Tours, who won INTI's Employer Project Award for the most number of projects and study trips organized for INTI students
• Hyatt Regency Kinabalu, who secured INTI's Internship Contribution Award for employing the most number of interns from INTI's pool of students
• Successive JK Ventures, who secured the INTI's STAR Partner Award and INTI's Students' Choice Award for collaborating with INTI on more than 15 initiatives and for being the organization INTI students want to work in after graduation
• Shangri-La's Tanjung Aru Resort & Spa, who won the coveted Employer of the Year award by hiring the most number of INTI graduates from the year 2016 to 2018
The event also witnessed other notable guests representing Hilton Kota Kinabalu, Hong Leong Assurance, Sutera Harbour Resort and Kota Kinabalu Marriott Hotel.
When asked about the significance of events such as this, Tan Lin Nah, Chief Operating Officer of INTI International University and Colleges shared, "INTI collaborates with over 450 industry partners and with initiatives such as this, we hope to continue strengthening our relationship with our partners in hopes of accomplishing greater employability outcomes."