In another challenging year for Cambridge A-Level candidates around the world, INTI International University & Colleges is proud that despite the challenges, its students did well and scored outstanding results.
INTI International College Penang students Horstann Ho, Yoon Minyong, Bernard Lim Wee Shan, and Lau Shao Wei, who successfully obtained 4A*, each beamed with pride as they shared about their journey towards excellence.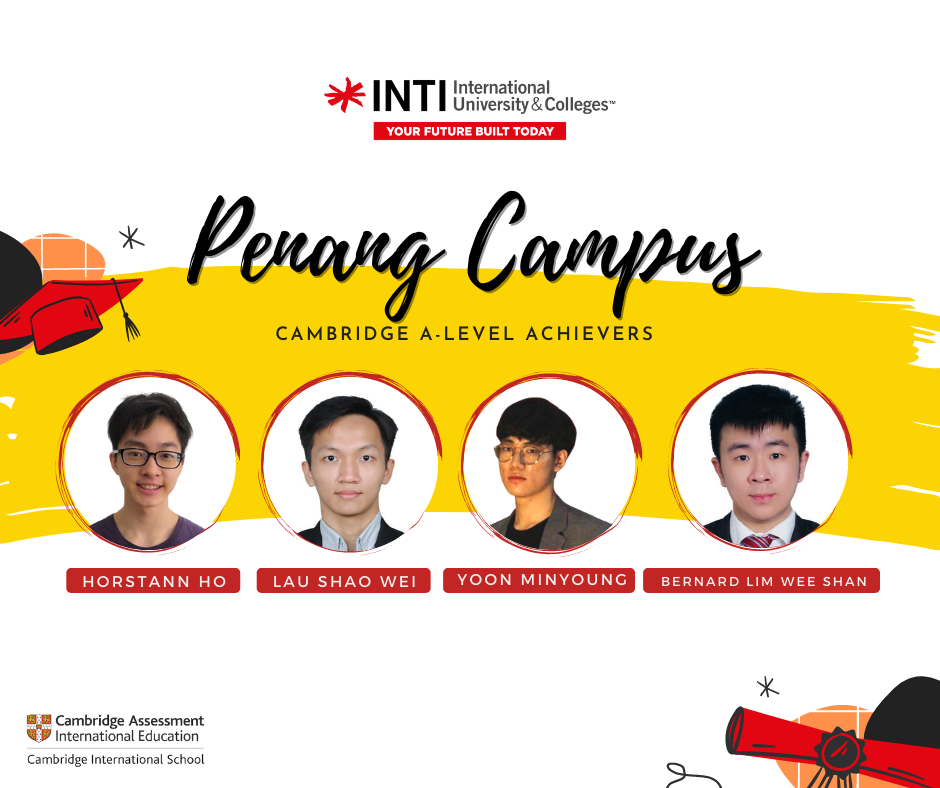 INTI International College Penang A-Level achievers (from left) Horstann Ho, Lau Shao Wei, Yoon Minyong and Bernard Lim Wee Shan.
Horstann Ho, who also recently won the silver medal in the 4th International Economics Olympiad (IEO) 2021 representing Malaysia and INTI, said students can overcome the challenges of the lockdown by being resourceful and taking the initiative to keep in touch with friends and organise extracurricular activities via various social media platforms.
The pandemic and the mild Asperger's Syndrome he had since young did not stop him from joining online public speaking, essay writing, mathematics, and economics competitions. He always pushed himself to work twice as hard as his peers.
With interest in data science and fintech, Horstann will be pursuing the Bachelor of Engineering in Computer Science programme at Nanyang Technological University (NTU), Singapore. He said, "This is an excellent opportunity as apart from being one of the best, most competitive universities in Asia, if not the world for computer technology and data science, NTU focuses on their real-life applications in diverse fields like finance.
"Since Singapore is an internationally recognised technological and financial hub, recruiters of prestigious firms will be at my doorstep. Besides, Singapore also provides tuition grants, is efficient in containing the pandemic, close to home, and is where many of my relatives reside. This further enforces my conviction that NTU Singapore is the ideal institution." he said.
Lau Shao Wei, who will be pursuing a degree in Computer Engineering at Nanyang Technology University (NTU), Singapore, found it hard to stay motivated with online learning and struggled to understand difficult concepts through e-learning.
"Luckily, INTI provided us a good online learning experience because all of the lectures will be recorded and uploaded to the Blackboard Learning Management System. I can re-watch the recordings anytime when I am stuck. Besides this, I can say that discipline is the other most important thing that helped me achieve my goal. I disciplined myself to study every day so that I could catch up with my lecturers." he said.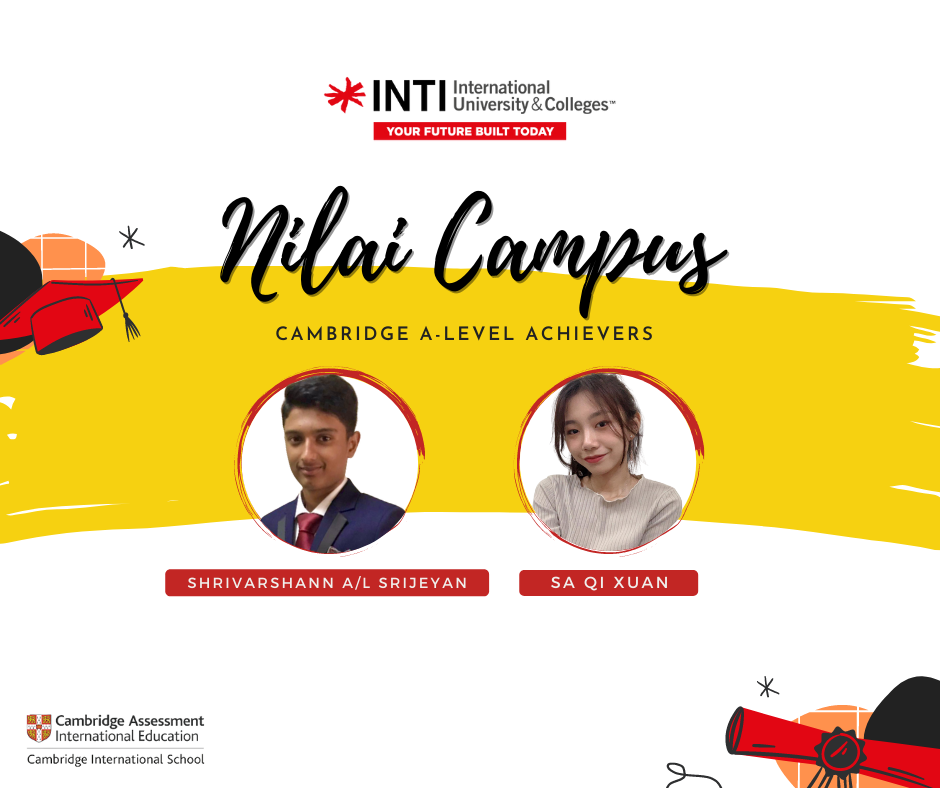 INTI College Nilai A-Level achievers (from left) Shrivarshann A/L Srijeyan and Sa Qi Xuan.
An aspiring student from South Korea with a passion for becoming a pharmacist one day, Yoon Minyong, will transfer to the University of Nottingham in the United Kingdom to pursue the Master of Pharmacy (MPharm) programme.Minyong, who has lived in Malaysia for nine years, believes studying abroad will broaden his horizon, and to him, one's destination is never a place but a new way of seeing things.Bernard Lim Wee Shan plans to pursue a degree in Electrical and Electronic Engineering at Nanyang Technological University (NTU), which is undoubtedly a dream come true for him.
Like Shao Wei, Bernard was also worried about his studies and exams being affected by the shift to remote learning.
"I wasn't too keen on online lectures and recordings. Thus, it made me lackadaisical about my studies. But then, I realized that it was almost like a blessing in disguise as, for me, there were far more pros than cons about online studying.
"For instance, I can do online research either during or after my lectures if I have any enquiries; therefore, it will be less frustrating to grasp new concepts. I was also able to confirm my understanding of the topics with my lecturers easily through email or WhatsApp as INTI lecturers are very responsive. Studying online at home means there's no one to supervise you. Therefore, I had to discipline myself to achieve 4A* in my final exam," said Bernard.
The high level of preparedness of INTI students for the Cambridge A-Level exam is also evident from the impressive results achieved by INTI College Nilai and INTI International College Subang candidates.
Shrivarshann A/L Srijeyan obtained 4A* to become the top scorer at INTI College Nilai. Having set his sight on becoming an engineer, Shivarshann was grateful to his parents and dedicated lecturers for setting the pathway leading to his ambition.
"I would like to thank INTI for allowing me to enrol in the A-Level programme on a generous scholarship. The financial burden on my family was drastically reduced due to this award, and I am very grateful for that. I would also like to thank my lecturers for their incredible dedication in teaching and guiding us despite the hassles of a physical classroom. They made sure we understood each topic thoroughly," said Shivarshann.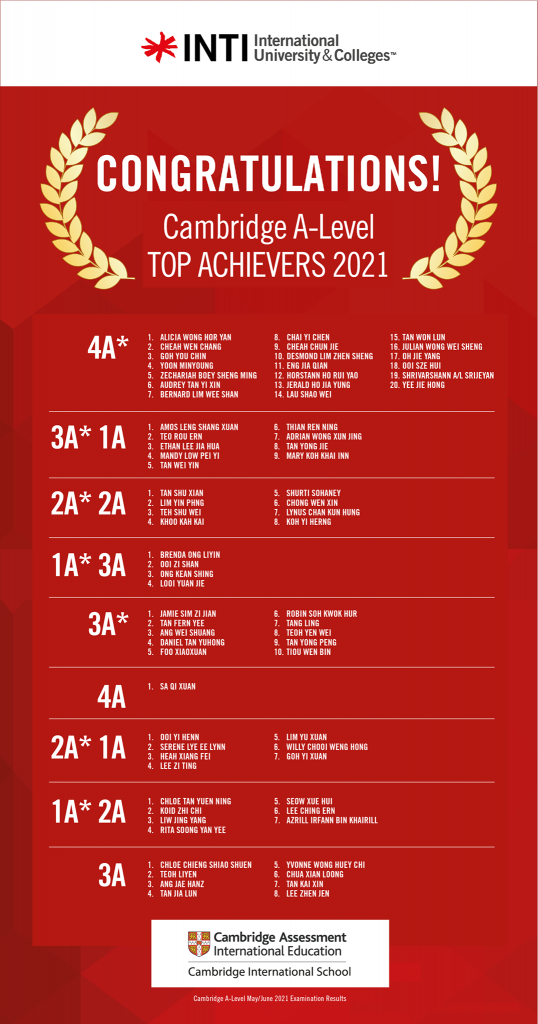 Outstanding results achieved by INTI students in the Cambridge A-Level Examinations
Sa Qi Xuan, who obtained 4A, shared the importance of proper planning and time management as the foundation of his success.
"I will arrange my daily, weekly, and monthly tasks and targets depending on my ability. I feel proud of myself for doing at least one hour of exercise every day. It is not a simple job. You will get tired and want to give up, but it will become a habit when you keep on doing it," said Qi Xuan, who aspires to be a Malaysian Institute of Chemistry (IKM) registered chemist.
Meanwhile, at INTI International College Subang, leading the pack of high achievers was Yee Jie Hong, who obtained 4A* followed by Mary Koh Khai Inn, Adrian Wong Xun Jing and Tan Yong Jie who each obtained 3A* + 1A.
Despite pursuing different pathways, INTI's high achievers were in consensus that it was their lecturers who helped them in their road to success.
Interim Chief Executive Officer of INTI International University & Colleges, Chong Kok Wai,congratulated both students and lecturers on their hard work and effort.
"Well done to all of our Cambridge A-Level students! You have worked very hard in what has been an extraordinary and challenging year. Take some time to celebrate your growth and learning. You should feel incredibly proud of your achievements.
"I would also like to thank our lecturers for their dedication and commitment to helping students achieve their qualifications. These results are the outcome of hard work of all involved, often in challenging circumstances," he added.
Sharing the same sentiments, Hemalatha Murugiah, Chief Executive of INTI International College Penang said, "All students receiving their A-Level results deserve our congratulations. These students have demonstrated enormous resilience and determination, adapting their learning and study skills to suit changing dynamics.
"Let's not forget the diligence and care shown by INTI staff in preparing students for the next phase of their education. We wish all our students every success in the next steps of their journey!" she concluded.