Ir. Professor Dr. Leong Wai Yie is a true reflection of Oprah Winfrey's quote "whatever you fear most has no power, it is your fear that has the power." As a woman in the heavily male dominated field of engineering, Prof Leong's awards and accolades are a testament to how female engineers can succeed in anything they pursue if they put their fear aside and shoot for the stars.
Most recently, in a ceremony held at the Four Seasons Hotel in Kuala Lumpur graced by the Raja Permaisuri of Perak Tuanku Zara Salim, Prof Leong was honoured with the inaugural Women's Institute of Management (WIM) – Tan Sri Datuk Napsiah Omar Women Leaders Award under the technology category.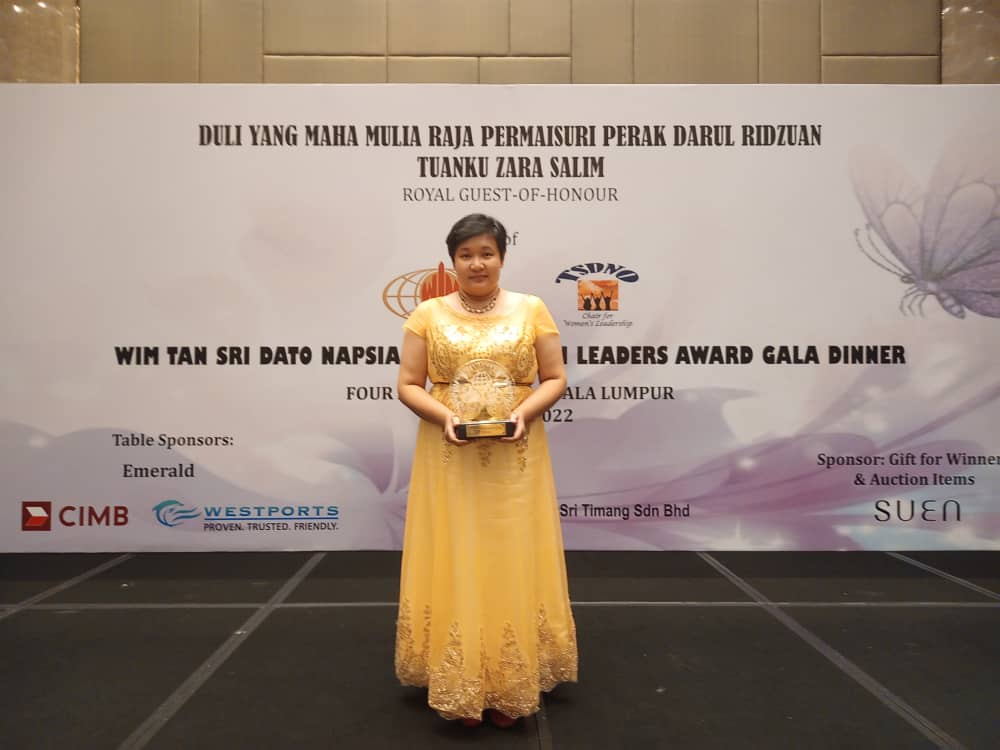 Ir. Professor Dr. Leong Wai Yie at the inaugural Women's Institute of Management (WIM) – Tan Sri Datuk Napsiah Omar Women Leaders Award ceremony.
Prof Leong, who is Pro Vice Chancellor of INTI International University and an INTI alumna, regarded the recognition as a boost of confidence.
"This award is an acknowledgement of a job well done and justification for the agony, self-doubt, and hard work that went into winning it. That said, this award is definitely a validation for my sacrifices throughout the years and also a boost of confidence," said Prof Leong who graduated from INTI College Nilai with a Diploma in Computer Engineering in 2000.
Besides Prof Leong, other recipients of the award include Dr. Jasmine Begum (Corporate Management), Professor Datuk Dr. Adeeba Kamaruzaman (Education), Rina Neoh (Entrepreneurship/Business), Datuk Dr. Narimah Awin (Public Service), and Datuk Dr. Hartini Zainudin (Social & Community Service).
The award, named in honour of the late Tan Sri Datuk Napsiah Omar, who was the National Unity and Social Development Minister then and WIM founder, recognises great and outstanding women leaders serving in various sectors in the country[1]. These women are also known to have demonstrated values like integrity, honesty, courage, and humility. They were selected by a judging panel from 46 public nominations received.
While female engineers may still be a minority in the engineering field, Prof Leong said there are many women who have become very successful in the industry.
"They are breaking stereotypes and showing others that women technologists can succeed in the engineering field too, regardless of gender," she said, adding that she believes women can represent the technology profession nationally and internationally, as well as provide collective wisdom and leadership to assist national agencies choose appropriate policy options that address the most critical issues affecting countries of the world.
Hailing from Rawang in Selangor, Prof Leong is committed to designing capacity building programmes.
"As the lead of the Committee on Engineering Capacity Building of the World Federation of Engineering Organization (WFEO), I am looking at ways to attract, retain and promote a diverse future generation of technology talent, champion the reduction of the gender digital divide, work with partners to provide them guidance on creating and maintaining inclusive cultures, as well as extend the focus of diversity and inclusion beyond gender to other underrepresented groups whilst recognizing the impact of intersectionality," shared Prof Leong who obtained her PhD in Electrical Engineering from the University of Queensland, Australia, in 2005.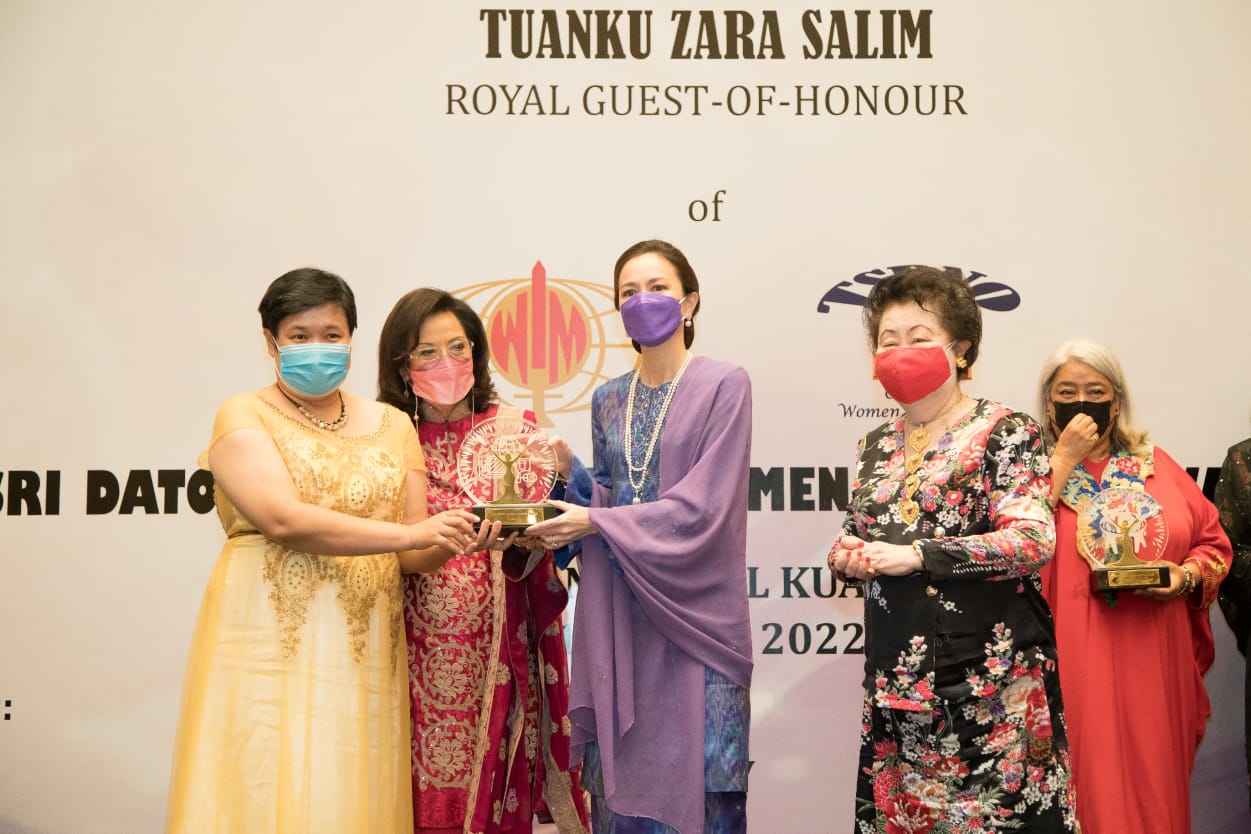 Ir. Professor Dr. Leong Wai Yie (extreme left) receiving the Women's Institute of Management (WIM) – Tan Sri Datuk Napsiah Omar Women Leaders Award under the technology category from the Raja Permaisuri of Perak Tuanku Zara Salim (centre) at a gala dinner held at the Four Seasons Hotel in Kuala Lumpur.
She also works on engaging Professional Engineering Institutions (PEIs) to build a culture of inclusion across the engineering profession using case studies, and identifying innovative policies, programmes, measures, and conditions needed to attain gender balance, eliminate violence, and promote inclusive representation in engineering.
Prof Leong has worked on various other projects to uplift women in the engineering sector too.
"We have established a Women-in-Engineering Mentorship programme for more than 1,000 women. The outcomes demonstrated that women-in-engineering who were assigned a female peer mentor experienced a sense of belonging, motivation, and confidence in engineering, better retention in engineering majors, and greater engineering career aspirations. Female mentors promoted aspirations to pursue engineering careers by protecting women's belonging and confidence," she explained
These programmes amplify the efforts taken by women leaders like Prof Leong.
"In the past few decades, women's representation in science, technology, engineering, and mathematics (STEM) fields, especially engineering, has significantly improved. In the 1960s, only 1% of women were engineers and by the 2000s, women made up about 11% of all engineers. In recent years, the government, corporations, and educational institutions in Malaysia have worked diligently to decrease the gender gap between men and women in the engineering field by recruiting more women into their programmes. Collectively, these strategies help increase women's exposure to STEM-related courses while at school and help plant a positive idea relating to gender in the engineering culture," said Prof Leong.
She added, however, that there is still a global problem with equitable or fair representation of people of different genders in engineering. Fairness will only be achieved if the realization of a truly inclusive and diverse engineering sector is attained. It is then that the world can enjoy the creativity and innovation that comes from different lenses and perspectives, and subsequently achieve sustainable economies that work for all.
On top of her efforts to promote inclusive representation in engineering, Prof Leong is an avid speaker – delivering over 400 talks, seminars and conferences to mentor and support women in engineering. She also actively promotes ASEAN and global engineering and science through workshops, seminars, publications, media, and conferences. As the ASEAN engineering think-tanker and advisor to the Malaysian Ministry of Science, Technology and Innovation and Academy of Sciences Malaysia, she contributes towards nation building and strives to enhance society's consciousness of science and technology in ASEAN, the Asia Pacific and globally.
According to Prof Leong, women today are lucky compared to those 20 years ago.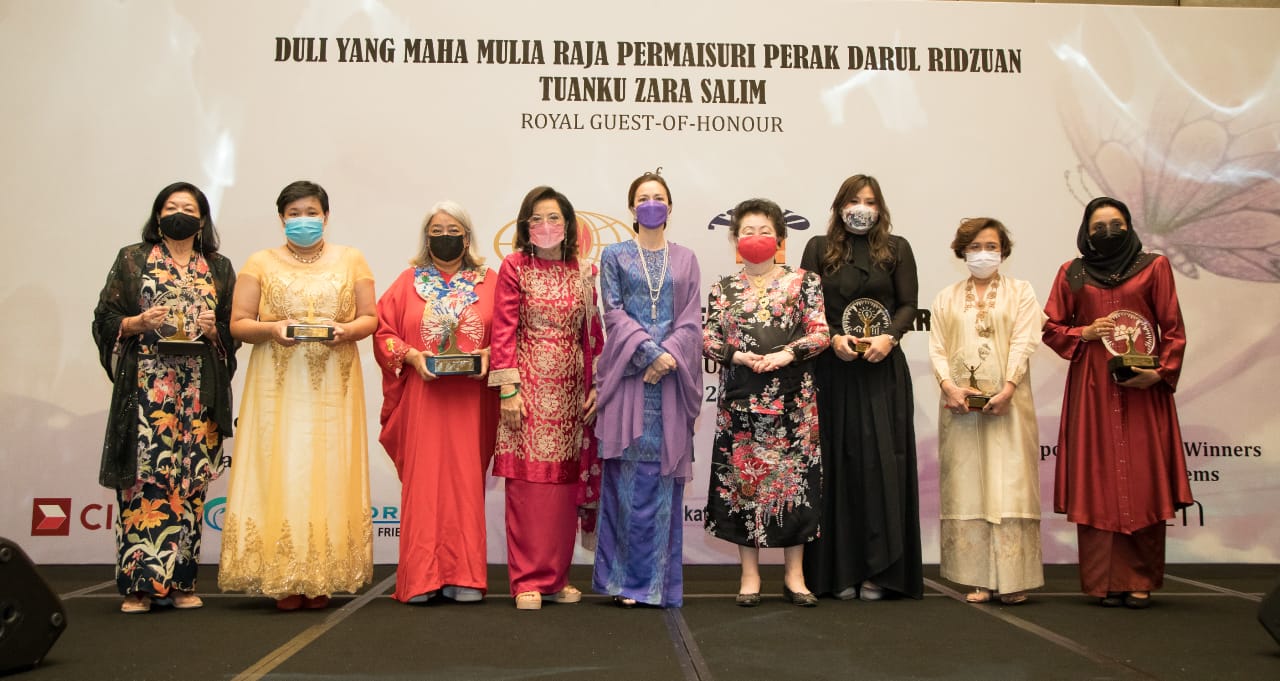 Ir. Professor Dr. Leong Wai Yie (second from left) with other recipients of the Women's Institute of Management (WIM) – Tan Sri Datuk Napsiah Omar Women Leaders Award along with the Raja Permaisuri of Perak Tuanku Zara Salim (centre).
"We are living in a world with ever-growing technologies that ease and enhance communication. Compared to 20 years ago, women now are well-connected. Moreover, rural women are key agents for development. They play a catalytic role towards the achievement of transformational economic, environmental, and societal changes required for sustainable development. But limited access to credit, healthcare and education are among the many challenges they face.
"In my opinion, effective ways of empowering women includes providing them a safe space, allowing them skills development, involvement in self-income generating activities, and networking. All these boost self-esteem, independence and build confidence for decision making. They should learn from everything because every moment is an opportunity to learn from people around them, regardless of title. We should pay attention when things go well; pay extra attention when they don't and watch how people react to it," she added.
Besides her most recent award, Prof Leong's other accolades include the UN Women 2021 Malaysia WEPs Award, Top Research Scientists Malaysia 2017, ASEAN Meritorious Service Award 2017, Institute of Engineering Malaysia Women Engineer Award 2017, and Australia Queensland Smart State Smart Women Award 2005, just to name a few.
[1] https://wimnet.org.my/tsdno-chair-for-womens-leadership/