The first-ever Japanese–Saudi Arabian animated action fantasy film, "The Journey", premiered at the Islamic Arts Museum Malaysia in a private event recently. The screening of the anime movie based on a pre-Islamic historical event was attended by prominent guests such as representatives from embassies in Malaysia, ministers, government agencies, professional animators and storytellers, and media representatives.
The movie premiere organized by MG Conventions & Events Specialist (MGCES), an integrated marketing and events company, saw students from INTI International College Subang's Center for American Education and Southern New Hampshire University programmes involved throughout the pre-event, during event and post-event preparations.
Viknesh Chelvam, who is currently pursuing his Bachelor of Science in Business Administration in collaboration with Southern New Hampshire University, was happy to be part of the experience. According to him, it helps students develop their communication and social skills. In addition, students are exposed to a real-life scenario on how different managements run together as one.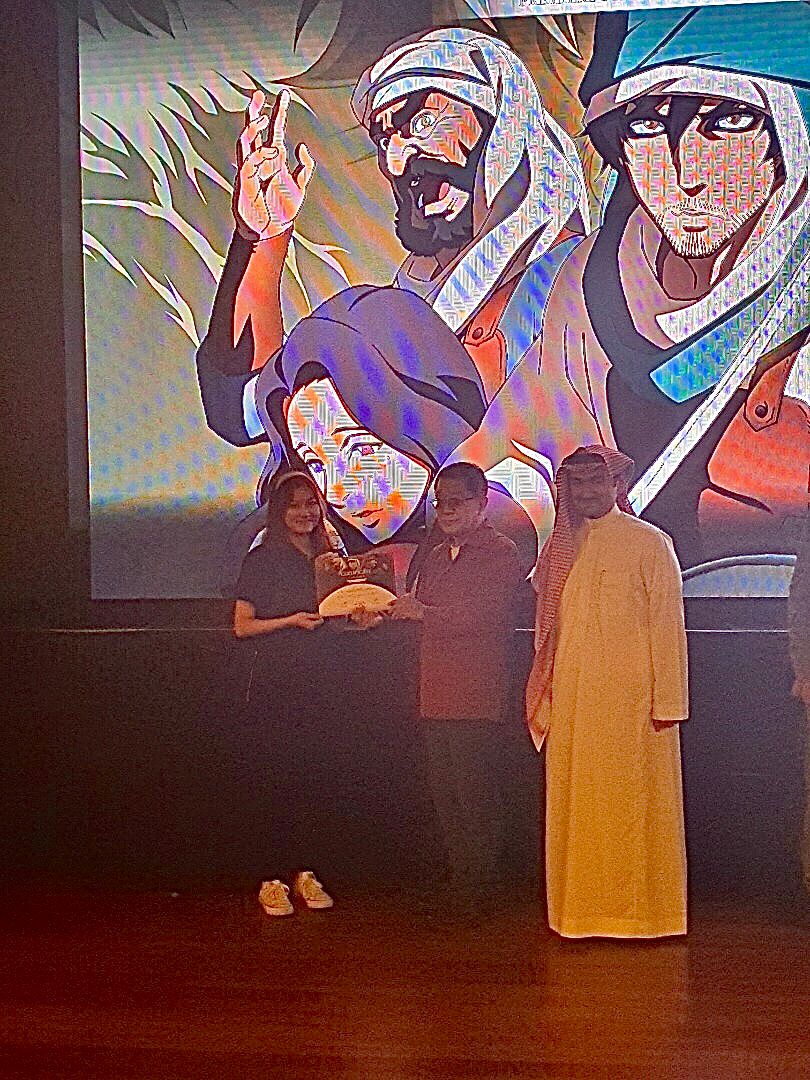 One of the students from the Center of American Education at INTI International College Subang receiving her certificate of participation from Dr. Essam Bukhary, Chief Executive Officer (CEO) of Manga Productions.
"I have learned that with the right group of people, you can organise some of the biggest events possible and still have loads of fun doing it," said the 22-year-old.
The students were given multiple roles and responsibilities under the guidance of MGCES. The tasks ranged from creating social media content, marketing the event to brand activation activities before the event.
He added, "Our scope of work was quite elaborate as we also had to livestream the event on social media platforms and interview the audience besides ushering the guests into the event space. Although tiring, it was an experience like no other. We were given the opportunity to show distinguished guests from various organizations the skillsets that INTI students have acquired during their time on campus."
When asked if he would take part in another movie screening like this, Viknesh immediately answered, "I would definitely love to as it builds so many memories and isn't that what university life is all about? Being a part of 'The Journey' movie premier was a fun journey."
Ameera Osmanagic, from Addu City of Maldives, was also of the same opinion.
In her second year of the Bachelor's in Communications programme in collaboration with Southern New Hampshire University at INTI International College Subang, Ameera was part of the event's social media team.
"The experience was amazing. As part of the social media team, I was specifically tasked to interview the guests of honour. I had the privilege to not only interview several ambassadors and other foreign dignitaries, but also the Chief Executive Officer (CEO) of Manga Productions himself, Dr. Essam Bukhary, which is exciting for an undergraduate student hoping to pursue a career in communications one day," she said.
Elaborating her experience further, Ameera shared that she was fortunate to have worked under the invaluable guidance of the CEO of MGCES, Dr. Marceline Girol, who entrusted her to take on various tasks. She said she also appreciated lecturers Ms. Karen, Ms. Maztini and Mr. Kelvin for selecting her to be part of the team and for giving students a platform to learn event management first hand.
Ameera said participating in events like this provides students a chance to apply knowledge from the classroom to real life situations while also learning outside the classroom. She is confident that students can further hone the skills they already possess while observing and learning newer competencies.
According to the 25-year-old, she decided to join INTI after doing a thorough research on higher education institutions from her home country.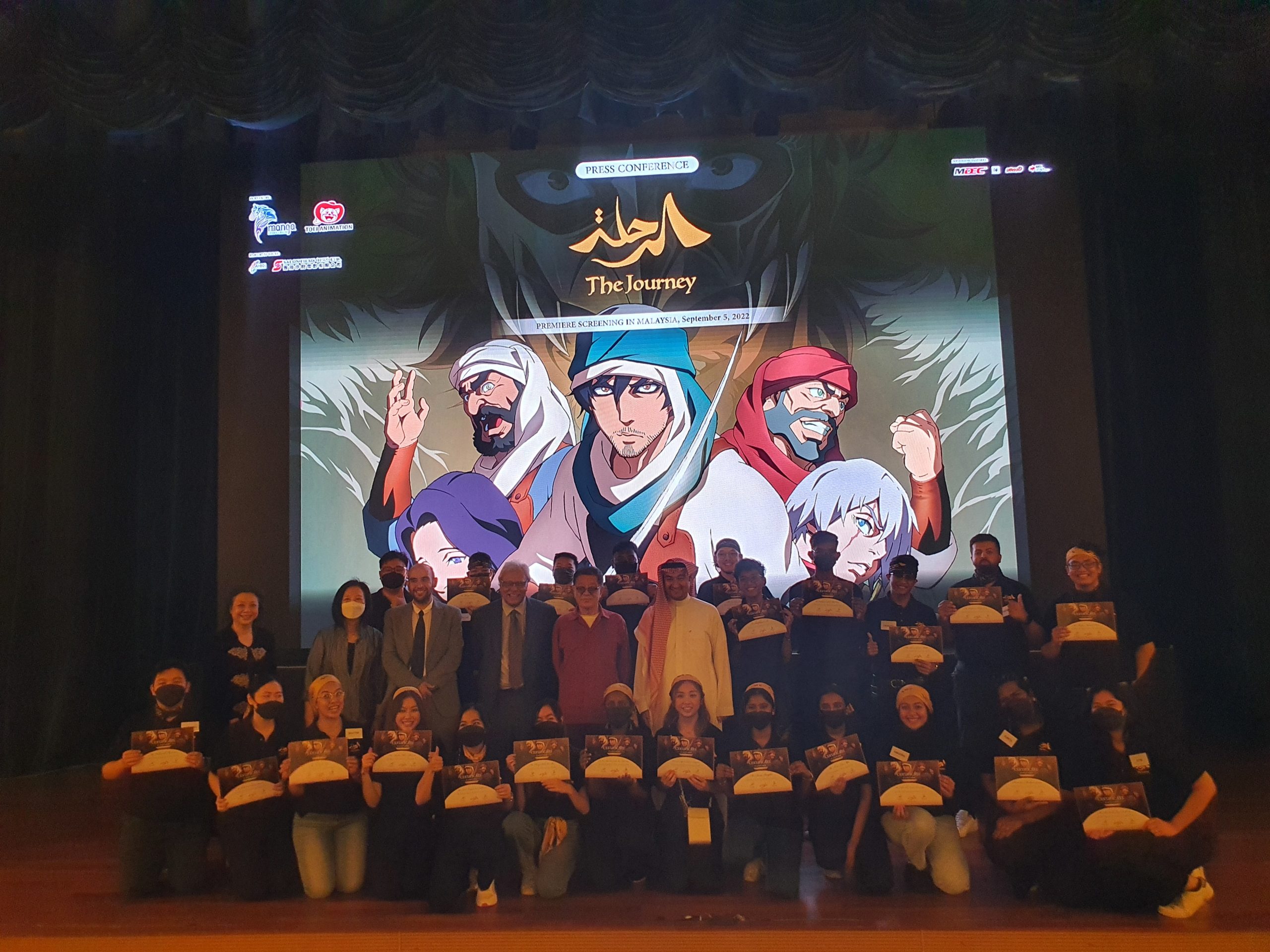 Students from INTI International College Subang's Center for American Education and Southern New Hampshire University programmes posing for a group photograph with the organizing committee of the special screening of 'The Journey'.
"I come from the southernmost city of Maldives where opportunities are limited. I struggled a lot to secure the funds required for my undergraduate studies, so it was very important for me to make the absolute best out of the chances I get at an educational institution like INTI International College Subang. When I chose INTI two and half years ago, I had high expectations of what I wanted out of my educational journey, and I am grateful for my choice. Through the quality of education delivered and various hands-on projects with industry partners, INTI continues to give its students, including myself, the best. For that, I am very thankful and will always be proud to be an INTI student," expressed Ameera.
'The Journey', a movie that enhances cultural exchange between two countries, was inspired by Arabian folklore. Set 1,500 years ago, it tells the story of a warrior named Aws, who rises above his troubled past to redeem himself and his faith by leading a team into battle to defend their city of Makkah.
The movie recently participated in the Septimius Film Festival held in Amsterdam, Netherlands, and bagged the Best Experimental Film award, making it the first Saudi and Arab film in history to win such a prestigious accolade in an international festival. The film competed against seven finalists nominated in the experimental film category. The categorization depends on the film's excellence in creating a one-of-a-kind expressive power using a unique art style[1].