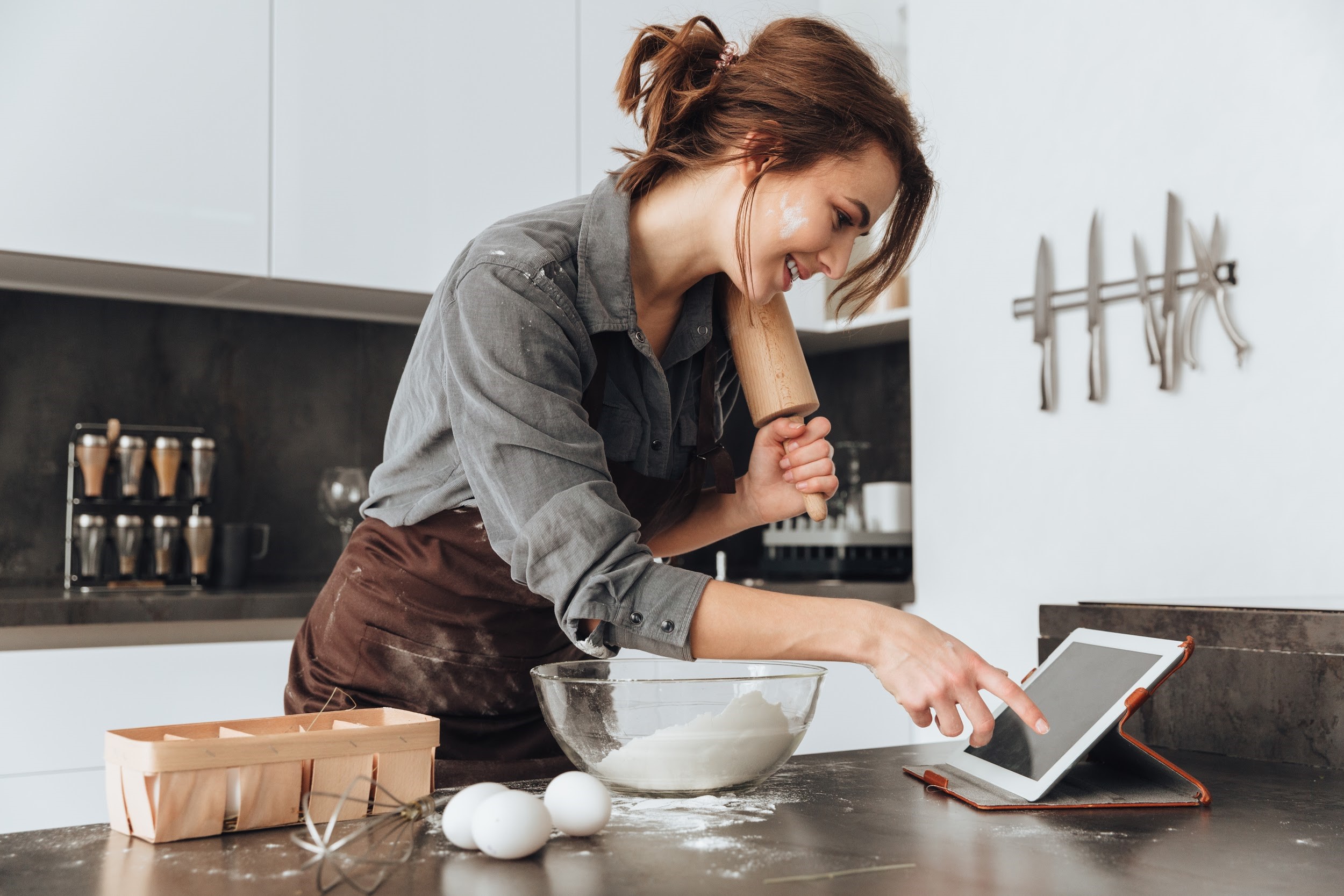 Young lady trying out a new hobby, baking in her kitchen.
While attending online classes from home, there will be times where you aren't sure what to do during your free time. Fortunately, there are a number of exciting and productive hobbies you can pick up at home. Here are 5 indoor hobbies that make good investments of your time, energy and creativity.
1. Learning a New Language
Nelson Mandela once said, "If you talk to a man in a language he understands, that goes to his head. If you talk to him in his language, that goes to his heart." Proficiency in additional languages is always a plus point for employers who are in the business of interacting with international customers and professionals, namely in translation, customer service and human resource industries. Pick up a new language and impress your friends and family with new vocabulary!
2. Cooking
Roll up your sleeves and get cooking! Thanks to technology, you can easily learn new recipes by accessing cooking channels online. Hobbies like cooking are essential living skills for college students and young adults to learn. With tuition fees to take care of, cooking is a great way to save some money. In addition, home-cooked meals tend to be healthier, as you have control over the ingredients that go into your meal.
3. Web Art
Interested in turning your imagination into art? There are many free online art classes that teach traditional art mediums and digital art. If you have never drawn in your life, now is the perfect time to do so! Being indoors allows you to focus on working at your art for hours without disturbances. If you want to pursue a career in art, try exploring graphic design. Creating web art is one of the hobbies that employers will see as an added value for your CV and resume.
4. Blogging
Leisure activities like blogging are for individuals who enjoy expressing ideas and opinions with a list of vocabulary. What's amazing about blogging is that it can be written by people regardless of background. E-commerce businesses are constantly on the lookout for proficient writers to write blog posts on their websites. It helps businesses to increase visibility and connects them to potential and existing customers. Start blogging today to see your ideas put into words.
5. Learning Basic Videography
Last but not least, learning about camera angles and video editing makes home-made films more professional. Filming indoors provides a creative avenue to play around with lighting and content. Every image, angle and lighting in the frame must have a purpose. If one of the elements doesn't complement the theme of your film, it might deviate from the intended message. Indoor photography and videography are also hobbies that make money. For example, the real estate industry needs talents to capture and highlight special features of showrooms for advertising purposes.
Turning a hobby into a career is one of the key interests of the current generation. To be able to enjoy what you're doing while earning is a popular career outlook for many of those who are still studying.
Seize the opportunity during this online distance learning period and turn your hobbies into potentially profitable passions in the future! INTI International University & Colleges offers a range of skills-based course programmes, including culinary arts, graphic design, and media writing. Our industry experienced lecturers will not only help you gain an insight on industry needs but will also prepare you for the real world.
For more information, kindly visit https://newinti.edu.my/academic-programmes/hospitality/.