Study Tours
INTI offers study tours for qualified students to other institutions. This provides them with a taste of life abroad and allows them to gain international experience both academically and culturally.
A glimpse into the study tours organized for students over the last year.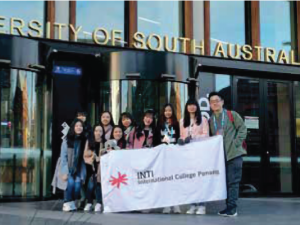 Study Trip to Australia
They're having a ball of a time down under! A group of INTI students recently went on a study trip to the University of South Australia, Australia! INTI's long-standing collaboration with UniSA provides students the opportunity to participate in study tours, semester abroad programmes, employer projects, virtual conferences, and more!
Study Trip to Japan
Organised by the School of Engineering and Computing (SEC), the trip allowed our students to learn deeper insights into Japan's rich culture, history and their use of technology. It also included visits to the National Museum, Nissan Yokohama Plant, and Honjo Life Safety Learning Centre.
Study Trip to Taiwan
Staff and students from the Faculty of Engineering & Quantity Surveying of INTI International University recently went on a study trip to Taiwan. Students had the opportunity to participate in various activities, such as visiting the iconic Taipei 101, 921 Earthquake Museum, and more.
More About
We Are International
Semester Abroad Programme