Given the strong interest young people have in technology, it is important to recognize the risks they face as targets of online scams. To address this issue, INTI International University's Faculty of Education and Liberal Arts organized a symposium on 23 March. The symposium, titled "Online Scams: Are You a Target?", attracted students from different programmes and featured speakers which included ASP Mohd Razmil Razak, Head of Commercial Crime Investigation at the Nilai Police Headquarters, Vijayadurai Singgatore from Malaysia's Central Bank LINK and BNM Office, and Zul Hilmi Abdullah, a lecturer from the Faculty of Data Science and Information Technology, INTI International University.
According to Vijayadurai, university students are among the most vulnerable targets because they are often lured into job scams, phone scams, and mule account providers in hopes of earning extra income.
"The desire to keep up with today's lifestyle trends have become a threat," he said when answering questions raised by the audience at the symposium.
He cited the Macau scam as an example, where scammers impersonate banks or law enforcement officers to trick people into disclosing personal banking information or transferring money to third-party accounts.
"If the caller seems suspicious, end the call immediately. The longer you remain engaged in the conversation, the greater the chance of falling victim to a scam,"  he advised, adding that scammers are well-trained and excel at intimidating people during a moment of panic, forcing them to act hastily. With the increase in cases involving mule accounts, he urged students to remain vigilant, become responsible social media users, and avoid being tricked by illegal money transfer account providers.
"We strongly encourage students not to share their account credentials with anyone, especially on social media, as scammers often use social media platforms for illegal activities," he said.
He reminded students to call the National Scam Response Centre (NSR) at 997 to report any online financial fraud incidents.
Meanwhile, ASP Mohd Razmil warned participants not to interact with owners of mule accounts.
"You need to be responsible for your own account, so it's best not to share your credentials with anyone, even if they are close to you," he stressed.
According to the Star Online, mule accounts are accounts that do not belong to criminals, but they can be used to transfer stolen funds to other accounts while keeping their identities hidden.
Commenting further on such incidents, several interviewees recounted their personal experience as victims of online scams and provided recommendations to avoid similar situations from recurring.
Ng Ee Sern, a student pursuing the Bachelor of Computer Science (Hons) programme in collaboration with Coventry University, UK, said the symposium reminded him of his experience as a victim of an online scam. he said the incident occurred when he was in high school. He had accidentally accessed the wrong website while browsing through his phone. Little did he know, his pre-paid credit had depleted after receiving a message.
"It was an online gaming website. I was intrigued to open it when friends told me that we could easily hack them to obtain in-game purchases. I remember that I didn't clear my browsing history, maybe that's how I lost my pre-paid credit" he explained, adding that he did not seek help after being scammed.
Recounting his experience, he said that the symposium taught him to be wary of his day-to-day actions and to stay vigilant online against malicious and suspicious websites. "As a computer science student, learning about internet security is especially important for us. I believe that increased awareness of internet security can help prevent people from becoming victims of scams and protect their financial security," he said.
Shivaani A/P Mahendran, a student pursuing the Bachelor of Mass Communication (Hons) programme at INTI International University, said she was only 16 when she first experienced her first online scam.   "The link was sent to me from a friend about ten times. Each time I clicked on it, a charge was deducted from my account," she said, adding that she only realised this after she received the bank statement at the end of the month.
However, this was not her only experience of being scammed. She once received a strange phone call back during the pandemic. "I had just lost my identity card at the time. While I was at home studying, I received a call asking me if I had lost my identity card. I unconsciously divulged my personal information, including my home address and bank account numbers. Luckily, my mom stopped me before I gave the caller everything he needed. Then I realized I was hypnotized by the caller because I could only vaguely remember what I told him," she said.
When asked if she heard anything suspicious during the call, she said the caller sounded friendly and unsuspicious.  "The number he was using was a personal number and not a general line. Ever since I started using the True Caller App, I rarely pick up calls from the strangers. But it didn't detect this caller number, so that was the reason I instantly picked up the call," she said, adding that she immediately blocked the number for her safety.
According to Shivaani, being a mass communication student has its advantages, which includes gaining knowledge and awareness on online scammers.
"Our lecturers consistently share with us news on online scammers, especially in our media literacy classes," she said.  When asked what she would advise others, she emphasized the importance of self-learning and to read relevant news.
"Always take the initiative to learn and read more about online scammers. Expose yourself to information because scams are not a minor issue. It is something that everyone should be aware of," she said.  Meanwhile, Siti Amirah, a young artist who is also a student pursuing the Bachelor of Graphic Design in collaboration with Sheffield Hallam University, UK, would have never thought that she could almost fall into a trap whilst earning side income as a student.
"I often post my artwork on social media to attract online customers. One day, I received a direct message on Instagram saying that she would be interested in purchasing one of my artworks. As my first commission, I was excited at first, but the way she phrased it was quite specific and acted weird, it made me feel uncomfortable.
"During the conversation, the person asked about the cost of the artwork. I quoted a price of 100 dollars and requested the person to make payment through PayPal. However, the person kept demanding for my email address when I clearly sent the correct link of my PayPal. I began to suspect that it might be a scam," shared Amirah.
She added that she confirmed her suspicions after consulting in a friend. "I told the scammer that she could pay a deposit and pay the balance once the artwork was complete. But she insisted on paying full price. I then immediately sought my friend's opinion on the matter," said Amirah who was grateful that the scammer was caught in the act.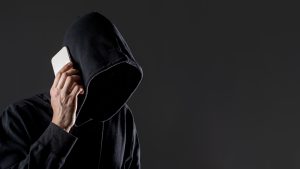 Online scammers employ sophisticated tactics to deceive and exploit their victims. This makes it necessary for members of the public, especially students, to stay informed and alert.
According to Amirah, after ending the conversation and giving reasons not to pursue the artwork the client never replied back and so she decided to block the account.
She said the happiness she felt when people saw the value of her artwork made her keep the conversation going.
"There's an excitement when someone wants you to draw something for them because they see value in your work. That feeling and motivation from a stranger gets you feeling proud, and I believe, is what can get an artist frauded," she added.
Amirah, who is a part of the arts community, said she is often warned about the tactics used by scammers. "INTI usually invites industry professionals who were once independent artists themselves. During these sessions, they share their experiences. I am lucky to have knowledge on the tactics commonly used by scammers and how to remain vigilant against them. However, as a new independent artist, it is easy to get caught up in the excitement and forget," she said with a smile.
Fadhilah Nur Rania, a 23-year-old student from the Bachelor of Information Technology (Hons) programme in collaboration with Coventry University, UK, tells of her own experience which has taught her to become more wary of her actions.
In the incident which occurred in February she had received a message claiming to be from J&T Express which informed that they were unable to deliver my package due to an address issue.
"I didn't remember buying anything from a merchant using J&T Express. Moreover, there were many grammatical errors in that message, it's clearly a phishing message," she said. She explained that the message also came from an international general line number and the content lacked capitalization at the beginning of sentences.
Furthermore, there was a suspicious link included. "If such an incident were to happen to another person, especially someone who is not as aware on current technological practices and preventive measures against scams, it is highly likely that they would fall into these traps," she said, adding that she had immediately blocked the number.
When asked about her interest in learning cybersecurity, she said the courses at INTI provided insightful information on computer ethics.
"My interest in cybersecurity was sparked by my exposure to a computer ethics course at INTI. Through extensive review of case studies, I learned about the dangers of identity theft and the serious consequences of it. I'm aware that if someone steals your personal information and modifies them, you could easily lose control of your bank account details without even realizing it," she said.
She also emphasized the pressing need for society, particularly students, to exercise caution when receiving messages and emails. Stressing the importance of verifying the authenticity of the source, she advised individuals to be wary of unfamiliar numbers or email addresses.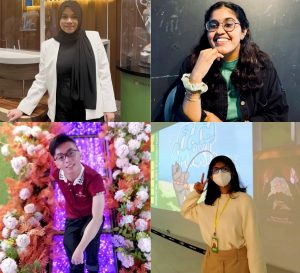 (From top left, clockwise) Fadhilah Nur Rania, Shivaani A/P Mahendran, Siti Amirah, Ng Ee Sern, recounted their personal experience of getting scammed and grateful to have been nurtured on the prevention in dealing with the online scammers
"In this digital era, remaining vigilant during information exchanges is crucial. By creating awareness about online security and acquiring pertinent knowledge, we can increase the protection of our financial and personal data, as well as that of others. Any suspicious activities should be promptly reported to the relevant authorities," she concluded.