How do you define the word 'Superhero'? For most of us, it is a fictional character that possesses human defying powers. These superheroes often take up tasks that are considered difficult or near impossible for regular humans and accomplishes it with ease.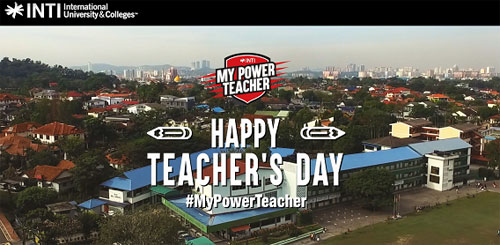 Marking its' sixth consecutive years of Dedicated2Cikgu celebration, this year's #MyPowerTeacher campaign focuses on students celebrating their teacher's superpowers.
This Teachers' Day, INTI International University & Colleges took the definition in an entirely different perspective and paid ode to some of our very own superheroes in the society. Yes, teachers; who like many of the fictional superhero characters have the ability to accomplish the mammoth task of educating young minds of the future. From kindergarten to graduate school, teachers are often seen as individuals who are not only able to educate their students, but inspire them beyond the walls of their classroom.
What's even more amazing? They live amongst us.
"We have always looked up to teachers as a huge asset to a nation. As a higher learning institution, we understand the importance of having a solid academic team so that we are able to produce successful graduates in the future. On top of that, these teachers go through so much in ensuring each student reach their full potential," said Timothy Bulow, Chief Executive Officer of INTI International University & Colleges.
Having launched its #Dedicated2Cikgu campaign in 2012, INTI has seen the campaign engaging over 4 million students and 200,000 teachers nationwide in the last five years – leveraging on innovative social media videos and engaging marketing campaigns. From 40,000 roses being gifted to 400 schools to The Report Card of Happiness, which allows students to grade their own teachers, INTI has managed to increase the social responsibility of students to appreciate their teachers.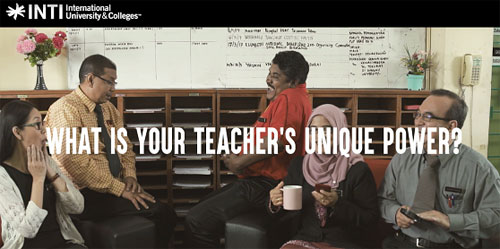 In order to pay ode to our teachers, INTI International University & Colleges is encouraging students to pay tribute to their teachers via the My Power Teacher website or their social media.
Marking its' sixth year, this year's campaign, #MyPowerTeacher focuses on students celebrating their teacher's superpowers. In accordance to that, a 2-minute video depicting the many types of incredible teachers in our lives was released on INTI's Facebook page and YouTube channel.
With the video now being shared virally on social media, it has also managed to grab the attention of Dato' Seri Haji Idris bin Jusoh, the Minister of Higher Education, Ministry of Higher Education, Malaysia.
He said, "One of our main missions this year is to propel Malaysia into a leading education hub in the region that is in line with our Prime Minister's vision. For this mission to be successful, our biggest assets are our teachers, lecturers, and all those who take up the mantle as educators. I applaud INTI's effort in acknowledging these educators through the #MyPowerTeacher dedication campaign. By empowering educators, we will see more aspiring individuals taking up the profession and it's great that INTI is doing their part to encourage this. Hence, living up to the ministry's tagline of Soaring Upwards."
Shot in collaboration with Fisherman Integrated and Graph Studio, the video features Puan Norliah, also known as The Octopus – who is able to multitask many things at the same time, Mrs. Leong (The Flash) who grades her students' homework with lightning speed, Mr Chendera (The Olympian) who is able to teach his students all kinds of sporting activity, Cikgu Zainol (The Walking Database) who remembers all the names of the students in his school and Cikgu Azhar
(The Master Decoder) who is able to translate any form of handwriting from his students and grade them – all of them possess a super heroic ability to impact their students' life.
Bulow added, "In order for us to identify and celebrate these teachers, we are encouraging students to send in their dedication and tell us what their teachers' superpower is. We are excited to hear their answers."
The dedication can be sent via http://mypowerteacher.com/ or by posting on your social media channels with the hashtag #MyPowerTeacher.
The public may also use the platform to make a dedication to their teacher but only Malaysian students aged between 13 to 19 years old are eligible for the contest. Prizes valued at up to RM 200,000.00 would be available for grabs for students and teachers whom they have made a dedication to. Contest ends on 16 May 2017.