For any senior class, prom night is more than a gathering before graduation, but it also symbolises the years spent in college learning, building friendships, and gaining new experiences. This year, INTI College Sabah (ICS) with the help of the 27th INTI student government, INTIMA, took the opportunity to put prom night to a good cause by raising funds for people with disabilities.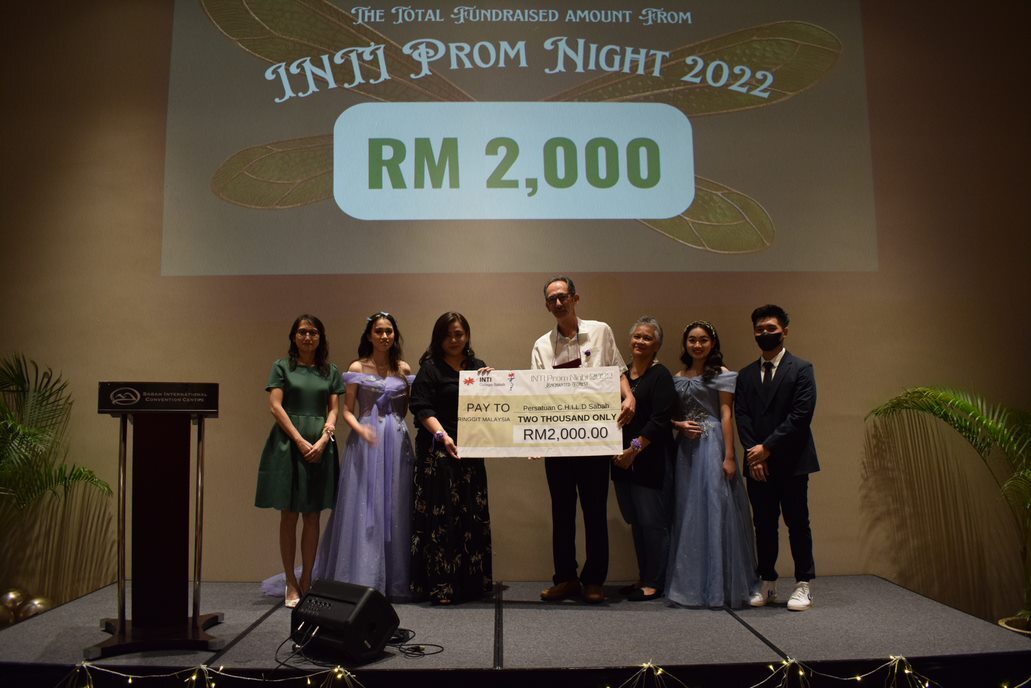 ICS chief executive Roselyn Chua presented a mock cheque to Persatuan C.H.I.L.D Sabah chairperson Dr Ian Stephen Baxter.
The event held on 1 October, themed Enchanted Forest, aimed to contribute to Persatuan C.H.I.L.D (Caring and Helping Individuals Learn and Develop) Sabah, a centre for people with learning disabilities. Through their efforts, the students sold over 90 tickets and secured sponsorship from local businesses and individuals including EJ Event Company, Suicide Squad Café Company, International Institute of Aviation Quality and Safety (IIAQS), Toojou, Twentea, Breeze Magazine, Besto Fresh Kicks, and Pan Borneo Hotel. The event also hosted various vendors selling arts and craft, jewelry, face painting, crochet, and a photo booth which made the event a success. A total of RM2,000 was collected and donated to Persatuan C.H.I.L.D Sabah.
Alvina Vivian Lim, a final semester student from the Bachelor of Arts in Business Administration in collaboration with University of Hertfordshire, highlighted that the donation will help Persatuan C.H.I.L.D Sabah to continue their activities such as providing professional support for people with disabilities, organize seminars, workshops, awareness education programs and training for teachers who deal with people with special needs.
Alvina, who is also INTIMA president, expressed her gratitude for the support they received for the event.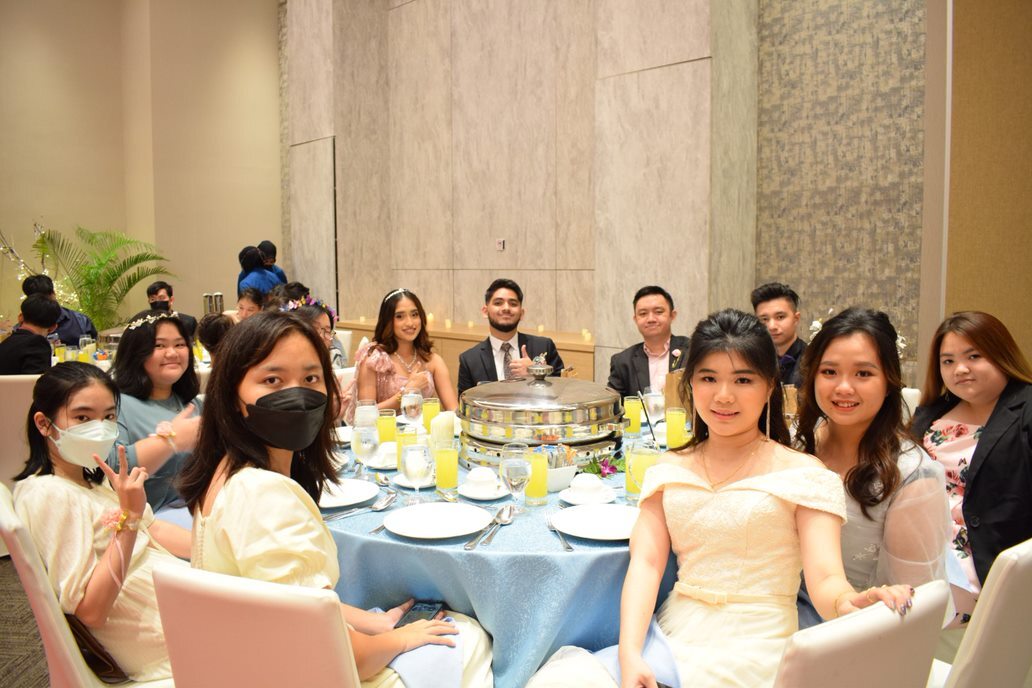 Prom night attendees rocking the Enchanted Forest theme.
"We are blessed and thankful for the support from generous sponsors and vendors in raising funds for Persatuan C.H.I.L.D Sabah. The three months of hard work we put in is well worth it," said Alvina, who added that they started engaging with sponsors, vendors, and selling tickets since July.
Fatimah Ali Dad, the student council's public relations officer, said that while the amount may seem small, they hoped it would benefit the children and contribute to the association's long-term sustainability.
"We want our donation to help the association make a positive impact on children with disabilities. We are proud of the work we have done," added Fatimah who is currently a student of the Diploma in Business programme.
She also shared that being part of the organising committee has taught her the importance of accountability, especially in communicating, meeting deadlines, making decisions, and prioritising commitments.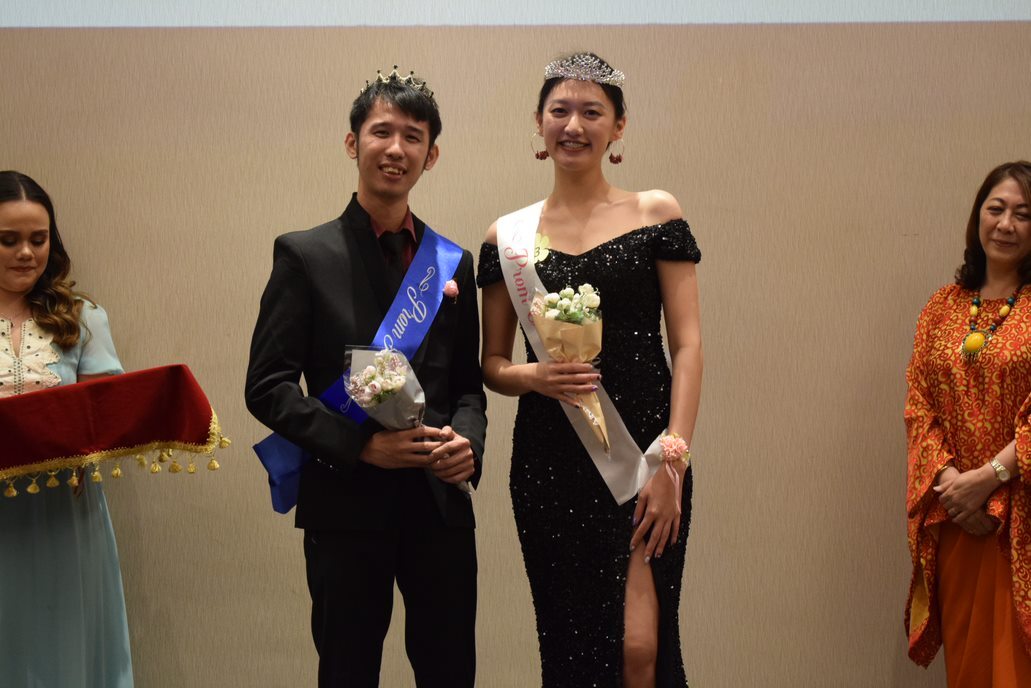 Sim Keun How from Bachelor of Arts in Accounting and Finance in collaboration with University of Hertfordshire, and Chin Yen Yi from Bachelor of Arts in Business Administration in collaboration with University of Hertfordshire were crowned Prom King and Prom Queen.
Meanwhile, in her welcome speech, INTI College Sabah Chief Executive Roselyn Chua said prom night was the highlight of the academic year and is a chance for students to relax and enjoy themselves after their hard work. She thanked the students for making the prom night a success and reminded them that charity work should transcend race, creed, age, or disability types.
"Caring and helping those less fortunate than us is a noble endeavour. We should change the perspective of viewing them as a project to seeing them as people to love and respect. An intellectual person has the courage and conviction to follow the moral compass that will reinforce your personal values," she said to the students.
In the later part of the evening, Roselyn handed over a cheque to Persatuan C.H.I.L.D Sabah chairperson Dr. Ian Stephen Baxter.
Dr. Ian lauded the organisers and students for collaborating with the association. He said he was touched by their effort to raise funds despite having to juggle assignments and projects at college.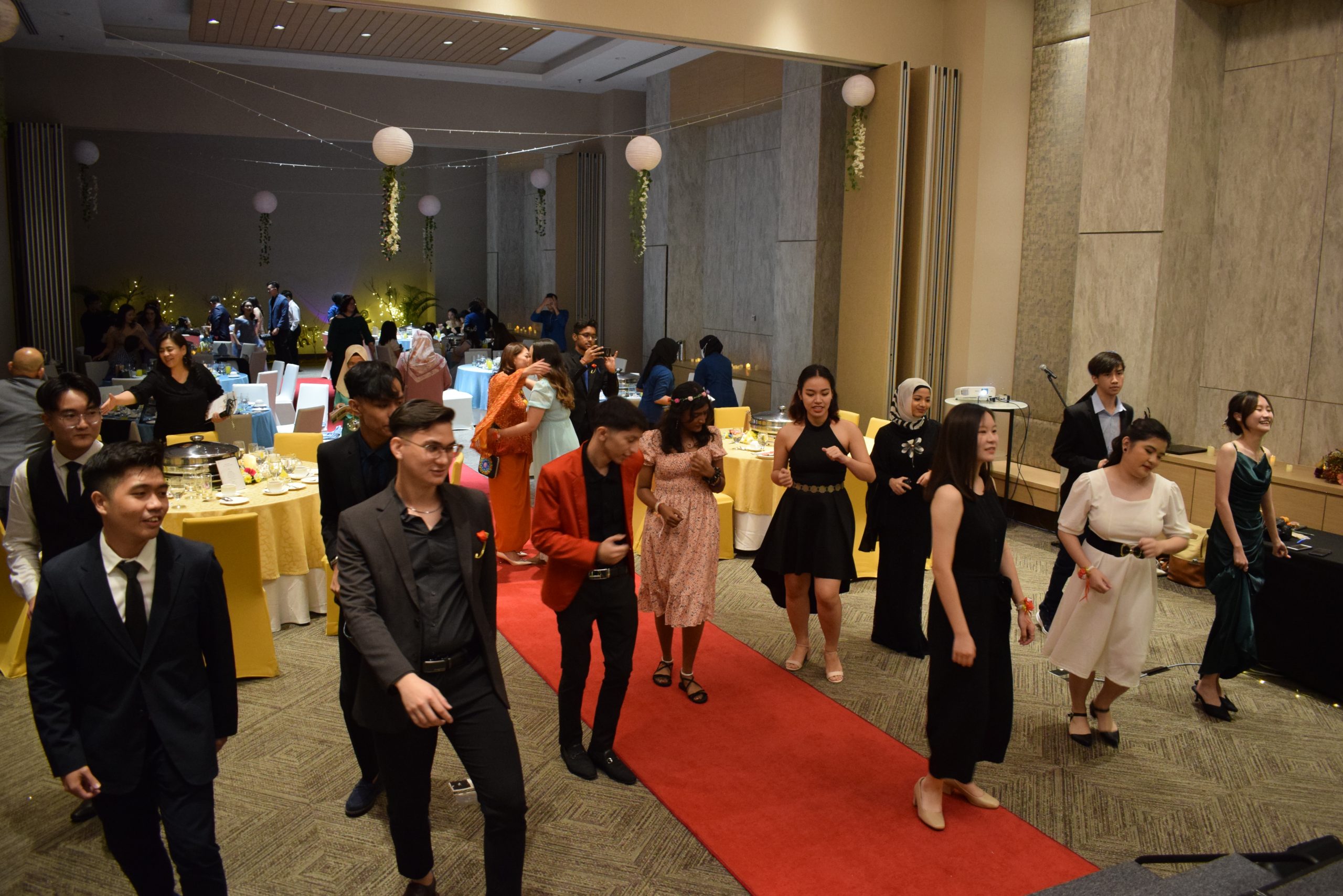 Students enjoying themselves at the event.
"Initiatives such as this, I believe, exposes students to different perspectives which will build up their character and interpersonal skills for the future," he added.
The prom night saw attendees dressed in glamorous outfits who were entertained with a myriad of activities such as lucky draw, pop up booths, musical and dance performances and awards given for Most Photogenic, Best Dressed, and Favourite Staff.