INTI International University & Colleges has announced the beginning of a new partnership with Southern New Hampshire University (SNHU) to offer its established 4+0 degrees in Malaysia. The collaboration comes as an opportunity for both local and international students to earn globally recognised qualifications from the United States, in spite current economic conditions which factor strongly in their aspirations to travel abroad.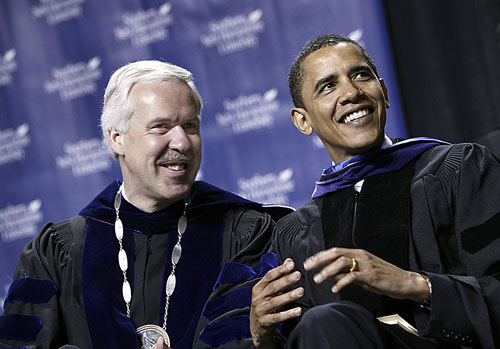 President Barack Obama was the recipient of an Honorary Doctorate Award from SNHU in May 2007
Rohit Sharma, CEO of INTI International University & Colleges said, "Since 2000, the number of Malaysian students migrating to the U.S. has steadily decreased by close to 30% . Simultaneously, in 2011, more than 1 million students were enrolled in institutions of higher learning throughout the country . This indicates that an increasing number of students are now looking inwards when considering their tertiary education options. Our partnership with SNHU ensures that students will gain all the advantages of an international qualification and provides them an edge in their future careers."
Boasting more than 80 years of academic excellence, SNHU's business programmes are accredited by the Accreditation Council for Business Schools and Programs. SNHU is also recognised by the New England Association of Schools and Colleges (NEASC) – the same accreditation shared by Harvard, MIT, and Princeton University. The university was also the only institution of higher learning to rank among the Top 50 most innovative companies in 2012, alongside Facebook, Apple and HBO.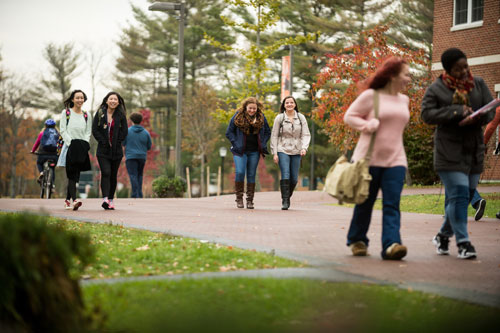 Secure and well developed pathways connect students to learning and recreational facilities on campus
"At SNHU, innovation is a part of our DNA and we have revolutionised the way we reach and serve our students, regardless of where they are in the world. Since our inception we have relentlessly worked towards reinventing higher education to help students transform their lives and the lives of those around them. We are pleased to be working with INTI, a pioneer of American education in Malaysia who share many of values, and are confident in their capabilities to deliver our programmes and support the development of our students in the region," commented Dr. Paul LeBlanc, President of SNHU.
In addition to a broad range of business programmes, INTI will also be offering SNHU's degrees in Communication and Psychology, opening up more career pathway options for students from various disciplines. A compulsory 15 week internship will also ensures students gain relevant working experiences even before they graduate.
The first intake commences in August 2016.