"I actually started out as a Computer Science major at INTI Subang. I aced a couple of classes but didn't see myself doing this long term. I know that computer science is a field of demand but I personally didn't enjoy it. Fortunately, I fell in love with Psychology. I took an introduction class and the rest was history," shared Vinoadharen Nair, who is now in the midst of completing his Doctorate in Psychology at University of Illinois at Chicago (UIC) while teaching students in the same university.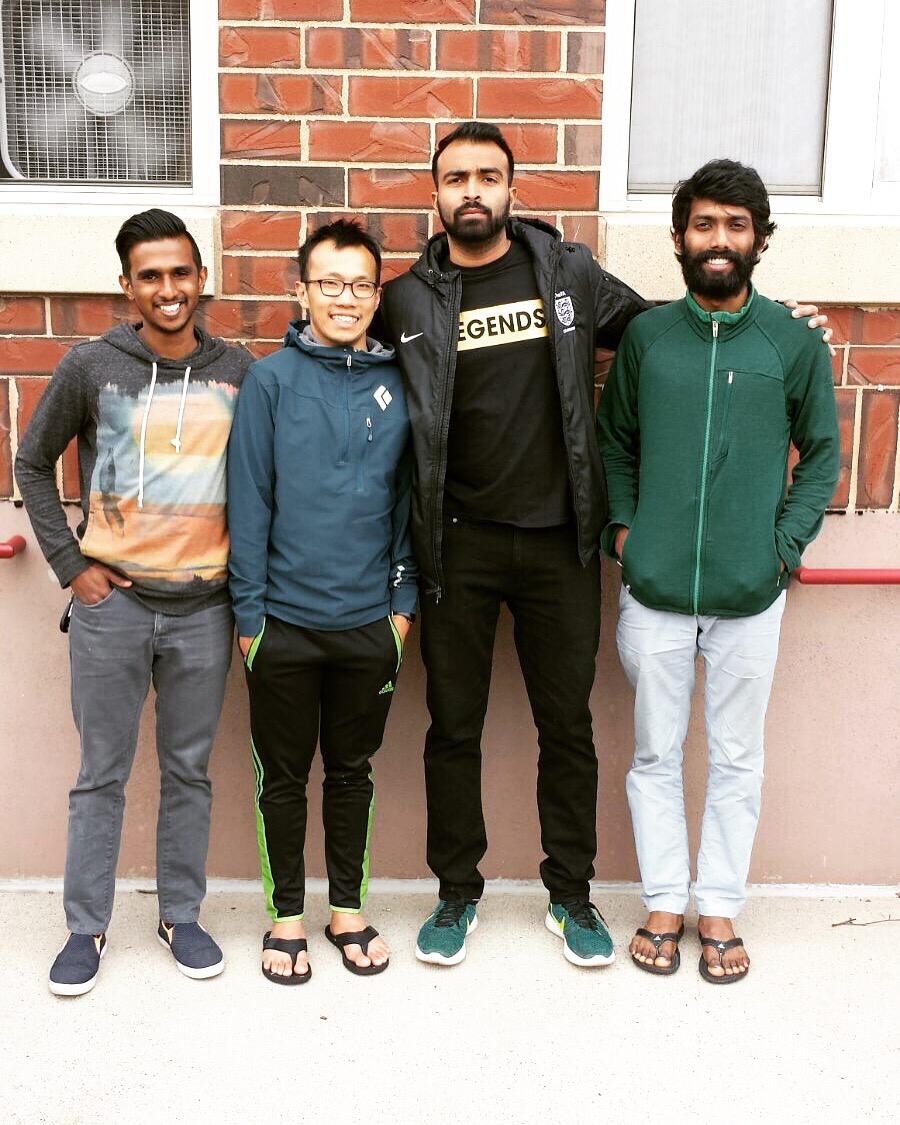 Vinoadharen Nair (second from right) with his friends from INTI Subang who he still keeps in touch with. Photo taken at Minneapolis, Minnesota.
Vinoad, born in London and grew up in Selayang, Selangor from the tender age of three was enrolled into the American Degree Transfer Programme (AUP) at INTI Subang prior to graduating with a Psychology degree from one of the top schools in America, University of Wisconsin-Madison, Wisconsin.
"Right after high school, while my dad and I were exploring options, we came across INTI. From our experience, we really liked the staff at INTI, they were friendly and approachable. Most importantly, we learnt that INTI had far better relationships with American universities compared to other universities within the same vicinity," expressed Vinoad about his confidence in picking INTI Subang.
Throughout his experience in a PhD program at UIC, Vinoad has discovered a passion in teaching. This passion has converted into excellence in teaching that has been recently recognized.
In May 2020, Vinoad emerged as the 2020 Upshaw Award winner. This award was established on the occasion of Harry Upshaw's retirement. Harry Upshaw was a professor at UIC known for his dedication to teaching and this award is meant for a graduate student who best exemplifies his dedication to teaching excellence.
"The major criterion for the award is evidence of outstanding accomplishment in teaching. Additionally, you have to have taught your own course as the main instructor to be able to apply for the award," further explained Vinoad pertaining the award he won.
"Once you reach a certain milestone in the programme (e.g., passing your qualifying exams), you can take a course called the teaching practicum where they basically guide you how to teach. After that, you can teach your own class," elaborated Vinoad about his teaching experience at UIC. Some of the classes delivered by Vinoad either solo or as a TA include Introduction to Psychology, Research Methods in Psychology, Statistics, Developmental Psychology, Personality Psychology, and Cultural Psychology.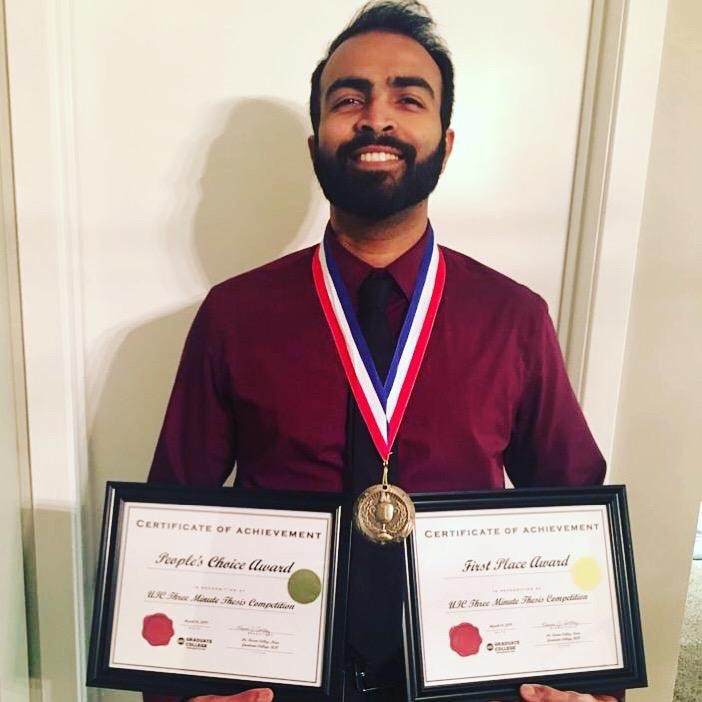 Vinoadharen Nair with his wins from the University of Illinois at Chicago. The 3 Minute Thesis Competition challenges researchers to present their work in 180 seconds but to make it engaging and understandable for any audience with no research knowledge. Vinoad won First Place and People's Choice, the latter was based on the vote of audience members.
He also added, "The Upshaw Award is actually my second teaching award at UIC. I won a mentoring award after my first semester teaching." Teaching for the last 7 years, Vinoad began as a teaching assistant (TA), handling discussion sessions in small groups of 20 to 25 students. Eventually, he ended up teaching his own classes that ranged in size from 75 to 150 students.
Remarkably, he has the habit of getting to know all his students and remembering their names and Vinoad even does this successfully in a class of 150 students.
"Honestly, whenever I look back at the good times, a lot of it comes down to the experiences and friends I made at INTI. Before you leave to the US, you'll get excited thinking about the fact that your INTI friends are going to be scattered across the whole country so you'll look forward to wanting to visit everyone. My advice to future students though, you'll get quite busy with life and school so make sure you appreciate your INTI friends while you can still conveniently see them because America is huge. To give you context, we drove in Wisconsin for 9 hours and guess where we were after those 9 hours? Still Wisconsin. That's only one state!" joked Vinoad, acknowledging the fact that while one is out there gaining knowledge, it is equally important to be in the moment and experience those people around you.