Our Proud Alumni
INTI recognises the exceptional achievements of its past students
Make an Appointment
Make an appointment to speak to us for a wide variety of reasons:
Career advancement
Further studies
General inquiries
Work with us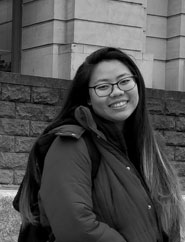 Alicia Chin
UK Degree Transfer Programme, Law
Currently pursuing Certificate in Legal Practice (CLP)
"My chosen university must support my choice as a full-time student and a national athlete. INTI is a suitable academic institute that fulfills this criteria. Affiliated with many respectable universities in England, its robust Law programme is led by lecturers who are passionate about the subject and its beauty. INTI's incredible support of my extra-curricular activities – such as allowing a flexible timetable and examination schedule – ultimately led me to excel both academically and in sports."
Jehane Ackburally
Graduated with First Class Honours from University of Liverpool
"The lecturers at INTI helped to sharpen my abilities to excel in law. I was pleasantly surprised at the standard of teaching and their tirelessness at making sure that the students do their best. I could not, not even for a day, forget what I was working for because my lecturers would not let me lose focus. INTI, with its remarkable law school, team of dedicated lecturers and the bustling student community, is a platform which gave me a voice, a vocation and an identity."
Rachel Heah
Graduated with First Class Honours from University of Liverpool
"At INTI, I had excellent lecturers who not only taught law, but also nurtured, advised and challenged me to do the best that I could. In addition, there were many opportunities to develop leadership skills, network, and meet friends from various parts of the world. All in all, I feel that INTI played a very significant role in shaping my identity and my career path."
Seen Qin Yin
Graduated with First Class Honours from Cardiff University
"As a pure science student, taking a law degree was a big and scary leap for me. Hence, I am eternally thankful to have chosen INTI as my platform as the lecturers at INTI took the initiative to ensure that everyone in class could cope with the syllabus. Furthermore, with passionate lecturers and various events planned by them, learning became enjoyable and something we all look forward to. INTI Law Faculty is a home to us law graduates, whom would all stand by the fact that it is the best."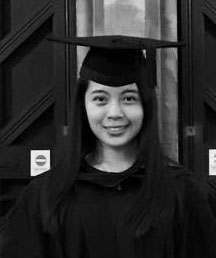 Jessalyn Cheong Yi Wen
Graduated with First Class Honours from University of West England.
"My experience reading law at INTI has been a fruitful and rewarding one. The team of lecturers that I was fortunate enough to be taught by is dedicated in fulfilling their duties in bringing out the outmost potential in their students. Besides that, the support system in INTI for law students doing the transfer programme is commendable. We were given all the help and information needed in our application to UCAS and also to partner universities by INTI which greatly reduces the stress and worries of applying to UK universities."
Hafsa Tayyab
Interned at Maternity & Children Hospital in Buraidah, Saudi Arabia
Bachelor of Biotechnology (Hons)
I chose INTI because of the campus as everything is easily accessible. The hostels are situated within university premises, so there is no need for long commutes. Since my father is a doctor, i have always been interested in working in a field related to biology.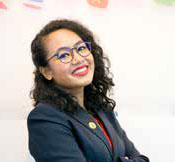 Wan Nurul Aisyah
Worked at IP Associate, Adipven (M) Sdn Bhd
Bachelor of Biotechnology (Hons)
"INTI believes in giving its students a balanced life. My years spent there were full of opportunities to build our soft skills, in addition to excellent classes taught by dedicated lecturers. Coupled with conducive facilities and quiet and calm surroundings, INTI became like a second home. If there's one thing I've learned here, it's to find joy in learning new things. A positive attitude has helped me tremendously in dealing with challenges in the working world."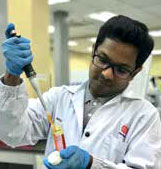 Arutchelvam Balakrishnan
Senior Scientist at Sime Darby Technology Centre
Bachelor of Biotechnology (Hons)
"Back in 2011 when the Malaysian biotechnology scene was just emerging, I joined INTI because it had one of the most established and reputable Biotechnology programmes. What I really liked was the integrated learning experience which went way beyond doing coursework. Subsequently, INTI Career Services was instrumental in helping me secure a internship opportunity that led to a permanent position as a research scientist. I know I am very fortunate to be in a career that I love. "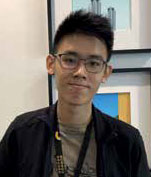 Lew Zien
Management Associate at Ant Futurtes a.k.a Ento Malaysia
Bachelor of Biotechnology (Hons)
"One of the best things about INTI was its diverse student population. Interacting with them offered priceless insights into cultures from all over the world. The experience groomed me to cope better in the working world, where everyday you will face adversity or challenges."

Liew Zeh San
Bachelor of Biotechnology (Hons)
"Looking back, my INTI journey was a pivotal stepping stone to some of my greatest accomplishments. After completing my Biotechnology programme, I realized I had a passion for food science, so I decided to pursue my Masters in Food Science and Innovation at Manchester Metropolitan University. In the UK, I participated in a host of interesting projects – from developing beer from bakery products to collaborating with one of UK's biggest supermarket chains and getting my food safety HACCP certification. Can't wait to make my mark in the food industry!"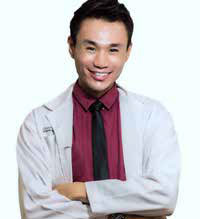 Ethan Ling Lii Chau
TCM Practitioner, PinPoint Physio & Acupuncture
Bachelor in Traditional Chinese Medicine (Hons)
"The Traditional Chinese Medicine (TCM) degree I obtained from INTI has equipped me with the skills I need in my practice and collaborations with medical practitioners all over the world. I am glad that whilst at INTI I was strongly encouraged to participate in extracurricular activities because this helped mould me into the person I am today. An achievement I am particularly proud of is to have helped establish Malaysia's very first University Traditional Chinese Medicine Aid Team."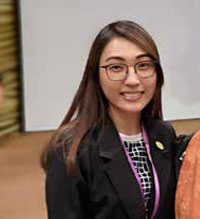 Emily Gan Siou Wen
TCM Practitioner; Vice-Secretary, Malaysian Chinese Medical Association (MCMA)
Bachelor in Traditional Chinese Medicine (Hons)
"I enrolled at INTI because it was the first university in Malaysia to offer Traditional Chinese Medicine (TCM). Also, INTI's facilities and study environment were great, plus it had an in-house TCM centre for clinical attachment. Today, I am working at a TCM clinic in Kuala Lumpur. I am also honoured to be the Vice-Secretary of the Malaysian Chinese Medical Association (MCMA), which is the only TCM organisation recognised by Ministry of Health."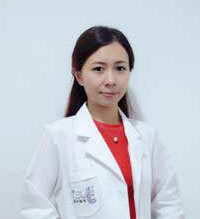 June Ping Lim
Chief Physician, JUST TCM
Bachelor in Traditional Chinese Medicine (Hons)
"Being English-educated, I knew that earning the Traditional Chinese Medicine (TCM) degree would not be easy. Thus, I am extremely grateful to INTI TCM's wonderful faculty Director and staff for their guidance and inspiration throughout my five years of study, which culminated in my obtaining a 1st Class Honours TCM degree. I have a fulfilling family and work life, co-published a research paper in 2019 and am also actively producing natural herbal products."
Ser Xin Ee
Chinese Physician cum Association Liaison Officer,
Malaysian Chinese Medical Association (MCMA)
Bachelor in Traditional Chinese Medicine (Hons)
"I chose INTI because it was the first university to receive MQA (Malaysian Qualifications Agency) recognition for its Bachelor of Traditional Chinese Medicine (TCM) degree. I definitely benefited from the bilingual English and Mandarin medium of instruction and am also thankful for INTI's scholarship. Besides my mother, the tremendous support from seniors, lecturers and faculty staff gave me the strength to go on and has led me to where I am today."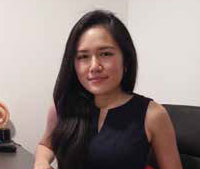 Lee Yu Jie
Chinese Physician & Acupuncturist, Zhao Xi TCM Centre Sdn. Bhd.
Bachelor in Traditional Chinese Medicine (Hons)
"I thoroughly enjoyed campus life at INTI. There was good food nearby and I built many lasting friendships. In my opinion, INTI has the best lecturers and curriculum to help prepare students for the working world. When I graduated with my degree, I felt ready and confident to treat patients and share ideas. Thanks to INTI, I have a job where I can apply my skills, learn new skills and build my career."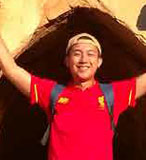 Choo Wai Kien
TAGS, Spine and Joint Specialist Ampang
BSc (Hons) Physiotherapy
"The Physiotherapy course is perfect for people who have been active in sports since young, like me. You get to understand every sport's biomechanics as well as the relevant medical science. Taking the course at the close-knit INTI Nilai campus helped gave me the opportunity to form many life-long friendships. I'm grateful I got to represent INTI in Clinton Global Initiative 2013 in New York City. My hard work paid off when I graduated with first class honours. Now I have a rewarding career and can provide my parents with a better life."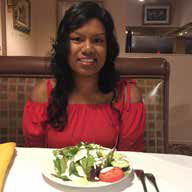 Logeswarri Rangasamy
Doctorate in Physical Therapy at Loma Linda University, California
Graduate Research Assistant in The Department of Physical Therapy
BSc (Hons) Physiotherapy
"I decided on Physiotherapy at INTI even though it was a relatively new program at the time because of INTI's good reputation. We had dedicated lecturers who gave us their best and fantastic clinical training opportunities, both locally and overseas, that provided us a solid foundation. My broad experiences gave me the confidence to further my studies in the United States. I've learnt that consistent hard work will pay off eventually and openness to criticism is key to the continuous learning."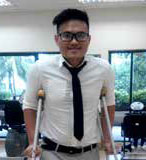 Robert Chua
Physiotherapist, Sunway Medical Center
BSc (Hons) Physiotherapy
"I stayed at INTI all the way from A-levels right to my degree because INTI provided me study-life balance where I could both study and develop soft skills through extra-curricular activities at the same time. Physiotherapy suited my patient, caring and humble personality. My job is a platform for me to do what I really love and I am motivated to keep on going when I see my patients recover. We cannot control the outcome but we can do our best and live life to the fullest."
Mohd Hanifuz Zaim Bin Md Salimun
Financial advisor for life insurance and asset management companies, founder of Muslim menswear brand Khalifa Hanif
American Degree Transfer Program
I fell in love with INTI's environment almost instantly. Because it's an establishment that promotes freedom, individuality, and I became more of myself over the course of the time I spent there. My two strongest passions are in fashion, and finance. Many people would not see the relationship between the two but to me, they symbolize the important connection between substance and surface. I believe that without substance, anything we show the world carries no meaning. And without the right surface, anything we show the world seems dull and uninteresting.
Ashveen Chakravarthy
Chief Investment Officer & Independent Insurance Designer, SYABAS Sdn. Bhd., Founder/Director, Le Langgri Foods and Founder/Director, Ethereal Beauty
American Degree Transfer Program
Growing up, I always had an inquisitive and active mind. Everything had a question, and everything had an answer. That was my outlook on life. I had always thought of becoming a doctor or a lawyer. But as I was nearing the end of my secondary education, I realized that there were already many doctors and lawyers, and eventually, it would lead to an overflow.
Ameer Azhar Fadzilan
Product Engineer, Misi Setia Oil & Gas Sdn Bhd
B.Eng. (Hons) in Mechanical Engineering
"I would never have found the right career if not for the field trips organised by the INTI School of Engineering. I joined every field trip and am now enjoying the challenge of working in the highly demanding field of oil and gas. The various extra-curricular activities at INTI provided ample opportunities to sharpen my soft skills, helping me to build a strong professional network and impress top management with results that have surpassed my KPIs."
Yadhavsingh Jaddoo
Mauritius Tourism Authority
BSc (Hons) Quantity Surveying
"I chose the INTI Quantity Surveying program because the syllabus extends beyond the construction industry, offers insights into real-life project management and discusses the corresponding economic impact. There were ample seminars and workshops that helped me build a strong industry network through which I found my first job. Participating in university activities helped improve my soft skills, while learning to work with team members prepared me to overcome work and life challenges."
Ng Lin Piao
Audit Associate, KPMG PLT Penang
Bachelor of Accountancy
"I am grateful for INTI's sponsorship, which enabled me to take up the Bachelor of Accountancy programme, a degree course that is recognised by professional bodies including the Malaysian Institute of Accountants (MIA). My mother was also a great inspiration for me to pursue accountancy as a career. Eventually, I went on to pursue the ICAEW. To be successful, we must keep on learning, exploring and never give up."