In partnership with Kumpool, the eco-conscious ride-sharing platform, INTI International College Penang successfully launched an initiative to transform its students' daily lives. This innovative collaboration has provided students many benefits beyond cost savings, revolutionising their commutes to and from campus. The event, held on 25 August at the INTI Penang campus, marked a significant milestone in fostering a more sustainable and connected campus community.
"I am particularly excited about the opportunities this partnership presents for providing an alternate transportation solution for our students. Sharing rides through Kumpool reduces commuting costs and promotes environmental sustainability.
"We encourage all our students and staff to download the Kumpool app and use this innovative ride-sharing service. Together, we can positively impact the environment, reduce traffic congestion, and contribute to a more sustainable future," said INTI International College Penang chief executive Hemalatha Murugiah during the launching ceremony.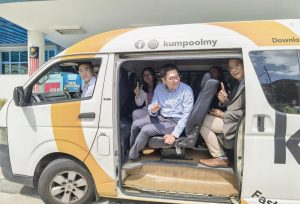 (Second from left) INTI International College Penang chief executive Hemalatha Murugiah with other representatives joining a ride in a Kumpool van.
She highlighted approximately 2,500 students from INTI Penang, including those from M40 and B40 families, who reside in the area this initiative serves. Students' daily commute to school contributes significantly to traffic congestion. However, introducing this e-hailing van service aims to encourage students to rely less on personal vehicles for their daily commute, thereby reducing traffic flow.
While ride-hailing services are available, they can be expensive for students. In contrast, Kumpool's services are designed to be affordable for students, making it an accessible and eco-friendly transportation option for the college community.
Meanwhile, Damian Lee, INTI International College Penang's Director of Student Experience, also part of the organising committee, expressed his enthusiasm for the partnership and the successful launch event.
He said, "Our primary focus has always been the well-being and success of our students. By partnering with Kumpool, we have provided them with a practical solution to some of the challenges they face in their daily lives. We believe this partnership will benefit our students financially and contribute to a stronger sense of community and environmental responsibility."
This initiative embodies the college's commitment to delivering a well-rounded and sustainable educational experience while empowering students to make environmentally conscious choices.
Since the event, INTI International College Penang students have been actively using Kumpool's ride-sharing service, which they can access by downloading the Kumpool app on iOS and Android.
After the launching ceremony, Kumpool and INTI International College Penang representatives and students pose for a group photo.